O110 Brasserie and Restaurant in Paris

This particular restaurant and brasserie gets its name because it is located on the roof of the Grande Arche in the Defense area of Paris at a height of 110 metres, and here you will find exceptional cuisine in a cosy atmosphere, which makes it a great place to go for a business lunch or just somewhere completely different, whilst you are on holiday in Paris. - CLOSED

With its contemporary decor of subtle chocolate colours and only space for a maximum of ninety people, the atmosphere is chic and refined, just like the French cuisine, which is exquisite, inventive and creative from two talented chefs.

Both of the chefs have worked other renowned chefs like Joel Robuchon and Alain Ducasse who now oversees the Jules Verne restaurant at the Eiffel Tower and Stephane Milan is the pastry chef who has previously worked at Michelin starred restaurants in Paris like the Hotel Crillon and the Hotel Plaza Athenee.

The second chef called Stephane Sallard, is a butcher and qualified in food preparation as well and he has also worked in Michelin starred restaurants like the Divellec, Hotel Nikko and Robuchon.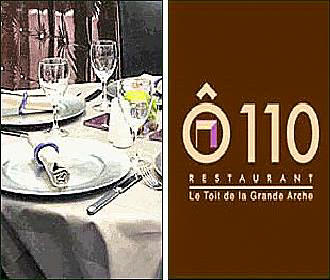 Now just some of the French cuisine delights that you may be able to experience at the O110 restaurant, for the starters you could try the homemade duck Foie Gras with pieces of smoked and dried bacon and mushroom cream or crispy scampi from the coast of the Brittany region with herbs, salad and mango tarter sauce or tomato gaspacho, brunoise of melon from the Poitou-Charantes region with fresh mint, and the cost of a starter is from €12 upwards.

The main course with fish could include delights such as prawns with boiled white and green asparagus, herbs and smoked bacon or Norwegian salmon fillet, thin vegetable pie with Parmesan cheese, red pepper coulis and tapenade made with fresh olive oil. Meat dishes could be a fried boneless rib steak, pepper sauce and sliced potatoes baked with milk and Reblochon cheese browned or filet of lamb with crumble of gingerbread, mixed vegetables and its own juices. The main courses do vary in cost quite a bit and are roughly between €19 and €27.

You can then opt for an assortment of cheeses, or go straight for one of the fabulous desserts on offer, but these all seem too tempting and it is very hard to choose! Now, as you can no doubt appreciate, all these dishes are mentioned as a guide to the type of French cuisine on offer at the O110 restaurant in Paris, but obviously the menu does change, especially with what fresh produce is available.


Visiting the O110 Restaurant at the Grande Arche

This restaurant is located in the Grande Arche in the roof section, where you will also find lots of different galleries, the computer museum and the video game museum in Paris.
From a Monday to Friday, the brasserie part of the restaurant is open from 10am through to 6pm, however the actual restaurant itself is open for lunch from 11.30am through to 2.30pm.

Reservations do have to be made in order to enjoy a meal at the O110 Restaurant, but breakfasts and even dinners can also be arranged by prior appointment and the complete restaurant can be privatised for special events.

Even opening of the restaurant at the weekend is possible for groups by prior arrangement and all reservations need to be made via telephone, plus smart dress is also required.

The Grand Arche and the O110 restaurant is easily accessible via Metro with direct access from the Chatelet station in around 10 minutes and this is via line 1. The RER on line A is another option, as is the Tramway T2.
Address and contact details
NOW CLOSED
O110 Restaurant, Toit de la Grande Arche, 1 Parvis de la Defense, 92044, La Defense, Paris, Ile de France, France
Tel: +33 (0) 1 49 07 27 32
Fax: +33 (0) 1 49 07 27 33


Related information
La Grande Arche
Le Premier Musee du Jeu Video en France
Musee de l'Informatique
Transport options
Paris Metro line 1
Bus line A14
Bus line 45
Bus line 73
Bus lines 141, 144
Bus lines 157, 158, 159
Bus lines 160, 163
Bus lines 174, 175, 176, 178
Bus lines 258, 259
Bus lines 275, 276, 278
Bus line 360
Bus lines 541C1, 541C2
Night bus line N24
Night bus line N53
Train lines A, L, U
Tram line T2
Attractions close by
The Thumb Sculpture
Place de la Porte Maillot
Jazz Club Etoile
Palais Maillot Nightclub
Musee d'Ennery
Musee de la Contrefacon
Pau Brasil Cabaret
Arc de Triomphe