Le Pouce or The Thumb Sculpture in Paris

Located within the Defense area of Paris you can find an extremely unusual tourist attraction, which is a very large and realistic sculpture of a thumb called Le Pouce in French, although it is also known as Le Pouce de Cesar.


About Le Pouce Sculpture in Paris

You will find numerous different sculptures and statues in Paris, and some of them are far more unusual than others, just like the large sculpture of a thumb that you can find within the Place Carpeaux.

This unusual tourist attraction in Paris known as Le Pouce in French, which was created by the artist Cesar Baldaccini back in 1965, is now known internationally as a gesture of Good Luck, in other words, a Thumbs Up, which is now visited by thousands of people each year.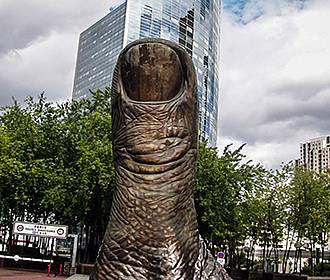 Cesar Baldaccini first produced a resin mould of his actual thumb, and then made a piece of art in metal from this, which was for an exhibition that was entitled The Hand, originally being only 40cm in height and made of pink translucent plastic.

It was such a phenomenal success, raising over €1,000,000 for the International Art Fair, that many copies of this and others in different sizes have been made and are in different parts of the world.

It was later on when this French sculptor was then asked to produce a piece of work for the new Defense area, which is now recognised as the business district, and so, he designed the large sculpture entitled Le Pouce, or The Thumb, which was designed from this original.

Incredibly, this large bronze sculpture of The Thumb measures approximately 12 metres in height and its weight is over 18 tons and on the back of this monument in Paris it even shows the fingerprint of Cesar Baldaccini, but this sculpture was only put in place in 1994 and inaugurated in the June of this year.

Le Pouce was actually created from an enlarged moulding utilising a 3D pantographic technique, which allows the proportions to be enlarged, and this is the largest version of Le Pouce de Cesar to be found within the world.

Cesar Baldaccini was classed as being within an art movement called the Nouvelle Realiste, which followed from the Surrealist Movement, and his wife along with friends were also a part of this, and one of the art pieces from this movement called the Stravinsky Fountain can also be found in Paris by the Pompidou Centre.
However, unfortunately, Cesar died in Paris in 1998 and he is buried within the Montparnasse Cemetery, but as well as this unusual work of art, there are others by this French artist that you can discover in Paris including those held within the Centre Georges Pompidou and the Musee d'Art Moderne de la Ville de Paris.


Visiting Le Pouce, or The Thumb Sculpture

Now as we have mentioned earlier, Le Pouce is located in the La Defense area within the business district of Paris, which is where you can find other tourist attractions and landmarks such as the Grande Arche, and this sculpture is in an area known as Puteaux at the Place Carpeaux.

When it comes to utilising public transport in Paris, the nearest station is appropriately called the La Defense, which is a Metro station that serves the Paris Metro Line 1. However, this is also a train station for the Transilien and RER trains, with this station serving the RER A Line.

You will also find that the Tramway via line T2 along with the Bus Lines 73, 141, 144, 159, 174, 178, 275, 276, 278 and 360 along with the Noctilien Night Bus Service via line N24 will also get you close to The Thumb sculpture in Paris.
Address details
Le Pouce, Place Carpeaux, La Defense, 92800, Puteaux, Paris, Ile de France, France


Transport options
Paris Metro line 1
Bus line 73
Bus lines 141, 144
Bus line 159
Bus lines 174,178
Bus lines 275, 276, 278
Bus line 360
Night bus line N24
RER Train line A
Tram line T2
Attractions close by
The Grande Arche
Place de la Porte Maillot
L'Auberge DAB French Brasserie
Jazz Club Etoile
Palais Maillot Nightclub
Musee de la Contrefacon
Musee d'Ennery Asian