L'Auberge DAB French Brasserie and Restaurant in Paris

The Auberge DAB is a traditional French Brasserie in Paris that specialises in seafood dishes along with other French delights and a la carte gourmet cuisine in a refined elegant setting that is popular for business people as well as friends and families.


About L'Auberge DAB Brasserie and Restaurant

In a relaxed yet traditional style of decor with soft brown tones of the leathers seats and benches through to the salmon coloured curtains and copious amount of wood, you will find this is a traditional style of Brasserie.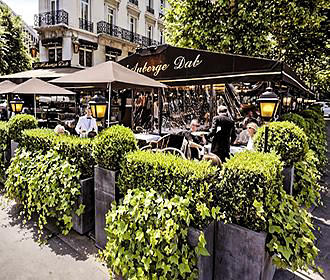 You will also discover an elegant curved staircase with ornate banisters going up to another dining room that is ideal for business lunches, families that want something completely different or an evening with friends in a quiet and intimate atmosphere that matches perfectly with the cuisine.

However, during the warmer months there is also a lovely terrace with comfortable wicker chairs, but still with the crisp white tablecloths laid out immaculately with the folded napkins and wine glasses in readiness of your warm and welcoming dining experience for a lunch or evening to remember.


Cuisine at The Auberge DAB
There is an option at this restaurant in Paris known as the Business Menu, which is served at lunch or of an evening and is a cost of €39 as of 2014. For this you get served an aperitif such as Kir, then you have a choice of starter such as salmon marinated in lime and dill or duck Foie Gras. This is followed by a main course of either cod or should of lamb, then you get a cheese course and then a choice of dessert such as gourmet Rum Baba or creme brulee. To round off your meal you also get supplied a coffee and a half bottle of wine or water.

Yet one of the main specialities at l'auberge DAB are the seafood platters that you can either eat in this restaurant or take away with you. And their seafood choices include a wide variety of shellfish and other crustaceans such as fresh cooked langoustines, Spanish mussels, clams, fresh crab and a fabulous choices of oysters. You can opt for one particular type of seafood ranging in cost from €4 upwards as of 2014, yet the platters themselves range in cost from €33 upwards and on a Prestige platter you even get a Canadian lobster.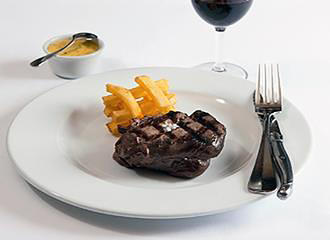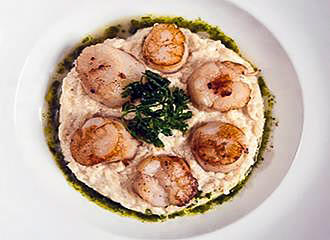 Other specialities at this restaurant in Paris include Duck breast fillet from south-west France with red fruits, a Herb-crusted rack of lamb with thyme jus or a Whole veal kidney with mushrooms and wholegrain mustard sauce.

However, if you want to splash out on a gourmet meal to remember, then there is the a la carte option of French cuisine that you can enjoy at l'Auberge DAB with an incredible selection of dishes, you will find it hard to make a choice. And, of course, as with any gourmet restaurant, the freshest ingredients are always used and cooked to perfection, these are also presented superbly.

Starters range in cost from around €11 up to €48 and could be delights such as Avocado and crab with beetroot vinaigrette, Baby spinach salad with smoked haddock and sunblush vegetables in pesto or even Half a blue lobster in a citrus salad with shellfish vinaigrette.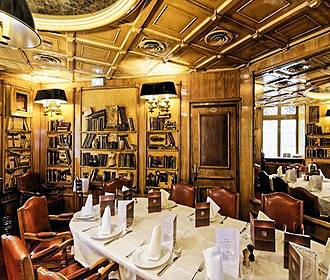 You could then opt for a main course of fish such as Red tuna steak seared in olive oil, with mangetout and baby broad beans, Large wild king prawns grilled with lemongrass, with fettuccine and pistachio butter or Pan-seared scallops with creamy Provencal-style risotto. Meat main courses could be Grilled fillet of beef with Bearnaise sauce, served with stir-fried vegetables or Fine veal chop, cooked simply in rosemary and served with house mashed potato, and all main courses start from around €24 up to approximately €90 depending upon dishes.

A Mature cheese selection is also available as the next course if you wish to have this option and for €11 it includes Caves Baragnaudes and Roquefort cheeses along with a glass of Port. But there are also some very tempting desserts on offer at the Auberge DAB brasserie in Paris including a chocolate lava cake with a mango centre, vanilla ice cream and pineapple.


Visiting L'Auberge DAB Brasserie in Paris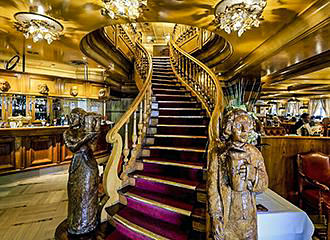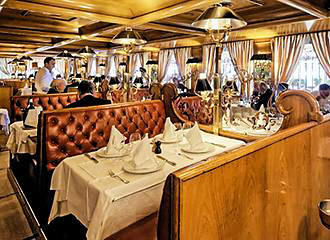 This brasserie is located within the 16th Arrondissement close to the Place de la Porte Maillot and the Palais de Congres and is open seven days a week from noon until 3pm and then from 7pm through to 2am with continuous service during those times, and as we mentioned, there is also a terrace for the warmer months.

Reservations are not necessary, although at certain times it is recommended, and if you are arriving as a large group, then booking is required, but even if you do not wish to eat in this brasserie in Paris, there is also a takeaway option available for certain dishes, including their seafood platters.

But when it comes to reaching the l'Auberge DAB, it is located heading towards the outskirts of Paris from the Arc de Triomphe up the Avenue de la Grande Armee in the direction of the Place de la Porte Maillot. And the nearest Metro station is the Porte Maillot stop via line 1, yet the bus numbers 73, 82, 97, 99 or 244 will also get you close by as well.