Pizza Pino restaurants in Paris

Pizza Pino originally started out in 1968 on the famous Avenue des Champs Elysees in the 8th Arrondissement of Paris and is still continuing to this day, yet over time, they have opened up other Italian restaurants in Paris in the 2nd, 6th and 11th Arrondissements, along with expanding into other cities in France as well.


Ideal place to eat

The Pizza Pino is an ideal place to eat out if on holiday in Paris with children, as they have a dedicated childrens menu, or even if you have a limited budget, these Italian restaurants in Paris will not break the bank. Plus there are special offers available at all the restaurants except for the one on the Champs Elysees.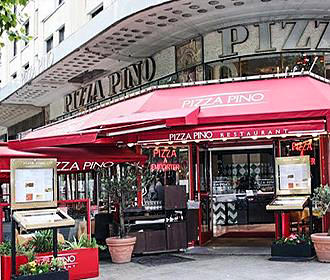 With clean cut interiors that have stone floors, wood and leather chairs and an almost terracotta colour orange decor with chandeliers, these restaurants in Paris have a warm and friendly feel that are great for a lunch or evening meal, and the Pizza Pino Champs Elysees is also accessible to the disabled.


Cuisine at the Pizza Pino Italian restaurants

The ingredients used are fresh and are known as the market recipes as the produce is purchased daily from the local markets and other sources that the chefs select and prepare each day for customer to enjoy.

However, as you can imagine, this does mean that the menu is forever changing, depending what produce is available and there are also daily specials available that incorporate different flavours for something completely different that was available fresh that day, which means you will never get bored!
Now when it comes to the pizzas, the chefs themselves prepare the dough from scratch each day, and the pizzas are cooked the traditional way over a wood fire for added authenticity.

Now most children do like pizza, but for a child up to the age of 12, there is a dedicated menu just for them, where they can choose between a pizza, a hamburger or spaghetti bolognaise, then a dessert of chocolate mousse or ice cream, plus they can have a drink such as orange juice or coca cola.

There are also special offers available for adults as well, with a set menu that still has different choices and as of 2012 for €14.80 you can choose a starter and main course plus coffee or a main course and dessert plus coffee, but for an additional €3 you can have the three course option.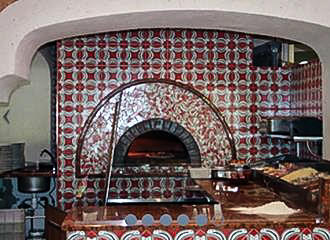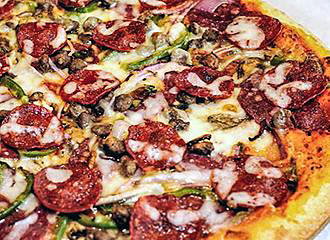 However, we would like to point out that these special offers are only available from a Monday to Friday from 11.30am through to 10pm, yet they are not valid on any French holidays or at the Pizza Pino Champs Elysees restaurant.

Of course all of the restaurants do have an a la carte option and there is an exceedingly wide variety of different dishes to choose from, although as we mentioned before, these do change according to what fresh produce is available, but we will give you some idea of the delights that may be available.

For a starter you could opt for a Caesar salad with chicken, croutons and parmesan, maybe a cocktail starter that includes avocado and shrimps with cocktail sauce or perhaps other delights like the Italian salad with carrot, cucumber, boiled egg, tuna, tomato, celery, pickled peppers and olives or an Italian Antipasti with Parma ham, mozzarella, tomatoes, artichoke hearts and peppers marinated in olive oil, is more to your liking.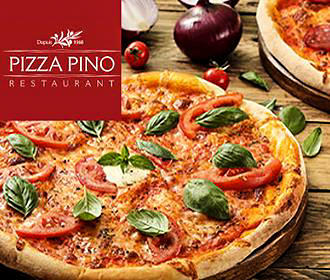 Now when it comes to the main courses, there are numerous different types of pizza available to suit all tastes, whether you want to include tuna, chicken, ham, peppers, mushrooms, goats cheese, chorizo, bacon, ground beef, smoked salmon, and much more to temp your taste buds.

There are also hamburgers and cheeseburgers available topped with egg that are served with French fries and fried onions or perhaps chicken breast with cream and mushrooms served with tagliatelle is more to your liking. However, you could opt for veal that is slowly simmered in tomato sauce and vegetables flavoured with herbs and served with rice or spaghetti.

Other options for a main course could be tagliatelle with smoked salmon, lasagne, beef tortellini or maybe fish dishes like grilled fresh salmon with rice or calamari, shrimps, breaded zucchini sticks fried and served with tartar sauce and rice.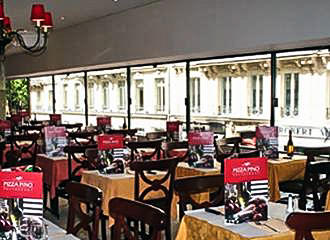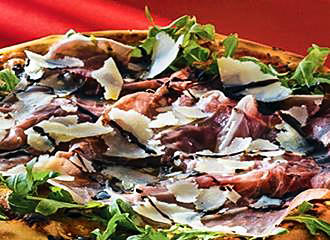 The desserts at the Pizza Pino restaurants in Paris are just as tempting for all ages and could be crème brulee, tiramisu, a trart with a pot of crème fraiche or homemade chocolate mousse.


Access to the Pizza Pino restaurants in Paris

All of these restaurants open at 11.30am and run right through to the early hours of the morning, so you can enjoy lunch, an evening meal or a supper before heading back to the campsite or hotel in Paris where you are staying.

Reservations are not required, however, you can book a table if you wish, but it is advisable to book if you are a larger group. In addition to this, you can also contact Pizza Pino to arrange special evenings such as birthday parties for children and many other celebrations.

The Champs Elysees and the Montparnasse restaurants are accessible to the disabled and all of the restaurants do have high chairs available for young children.

When it come to public transport in Paris you will find that the Metro lines 1, 9 and 13, along with bus lines 28, 32, 42, 73, 80, 83 and 93 will get you close the Pizza Pino Champs Elysees restaurant.