Le Musee de Matiere Medicale Museum in Paris France

The Museum of Medical Material was founded in 1882 with a collection of laboratory and pharmacy objects and natural substances that were utilised for the production of drugs, and this unusual museum also known as the Musee Francois Tillequin portrays the history of medicine from this aspect.


About the Musee de Matiere Medicale

There are so many different items to discover at this museum in Paris, which was first installed in the Faculty of Pharmacy back in 1882 in its current location, but some of the items on display date from far earlier, and in fact, right back to 1763.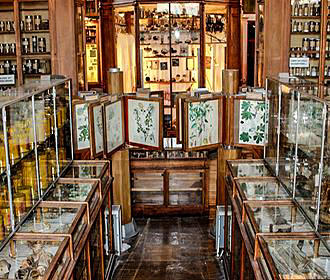 The idea was to have a collection that would be accessible to students for future chemists, pharmacists and researchers, which grew over time, especially with the development of travel and trade, meaning samples of vegetables and herbs could be collected from other parts of the world, rather than just France and Europe.

The Musee de Matiere Medicale was considerably expanded in the 19th century thanks to samples provided from the universal exhibitions of 1855, 1867, 1878 and 1889, which are referred to as the World Fairs in Paris and this latter one was when the Eiffel Tower was constructed for this event.

As time went on, samples started to come from the French colonies and from scientific expeditions, and more recently different universities and research institutes from all over the world would provide exchanges of different materials for example, Thailand, Greece, Cameroon, etc.

You can now discover over 1300 samples of old drugs, which provide a rich history of medicine and a collection from China that was originally formed for the 1889 Universal Exhibition in Paris, which is called an Exposition Universalle in French.

There are old herbal drugs from the Ottoman Empire, a collection from a botanical garden in Madagascar, others from Brazil and Brussels, which total thousands of different samples, along with items such as old acupuncture charts and more.

In fact, today, the museum is considered one of the largest in the world and contains about 25,000 samples of mainly plant origin, but also some animal products, with the most emblematic samples being on the therapeutic level, which are accompanied by many objects, often unusual, illustrating their harvest, transport and use.

But for those of us who are not scientifically minded, the Collection by Monograph is probably going to be the most interesting part of the Musee de Matiere Medicale to the uninitiated tourist, which is located near the entrance to the museum and displays spices such as pepper and cinnamon, plants such as those for cocoa and tea.
There are also numerous objects such as poison arrows, muscle relaxants, blowguns and more, to be discovered, for a completely different and unusual tourist attraction in Paris to visit, if you happen to be on holiday while it is one of the national heritage days in France.


Access to the Musee de Matiere Medicale Museum

The Museum of Medical Material also known as the Francois Tillequin Museum is located by the Jardins des Grands Explorateurs and very close to the Jardin du Luxembourg, which is one of the fabulous gardens in Paris, and this is situated within the Universite Paris Descartes.

Unfortunately, we would like to point out that this museum in Paris is only open to tourists on certain days of the year such as Science Day or the National Heritage days, and at all other times it is closed to the public.

If you are lucky enough to discover the Le Musee Francois Tillequin - Collections de Matiere Medicale, then you will find this unusual museum located in the 6th Arrondissement and it is easy to reach via public transport in Paris.

You will find that the nearest Metro stations are the Vavin stop serving line 4 or the Notre-Dame des Champs stop serving line 12, whereas if you are travelling into Paris via train then the nearest RER train stations are either the Luxembourg stop or the Port-Royal stop, both serving the RER B line.

Alternatively the bus lines 21, 27, 38, 58, 68, 82, 83 and 91 along with the Noctilien Night Bus Service via lines N01, N14, N21 and N122 will also get you close by to this and numerous other tourist attractions such as the Fontaine des Quatre Parties du Monde also known as the Carpeaux Fountain.
Address details
Laboratoire de Pharmacognosie, Le Musee de Matiere Medicale, Universite Paris Descartes, Faculte des Sciences Pharmaceutiques et Biologiques, 4 Avenue de l'Observatoire, 75006, Paris, Ile de France, France


Transport options
Paris Metro lines 4, 12
Bus lines 21, 27
Bus line 38
Bus line 42
Bus line 58
Bus line 68
Bus lines 82, 83
Bus line 91
Night bus line N01
Night bus line N14
Night bus line N21
Night bus line N122
RER Train line B
Attractions close by
Musee Zadkine
Jardin des Grands Explorateurs
Fontaine des Quatre Parties du Monde
Jardin du Luxembourg
Charles Augustin Sainte-Beuve monument
Marechal Ney monument
La Closerie des Lilas
La Coupole Brasserie
Musee Bible et Terre Sainte
Eglise Saint Joseph des Carmes
Palais du Luxembourg
Musee du Service de Sante des Armees
Musee Curie
Fondation Cartier pour l'Art Contemporain
Theophile Roussel statue
U J J Le Verrier statue
Observatoire de Paris