Le Georges Restaurant at the Pompidou Centre

Part of the Famille Gilbert & Thierry Costes group, the Maison Thierry Costas restaurant Le Georges is located on the sixth floor of the Pompidou Centre in Paris and is a gourmet dining experience with fabulous views across Paris.


About Le Georges Restaurant

The Georges restaurant in Paris is in a unique location on the top floor of the Centre Georges Pompidou with its fabulous panoramic views over the city of lights and was designed and produced by Dominique Jakob and Brendan McFarlane.

First opened in the year 2000 it was designed to be futuristic and in keeping with the ideas first perceived for the Pompidou Centre, yet with its surreal and geometric lines combined with different coves and the light and transparency, Le Georges gourmet restaurant is a great place to relax in a unique and unusual atmosphere.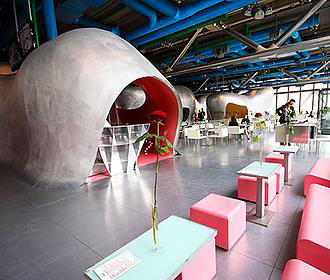 ---
Even though the dining room itself is minimalistic with lots of white, angular furniture, opaque glass table tops and a single rose positioned on each table, there are also the alcoves and rooms that seem to appear out of nowhere, which are great if you would like a more intimate experience.

The bar at Le Georges is called the Pink Bar due to its colouring, which has been designed within an alcove inside the restaurant and offers a fantastic range of different cocktails to enjoy before your a la carte meal.

But wherever you sit in the main terrace style dining room, you can be sure to get fabulous views of Paris due to the amount of large glass windows that provide a fantastic backdrop, yet the dining experience is even better during an evening with the subtle lighting inside and the city beyond all glittering with its illuminations.


Cuisine at Georges Restaurant at the Pompidou Centre

The gourmet cuisine served at Le Georges Restaurant in Paris is innovative and what is often classed as fusion cuisine, and on the a la carte menu you could have French food delights such as roasted figs with arugula and parmesan or fresh green beans with olive oil, sherry and balsamic.
But for even more elaborate starters you could opt for a lobster salad with herbs or king crab with lettuce and lime, Thai style chicken spring roll, yet perhaps duck foie gras or snails are more to your liking. And the starters range in cost from €14 up to around €30 unless you go for something such as caviar that could cost approximately €80.

When it comes to the main dish you could choose a fish course such as prawn risotto, a spicy grilled tuna like a Tataki, grilled turbot or steamed organic salmon, to name a few, whereas meat dishes could be grilled fillet beef with bearnaise sauce, Peking duck or chicken with golden curry and chutney.

Yet there are many other options such as eggs Benedict with either bacon or salmon, even a club sandwich or burger, yet some options are only available until 7pm, however, to give you an idea, the cost for a main course is from around €20 up to about €48.

There are also some very tempting desserts to choose from such as chocolate fudge cake, cheese cake, a berry sorbet, a Georges Rhum baba, trifle and many more and range in price from €12 up to €18 as of 2018.


Access to Le Georges Restaurant

Located at the top floor of the Pompidou Centre in the 4th Arrondissement of Paris, this restaurant in Paris is open every day of the week except for a Tuesday.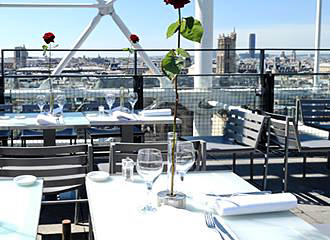 ---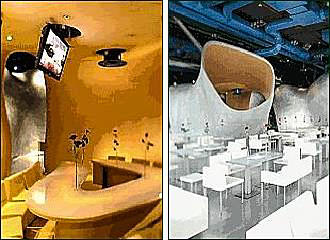 Reservations are required and you can book directly online at Le Georges website, via telephone or by fax, however, if there are more than eight of you within your group, then you do need to contact Georges to make prior arrangements, and a table can be booked from midday right through to 11pm at night.

The nearest Metro stations are the Rambuteau stop on line 11, the Hotel de Ville stop on lines 1 and 11 or the Chatelet stop on lines 1, 4, 7, 11 and 14, and if you are travelling on the RER trains, then you would need the train station called the Chatelet - Les Halles stop that serves the RER A, RER B and RER D lines.

There are also several buses that will get you to the Centre National d'Art et de Culture Georges Pompidou and this contemporary restaurant with its panoramic views such as Bus Lines 29, 38, 47, 58, 67, 69, 70, 72, 75, 76, 81 and 96, along with the Noctilien Night Bus Service via Lines N11, N12, N13, N14, N16, N21, N22 and N23.

To access the restaurant you would need to take the dedicated elevator from the Piazza until 8.50pm, however if it is after this time then you would need to take the caterpillar entrance on the Rue Rambuteau, as this is the only way to access the restaurant when the Pompidou Centre is closed.

However, if you are arriving via your own transport, then you will be pleased to know that there is a car park located at the Pompidou Centre and Le Georges also offers a valet parking service of a night time while dining at this gourmet restaurant in Paris.

In addition to this, we would like to point out that there is a smart or casual smart dress code, plus due to the fact that Georges is located within a museum, you have to abide by the museum regulations for anti-terrorism, such as no backpacks, large luggage, sharp objects, tripods, etc.