Il Carpaccio Italian Gourmet Restaurant

The Il Carpaccio is a Michelin starred Italian gourmet restaurant located within the prestigious Palace Hotel called Le Royal Monceau Raffles Paris where you can dine in a relaxed setting inside or on a terrace during warmer weather.


About Il Carpaccio Michelin Starred Restaurant

The Il Carpaccio has been designed with a Sicilian Baroque style including cool grottos and sculptured shells that adorn the walls, and this bright contemporary and convivial design also opens up onto a conservatory further enhancing the spirit of Italy.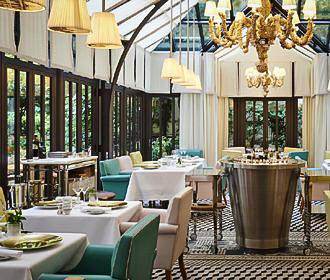 With subtle colours like cream curtains, along with tan and green-blue chairs you could just picture yourself being by the Mediterranean while enjoying gourmet Italian cuisine.


Cuisine at Il Carpaccio

The signature dishes at the Il Carpaccio include Beef Carpaccio with fillet of Black Angus beef with seasonal mushrooms, Vialo Nano Risotto prepared with fresh seasonal ingredients changing with the seasons and Spaghetti alla Puttanesca with olives, anchovies, capers, tomatoes and a selection of Italian cheeses.

Served for both lunch and dinner there is Antipasti to start, which could be delights such as Grilled octopus in Carpaccio, green tomatoes marmalade, fennel and lemon from Amalfi, bagna cauda, the Beef Carpaccio signature dish or Little burrata with black truffle and spring green vegetables for instance.
Then there are the pastas and risottos, with the signature dish we mentioned earlier that is a traditional Spaghetti dish from Gragnano known at Puttanesca 1950, but you could opt for other dishes such as Carbonara tortelli, with Piemontese cheek bacon, bianchetto d'alba truffle and marjoram.

The Il Carpaccio Michelin starred restaurant then has a selection of incredible fish and meat dishes to choose from such as Organic Mediterranean sea bass, fennel gratin, orange, baby onions and oregano or Free range squab, a young pigeon in cocotte, breaded leg as finger food, Chanterelles mushrooms, crispy polenta and Cremona mustard gravy sauce.

However you will find that Il Carpaccio also offers a discovery menu and a signature menu for approximately €150 per person, which are a set option but includes a selection of Italian cheeses and a dessert to round off your gourmet meal, which is called the Menu Capolavoro.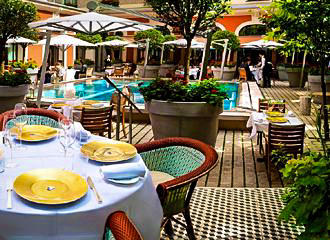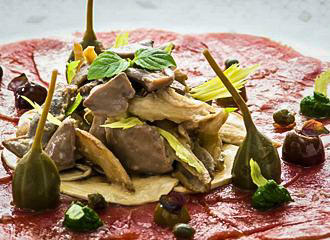 Access to Il Carpaccio

Located within Le Royal Monceau Palace Hotel in Paris, which is in the 8th Arrondissement of Paris, you will find that Il Carpaccio is open on a Tuesday through to a Saturday, with lunch being available between midday and 2:30pm and dinner is served from 7pm through to 10:30pm.

We would like to point out that reservations are required, plus chic, smart dress is also required for this top table gourmet restaurant in Paris, but when the weather permits, you can choose to be served on the terrace, rather than inside.

The nearest Metro station to Il Carpaccio is the Charles de Gaulle - Etoile stop right by the Arc de Triomphe, which serves the Metro lines 1, 2 and 6 along being a train station for the RER A line, however the bus line 31 will also get you close by.