Hotel Regent's Garden - Paris 4 star hotel

With 40 rooms benefiting from a courtesy tray and minibar with free soft drinks, this is a family and disabled friendly 4 Star hotel that has facilities such as a bar, buffet breakfast, a lovely large Japanese inspired garden, free WiFi, and the Astotel Open Bar for free soft drinks and snacks served every afternoon.
Average Double
€130 - €290
---
About Hotel Regent's Garden

Located in the 17th Arrondissement between the Palais de Congres and the Arc de Triomphe you will discover the Hotel Regent's Garden, which is set within a former private mansion house dating from the 1800s that was presented to Dr Conneau by Emperor Napoleon III.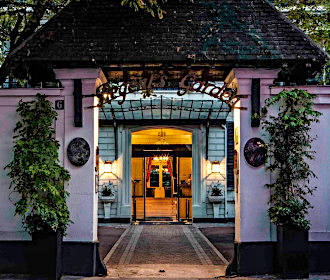 ---
Dr Henri Francois Eugene Conneau was a family physician to the Bonaparte family, who became a good friend, companion, confidant and the personal doctor of Louis-Napoleon Bonaparte and hence the gift for his loyal and faithful service, which Dr Conneau continued until Napoleon III passed away.
Many decades later the mansion house became a small hotel, with modifications that had already been carried out and others to the facade etc, which continued throughout the 1900s with its different owners, until eventually it was acquired by the Astotel Hotel Group and turned into a boutique hotel, still retaining original features.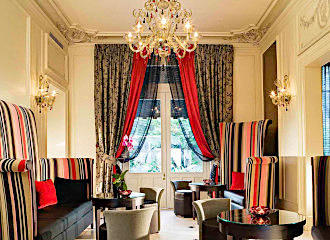 ---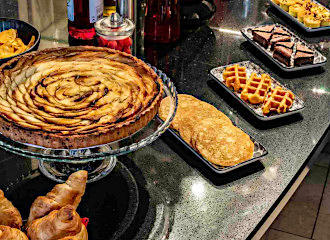 ---
Now rated a 4 Star hotel in Paris, there is a courtyard set back from the road and in addition, there is a garden of around 400 metres squared that was designed by the gardener and landscape designer Xavier de Chirac, which is intimate with seating dotted in different areas, in a Japanese style even with water feature and always changing through the seasons with a wide variety of plants and flowers, all still in keeping with the former mansion house.

With Haussmann style architecture, you will still be able to discover original features that have been retained by Hotel Regent's Garden such as the breakfast room with its fireplace, mouldings, panelling and chandelier, although there are plenty of modern touches to create an unusual, but almost intimate hotel feeling.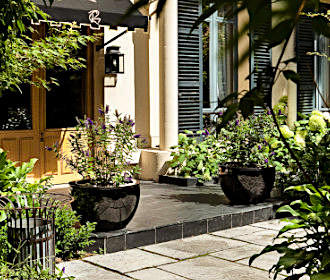 ---
Hotel Regent's Garden Facilities

Fully air conditioned and free WiFi throughout the Hotel Regent's Garden, there is a 24 hour reception with multilingual staff able to help you get the most out of your holiday in Paris, whether it be recommending places to visit, making a restaurant reservation, help with booking tickets for shows, attractions and much more.

An iron and ironing board are available upon request from reception, yet there is a laundry, dry cleaning and an ironing service available for additional charges, plus there is a luggage room with luggage hold service for those of you arriving prior to check-in, and there is a lift for easy access to your room.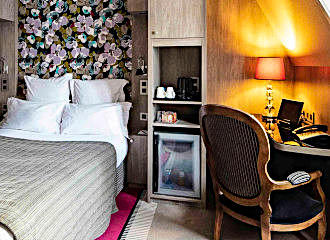 ---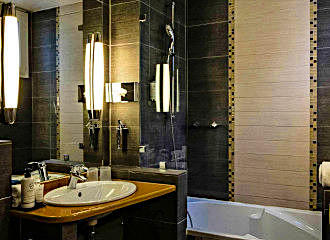 ---
When it comes to relaxation, there is the lobby come lounge area that the hotel calls a parlour where you can enjoy one of the international papers or catch up with people back home with the free WiFi. Not forgetting the pretty and secluded garden, where you can enjoy breakfast, a hot beverage, glass of wine or snack on nice days, and here there are even outside rocking horses for young children to enjoy as well.

In addition, there is also a bar and library area, plus being part of the Astotel Hotel Group, you will have the added benefit of being able to enjoy the Open Bar concept of free soft drinks and snacks that are laid out every afternoon for guests completely free of charge. Although, if you are in another part of the city but near one of their other hotels such as one near the Palais Garnier, then you can still take advantage of this offer on the Asto Tour.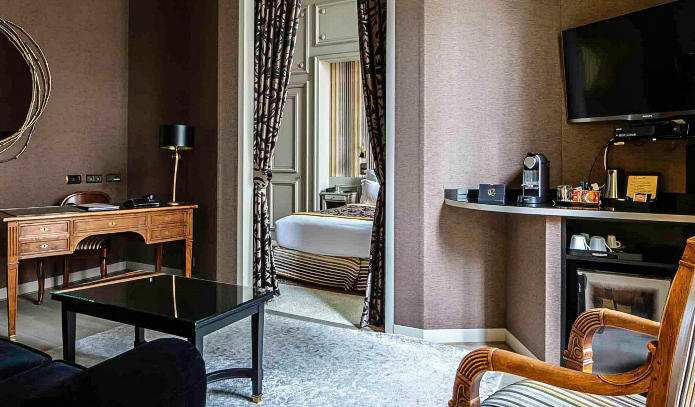 ---
When it comes to breakfast, you can opt for room service, although the impressive breakfast room of Hotel Regent's Garden is so inviting and the delights on offer are varied including organic cereals and fair-trade teas and coffees, plus from sweet to savoury offerings for your day ahead, there are gluten free options available upon request, and by prior notice other allergies can also be catered for.


Rooms at the Hotel Regent's Garden

This is one of the disabled friendly hotels in Paris that has a couple of rooms designed with wheelchair users in mind, and with 40 rooms in total, there are some specifically for families called family rooms that can have two superior rooms joined together with a bathroom each, which can accommodate up to five guests one having a double bed and the other have a double and single bed.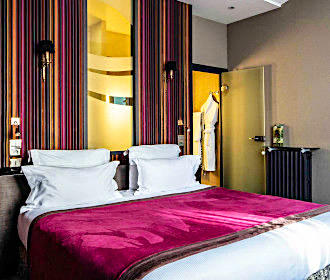 ---
Standard rooms are located on the courtyard side of the Hotel Regent's Garden whereas most superior rooms are on the garden side, although there are some superior double rooms on the courtyard side that are around 4m squared larger, then there are the Privilege rooms that are the largest, also on the garden side of the hotel. In addition, there is one room called an Apartment, which is basically a suite that has a separate lounge area for those of you that want even more space, plus a baby cot can be added to some rooms upon prior request and subject to availability.

Each room comes with soundproofing, air conditioning, an en suite bathroom with either a bath or shower along with a hairdryer, bathrobes and complementary eco-friendly toiletries, a desk with lamp, personal safe and a direct dial telephone.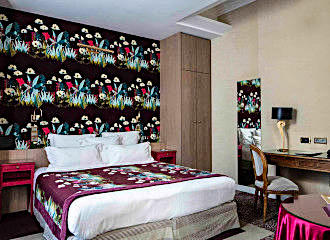 ---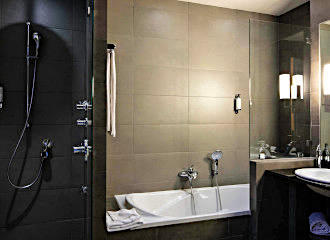 ---
Additional facilities at this 4 Star boutique hotel in Paris include a flat screen TV with satellite channels, iPad, free WiFi, a minibar with free soft drinks re-stocked daily and a courtesy tray with kettle for making your own tea and coffee, plus some rooms also have a coffee machine as well.


Access to the Hotel Regent's Garden

When it comes to reaching the Hotel Regent's Garden via public transport in Paris, you will find that the nearest Metro station is located in an easterly direction called the Ternes stop serving metro line 2. Whereas south westerly you have the Neuilly Porte Maillot stop serving metro line 1, and this is also a train station for the RER C train line, but a little further again, to the north, you have the Pereire stop serving metro line 3. Finally, in a southerly direction you can access the RER A train line via the Arc de Triomphe stop which also serves Paris metro lines 1, 2 and 6.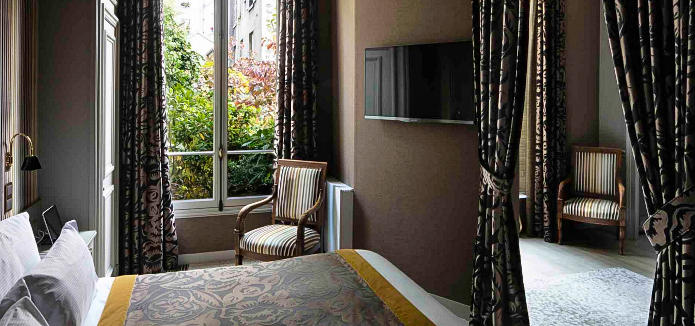 ---
Additionally, the bus line 43 will get you closest to this Astotel 4 Star hotel within approximately a 1 to 2 minute walk, although a little further near the Pereire Metro station you have Paris bus lines 84, 92, 341 and Noctilien Bus line N152, or by Port Maillot you can catch bus lines 73, 82, 244 and PC, along with the Noctilien Night Bus Lines N11, N24, N151 and N153.

Yet for those of you who are travelling to the Charles de Gaulle Airport, you may be pleased to know that Le Bus Direct Line 2, formerly called Les Cars Air France, has a stop by the Palais des Congres on the Boulevard Gouvion-Saint-Cyr, which is right near the PC bus stop on Boulevards des Marechaux.
Le Bus Direct also have a stop by the Arc de Triomphe on the Avenue Carnot for metro line 1 to Orly Airport as well as metro line 2 to CDG and being approximately a 10 minute walk away, the Place Charles de Gaulle at this historical monument is also a train station for the RER A line and Metro lines 1, 2 and 6.

However, if you arriving with your own vehicle, then you may be pleased to know that parking is available for an additional charge of approximately €30 per night, or staff can also arrange private airport transfers along with taxis to various train stations, and these options are especially great for any person with reduced mobility.
Paris Hotel booking info

Hotel Regent's Garden
6 Rue Pierre Demours
75017
Paris
Ile de France
France

Tel: 0033 1 45 74 07 30
GPS: 48.87989, 2.29181

Website: https://www.astotel.com/hotel/hotel-regents-garden/overview