Hotel Paris Vaugirard - 3 Star Hotel in Paris France

In walking distance of the Paris Expo and Palais des Sports, this 3 star hotel has 87 en suite rooms with complementary toiletries along with 4 suites that are suitable for families, offers buffet breakfast, free WiFi, 24 hour reception, wine and beers, plus more.
About Hotel Paris Vaugirard

Situated in the 15th Arrondissement, the Hotel Paris Vaugirard is in an ideal location for getting to Le Dome de Paris - Palais des Sports, but also the Paris Expo Porte de Versailles where the Paris Motor Show and the Paris Book Fair events are held.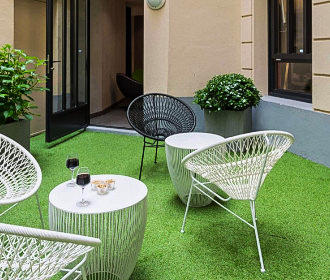 ---
There are also other popular tourist attractions in Paris that are located within easy walking distance of this 3 star hotel including Aqua Boulevard, Parc Andre Citroen where you can enjoy Ballon de Paris hot air balloon rides, the River Seine and Parc Georges Brassens, to name a few.
Hotel Paris Vaugirard is spread over several floors and as well as the original staircase, there is a small lift to access the rooms, which makes life easier with your luggage.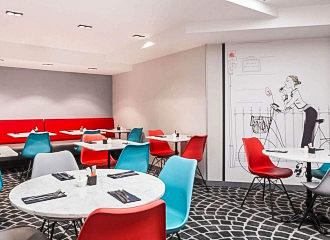 ---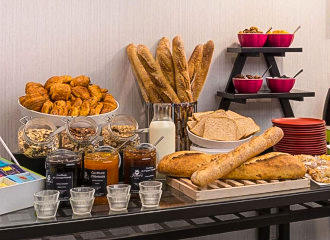 ---
Facilities at Hotel Paris Vaugirard

With a 24 hour reception you may be pleased to know that there is a luggage hold service available for those of you who are arriving prior to check-in time or leaving later in the day.

Staff are multilingual and able to speak various languages including English and French and are there to help you get the most out of your holiday in Paris, whether it be arranging an airport transfer, booking one of the taxis in Paris, providing advice on what events are going on and much more.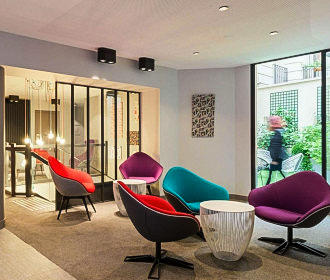 ---
Breakfast at Hotel Paris Vaugirard is served buffet style within the dedicated breakfast room between the hours of 6:30am and 10:30am, which is decorated with bright chairs and is very retro in style.

Here you can have cereals, dried fruits, fruit salad, yoghurts, fruit juices and hot beverages. Additionally, as you would expect, there are French breads and pastries including traditional baguettes and croissants along with accompaniments such as butter and jams, plus there are cheeses, cold cuts and eggs to provide a good start to the day. Alternatively, you can opt for a typical French continental breakfast served directly to your room.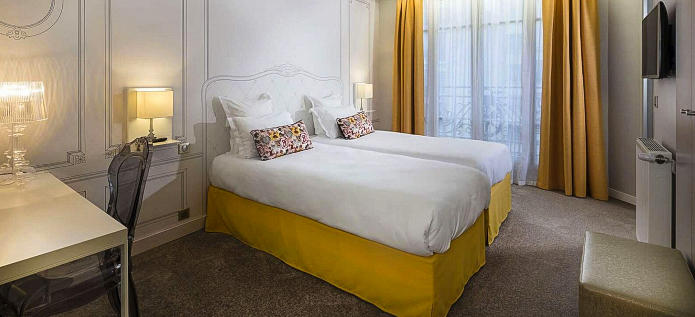 ---
Hotel Paris Vaugirard also has a lounge area where you can sit and read one of the newspapers available or catch up with friends and family back home via the free WiFi.

This is also a great place to relax with a drink, as at the lobby there are vending machines and this 3 star hotel in Paris is also linked with a beer and wine distributor, with various options to enjoy that are served with Eiffel Tower branded glasses, plus gourmet snacks are also available at the lobby. However, on a nice day you could also enjoy these al fresco style within their courtyard garden.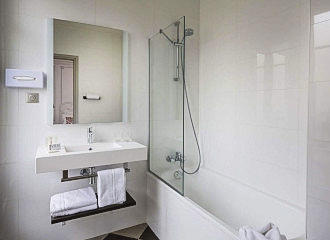 ---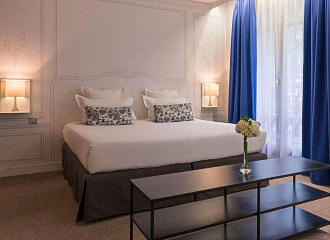 ---
Rooms at the Hotel Paris Vaugirard

There are 87 rooms at Hotel Paris Vaugirard that are broken down as singles, twin and double rooms, plus there are 4 suites for those of you who want a lot more space or if you are travelling as a family.

Each of the rooms is designed in a Bohemian style and you can choose between the 1800s style that has a boudoir type of atmosphere reminiscent of times gone by, or you could opt for a more light hearted 1920s style, yet there are also retro style rooms utilising bright colours and vinyl disco designs for a 1970s style.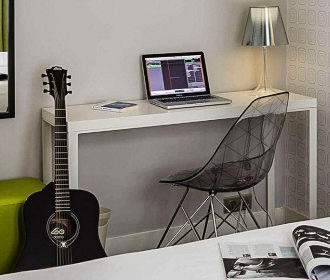 ---
As you will find with lots of hotels in Paris, the rooms are generally on the small side, but all rooms at Hotel Paris Vaugirard come with an en suite bathroom with either a bath or shower and complementary toiletries by the renowned Fragonard.

They are double glazed, carpeted and having heating plus they also have a desk, telephone, free WiFi and a flat screen TV with various channels, but if you need a hairdryer, then you have to request this from reception.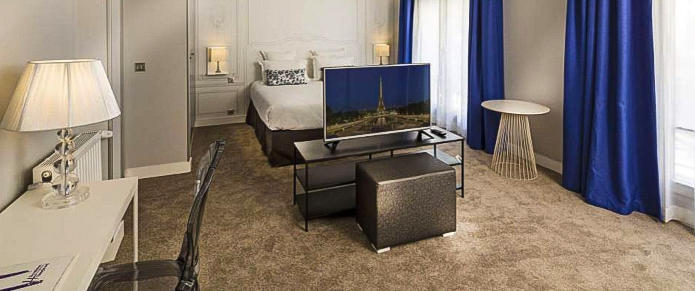 ---
Access to the Hotel Paris Vaugirard

Located in the 15th Arrondissement, when it comes to reaching the Hotel Paris Vaugirard via public transport in Paris, you will find that the bus line 54 and bus line 80 along with the Noctilien Night Bus on lines N13, N62 and N145 will all get you closest to this 3 star hotel.

Yet there is also the Traverse BC also known as bus line 15 and Traverse Brancion-Commerce and as the Traverse Green line less than 500 metres walking distance south easterly or you have the Paris bus line 39 approximately 400 metres going north from Hotel Paris Vaugirard.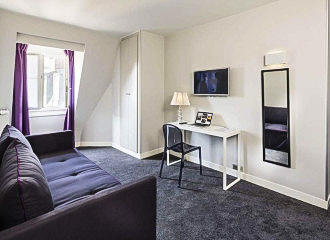 ---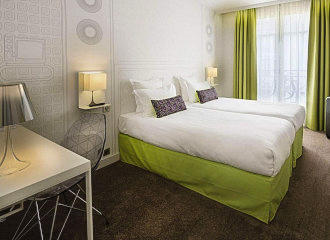 ---
However, when you look at the Paris Metro, you have the Porte de Versailles stop serving metro line 12 only a few metres away, although if you head in a north westerly direction you will come to the Lourmel Metro station serving metro line 8.

You could also utilise the Paris Tramway and the nearest tram stop called the Porte de Versailles - Parc des Expositions stop serves the T3A tram line. Yet continuing on the Avenue Ernest Renan just a little further is a stop by the same name but serving Tram line T2 instead.
In addition, there is the Pont de Garigliano - Hopital Europeen Georges Pompidou train station also within walking distance by heading westerly to the River Seine, which serves RER C train line as well, and this is also one of the options for getting to Orly Airport.
Paris Hotel booking info

Hotel Paris Vaugirard
403 Rue de Vaugirard
75015
Paris
Ile de France
France

Tel: 0033 1 48 28 18 72
GPS: 48.83311, 2.28921

Website: https://www.hotel-paris-vaugirard.com/