Paris Yacht Marina

If you would like a private romantic cruise on a luxurious speedboat with champagne and canapes, a family dinner on a moored sailing boat, or wish to organise an event like a wedding reception, etc on a luxury cruise yacht, then Paris Yacht Marina have all of these with customised options available that are tailored to your own specific needs.


About Paris Yacht Marina

The Paris Yacht Marina offer luxury cruises along with tailor made receptions and events on different yachts, such as a private dinner through to a River Seine cruise on an offshore motorboat.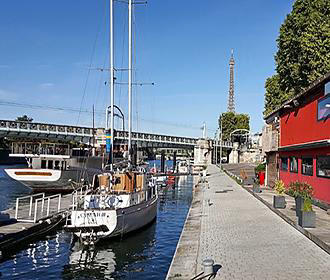 Yet they also have a venue on the bank of the River Seine, which is called the Atelier du France and themed after the new cruise ship that is being constructed, it includes large bay windows for lovely views, a waterfront terrace, an area with a fireplace for winter evenings, and a bar that has been designed with steel used for the hull of a ship.

The Atelier du France is able to offer numerous different configurations for your customised event, whether it be a seminar, cocktail party or sit down dinner. And there are also different menus available, along with cocktail and buffet style options, all created by a top chef, who incorporates different flavours and gastronomy from a wide variety of places in the world that he has discovered and where he has worked in top restaurants.


The Yachts and Cruises with Paris Yacht Marina
Paris Yacht Limousine

You can have a beautiful cruise along the River Seine and visit the capital in a yacht limousine, which is one of the offshore motorboats that the Paris Yacht Marina have at their disposal.
Two of the motorboats have electric engines for a non polluting and peaceful trip, yet the jewel in the crown, so to speak, is the 37 foot pleasure cruiser called The James, which is a Beneteau type Monte-Carlo that measure 12 metres in length.

Each of the yacht limousine offshore motorboats can accommodate up to a maximum of six people and comes complete with a captain and a maitre d'hotel who will serve you the champagne and hors d'ouvres during your cruise. However, you can also opt for a seated dinner in the dining quarter of The James, while being protected from the weather, and there is even on board heating for the cooler months.

So whether you are thinking of a family trip, a romantic cruise, or a way to endulge your clients, then the Paris Yacht Marina, will cater to your needs for an unforgettable experience.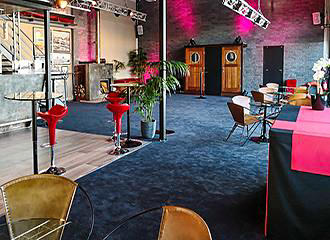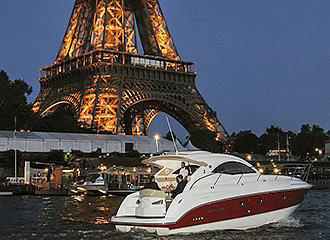 Lunch or Dinner on The Ketch at the Port on the River Seine

It was back in 2009 that Paris Yacht Marina expanded its fleet to include a sailing boat known as a Ketch, which has its main mast at the front and in front of the helm is where you will find the back mast, and this was the first ever Ketch in Paris.

This sailing boat was first constructed in the 1960s and has a truly elegant classic style with a teak deck, and there is a beautiful mahogany table where you can enjoy a private dinner for up to eight people in one of the quarters. Yet there is also a central outside cockpit area that is suitable for al fresco dining, and The Ketch offers a unique and intimate dining experience.

For lunch or dinner on board the sailing yacht, there is a fixed price of €1000 for between 4 and 8 people as of 2015, and having been welcomed on board via its own private gangway. You can then enjoy a dinner consisting of hors d'ouvres, a starter, main course, dessert, coffee and macaroons, which is accompanied by champagne and a choice of either a half bottle of red or white wine per person.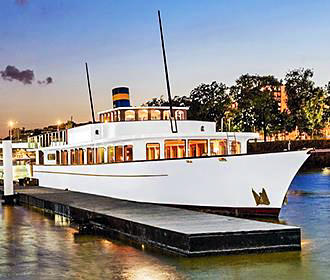 The Clipper Paris

The Clipper Paris is the largest yacht in the Paris Yacht Marina fleet and with its sleek elegant lines, a unique bar that is designed in the shape of a bow of a ship, through to the contemporary lounge decor with its sofas, armchairs, coffee tables etc, this is a truly impressive venue for the ultimate occasion, such as a wedding, anniversary, corporate event, etc.

The yacht is available for lunches through to dinners and from only a 90 minute cruise through to entire day rentals, and with 250 metres square of cabin space plus an even larger upper deck, it can accommodate over 150 people comfortably at any one time.

There are two possible cruises available on The Clipper Paris that Paris Yacht Marina offer, one travelling from the Port de Grenelle to The Louvre and back, which is a duration of 90 minutes, and the other travelling up to the Bibliotheque Francois Mitterrand and back, which is an additional 60 minute duration.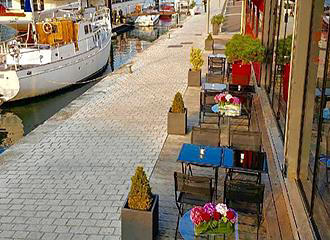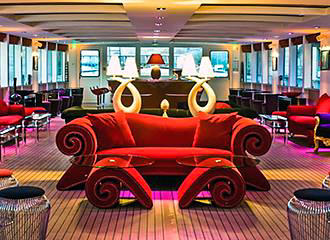 And when it come to cuisine on board, the caterers have designed a menu with a welcome cocktail style aspect, so that people can move around the yacht and the waiters and waitresses go round with trolleys, so people can be served wherever they are. Plus aperitifs and a bottle of champagne between four people, then there are starters, main courses, desserts, coffee and macaroons along with wine. And to give you an idea on cost, based on 100 people, it would work out at approximately €150 per person as of 2015.


Visiting Paris Yacht Marina

You will find the Paris Yacht Marina located at the Port de Grenelle in the 15th Arrondissement, close to many tourist attractions in Paris and overlooking the Ile aux Cygnes, or Swan Island.

Now when it comes to getting here via public transport, the nearest Metro station is the Bir-Hakeim stop serving line 6, or if you are travelling on the RER, the nearest RER train station is the Champ de Mars - Tour Eiffel stop that serves line C.

However, if you have your own means of transport, then you may be pleased to know that there is free private parking available on the marina front at their dock, which is available for its patrons. And access is via the Pont de Grenelle, and it is signposted from the start of the bridge in the 16th Arrondissement, on the opposite side of the River Seine to their dock.