Hotel Le Petit Paris - Unusual 4 Star Hotel in Paris France

A small totally refurbished 4 star hotel with a contemporary feel by an interior designer, facilities include a lounge, library, honesty bar, afternoon tea and coffee, laundry and dry cleaning, free WiFi and more, plus there are family rooms available.
Average Double
€110 - €250
---
About the Hotel Le Petit Paris

This is a 4 star hotel in Paris that has been totally refurbished by the renowned architect interior designer, Sybille de Margerie, who has worked with many luxury hotel chains including one of the Palace hotels in Paris called the Mandarin Oriental.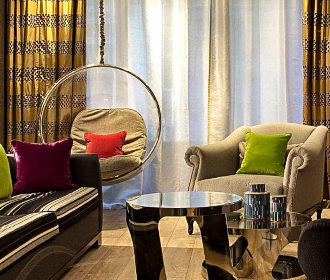 ---
Unusual furniture choices combine with vibrant colours in the lounge and library of the Hotel Le Petit Paris, not forgetting the breakfast room with the same concept, that also combine with various different lighting options from chandeliers through to subtle ceiling and wall lights.
When it comes to the rooms, these have been designed to reflect different eras in the history of Paris whether it be the Middle Ages, the reigns of King Louis XV and Napoleon III through to the 1920s and the 1970s and each has its own unique features.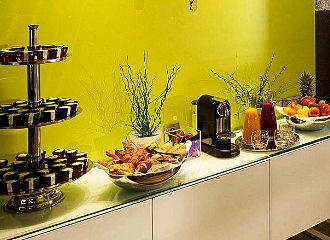 ---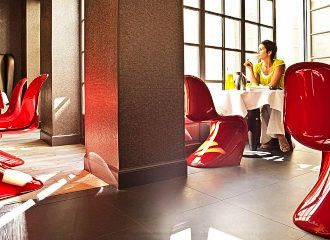 ---
Sybille de Margerie also utilised fine fabrics and creations from the family run high end designer Lelievre and from the family owned French company Pierre Frey who also supply unique designs and high end creations such as fabrics, carpets, etc, which are incorporated into the design of the rooms.


Facilities at the Hotel Le Petit Paris

With a 24 hour reception staff speaking several languages you will find that check-in at Hotel Le Petit Paris is from 3pm and check-out is before noon, however, you may be pleased to know that there is a luggage hold service that you can utilise whether it be arriving early or leaving later in the day, so that you can make the most out of your holiday in Paris.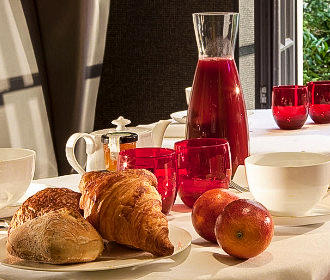 ---
Thinking about luggage, Hotel Le Petit Paris offers a complete laundry and dry cleaning service for varying charges depending upon your requirements, but an iron and ironing board are also available upon request.

Staff offer concierge services to help your stay run smoothly, whether it be advise on events or when the local French markets are taking place, making reservations at one of the many restaurants, booking tickets for a show, organising airport transfers, booking taxis, arranging tickets for access to one of the museums in Paris and much more.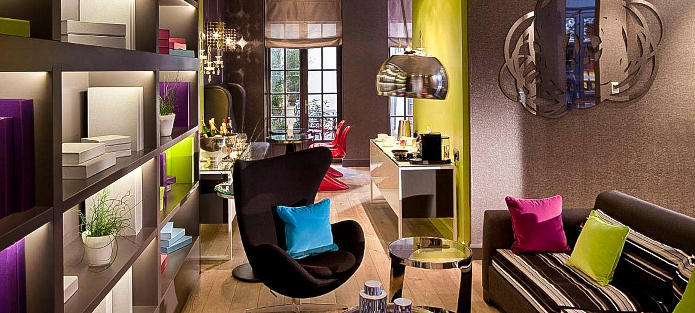 ---
Hotel Le Petit Paris offers a buffet breakfast within the contemporary styles breakfast rooms between the hours of 7am and 11am where you will find something suitable for virtually everyone including gluten free options like bread, although if you prefer, you can request a French continental breakfast served directly to your room.

But for a filling start to the day you could enjoy, cereals, yoghurts, fresh fruit, fruit salad, toast, French breads and pastries like croissants along with accompaniments such as jams. There are also a variety of cheeses and cold meats along with hot options such as sausages, bacon and scrambled eggs, not forgetting fruit juices and a good variety of hot beverages like cappuccino, hot chocolate, herbal teas, etc.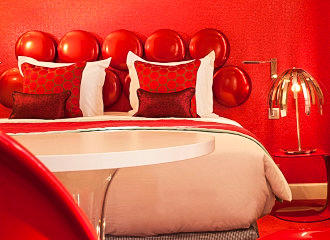 ---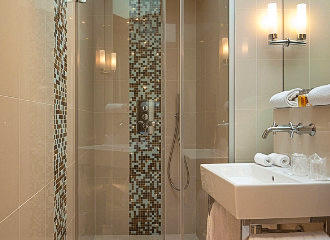 ---
There is also a lounge and library where you can relax and catch up on the news via one of the daily newspapers available or utilise the free WiFi to keep in touch with family and friends back home.

You will find that the Hotel Le Petit Paris offers complementary tea and coffee from midday until midnight and between 4pm and 6pm cakes such as fruit tart are also available, which are served within the lounge, yet there is also an honesty bar with a variety of alcoholic and non-alcoholic drinks available from 6pm through to midnight. However room service is also available for a variety of items including pots of coffee and cakes etc, as well.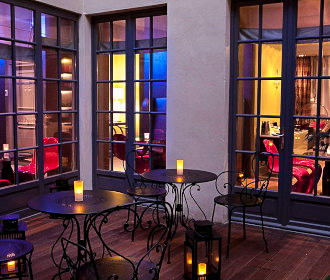 ---
Rooms at the Hotel Le Petit Paris

There are 20 rooms at Hotel Le Petit Paris, one of which is classed as a suite, and these are all unique with different styles that depict Paris in various decades such as the 1970s or the reign of Napoleon III like we mentioned earlier.

Fine and delicate fabrics like silk and velvet have been used, but with modern lighting and elegant furniture, and as you would expect, all rooms have an en suite bathroom with hairdryer, complementary toiletries and also slippers supplied.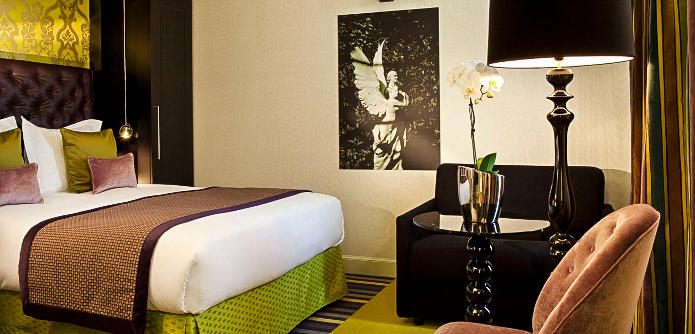 ---
Each of the rooms at Hotel Le Petit Paris is soundproofed and doubled glazed plus has air conditioning and comes with a desk, personal safe, minibar, flat screen TV with Satellite channels and free WiFi.

The Standard rooms at approximately 14 metres squared come with a double bed and shower, whereas the Superior rooms are around 17 metres squared with a choice of being a double or twin room and with a bath or shower.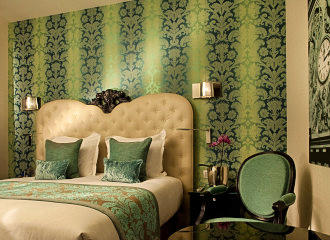 ---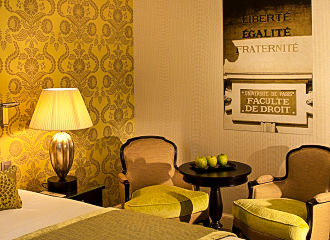 ---
Then there are the Deluxe double rooms at approximately 21 metres squared that can be arranged as a double or twin, have the option of a bath or shower, plus they come with a small relaxation area with table and chairs and some of these even have a small balcony as well.

For those of you wanting even more space or travelling with a third person, the Hotel Le Petit Paris offer Triple rooms that have a double bed and a sofa that converts to a bed for a third person, and at around 22 metres squared these have a shower and a balcony style terrace plus free bottled water supplied on arrival.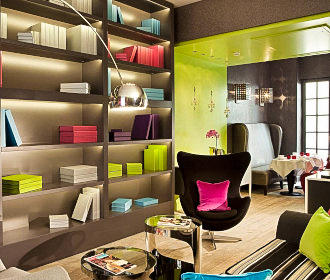 ---
Being that this is a family friendly hotel in Paris, you will also find a Quadruple room that has a double bed and a sofa that converts to accommodate two people, which is more what the Hotel Le Petit Paris call a Suite, as it has been designed as split level with a staircase in the room.


Access to the Hotel Le Petit Paris

Situated in the 5th Arrondissement, when it comes to reaching the Hotel Le Petiti Paris via public transport in Paris, the nearest bus stop is on the Rue Gay-Lussac serving bus line 21 and bus 27, which is in a southerly direction.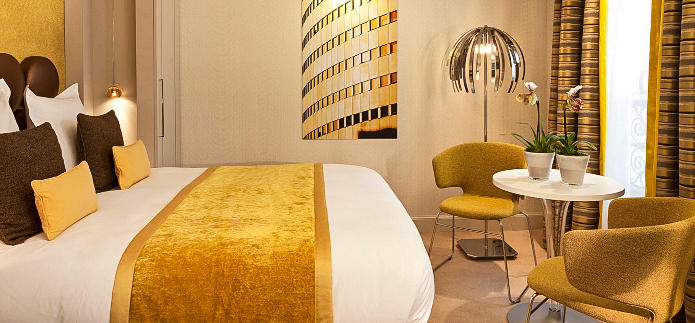 ---
Yet by The Pantheon on the Rue Soufflot you could utilise the Paris bus lines 24, 75, 84 and 89, which is only a little further walking distance in a northerly direction from this 4 star hotel in Paris.

Alternatively, head in a westerly direction to the Boulevard Saint-Michel that runs along side the Luxembourg Gardens and you could utilise the bus line 38 along with the Noctilien night bus lines N14, N21 and N122.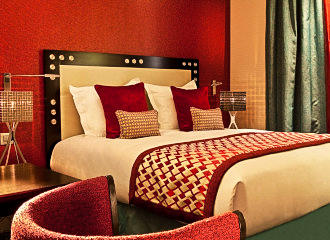 ---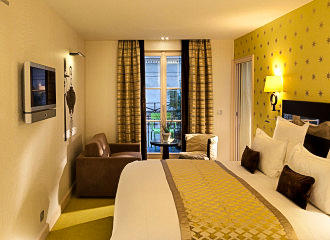 ---
You will find that the nearest train station is the Luxembourg stop serving the RER B train line which is ideal for getting to Charles de Gaulle Airport and many other places including for getting to the Stade de France and Le Bourget where the Aviation museum is located and the Paris Air Show is held every two years.
However, when it comes to Metro stations you will find that the nearest stop from Hotel Elysa is called Cluny - La Sorbonne serving metro line 10. Alternatively, you have the Odeon stop serving metro line 4 and line 10, both of which are in a northerly direction from the hotel.
Paris Hotel booking info

Hotel Le Petit Paris
214 Rue Saint Jacques
75005
Paris
Ile de France
France

Tel: 0033 1 53 10 29 29
GPS: 48.84527, 2.34242

Website: https://hotelpetitparis.com/