Hotel Kleber - 3 Star Hotel in Paris France

A traditional 3 star hotel with vintage style decor and furniture for a romantic feel, Hotel Kleber has a 24 hour reception, lounge and bar, WiFi, some rooms with a Jacuzzi bath or balcony, offers courtesy tray, minibar, complementary toiletries and meeting come function rooms.
Average Double
€100 - €320
---
About Hotel Kleber

Situated in the 16th Arrondissement, the Hotel Kleber is only a short walk from numerous popular tourist attractions in Paris including the famous Avenue des Champs Elysees and the Arc de Triomphe where you can also discover the Tomb of the Unknown Soldier and Eternal Flame.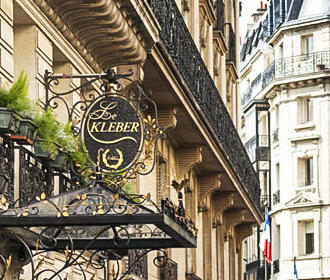 ---
This 3 star hotel is also within easy walking distance of many museums in Paris including the Musee Baccarat crystal museum, the Musee des Arts Asiatiques Guimmet or Musee Guimet for short, plus the Musee Galliera and the Musee de l'Homme located within the Palais de Chaillot, to name a few.
Located in a typical Parisian building dating from the Second Empire the Hotel Kleber will make you feel like you have stepped back in time for the luxury and sophistication with its decor. From exposed stone through to marble floors and solid oak wood to wrought iron and golden gilding including on the balconies, other aspects of this 3 star hotel in Paris include traditional furniture, mirrors numerous statues, busts and sculptures, a Bohemian crystal chandelier, paintings, and even art works painted onto walls, all of which provide that feeling of elegance and richness, but still with a cosy atmosphere.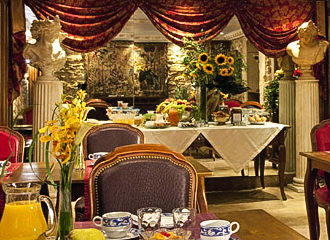 ---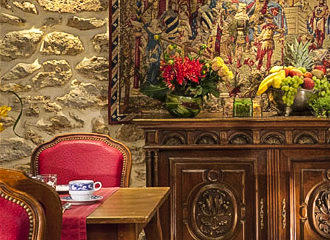 ---
Hotel Kleber Facilities

Although the Hotel Kleber is very traditional in its styling, it does have some more modern facilities including a lift to access the various floors, air conditioning and free WiFi.

There is a 24 hour reception with staff able to speak English as well as French who are there to help you get the most out of your holiday in Paris, whether it be booking a taxi, arranging an airport transfer and much more.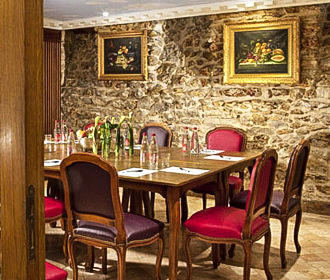 ---
Hotel Kleber has a comfortable lounge decorated with rich dark red fabrics and traditional period furniture where you can sit and relax, catch up with friends and family back home via the free WiFi or enjoy a drink from the wide selection available at the bar.

Now when it comes to breakfast, this is served buffet style within their dining also decorated in the same opulent style, which consists of items such as cereals, fresh breads and pastries plus accompaniments, fresh fruits, and also the possibility of eggs and hot options such as sausages, not forgetting fruit juice and hot beverages. Although, if you prefer, a French continental style breakfast is available, which would be served directly to your room.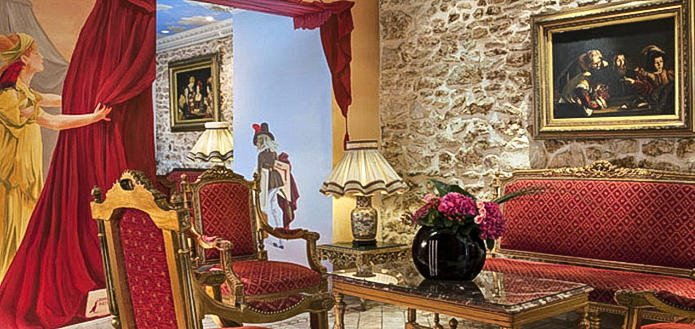 ---
Hotel Kleber also offer two meeting rooms or event function rooms that can accommodate various layouts and configurations, which both have marble flooring, woodwork and the same style as the rest of this hotel for an authentic feel. Whether you require cocktails, food, office equipment such as flipcharts, pens and pads, a projector, video or sound recorder, etc, there are numerous things possible to cater for your needs.


Rooms at the Hotel Kleber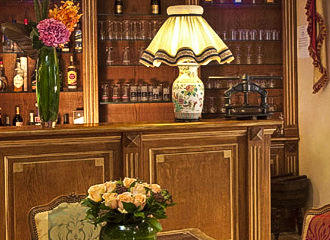 ---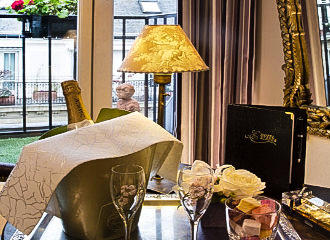 ---
There are single, twin and double rooms at Hotel Kleber that are all designed in a similar romantic heritage style to the rest of this 3 star hotel and all have air conditioning, double glazing, wood floors and en suite with hairdryer and complementary toiletries.

Some rooms come with a balcony, others with a hydro massage shower and some classed as the Romantic double even have a whirlpool Jacuzzi bath, although there are additional charges for rooms that have these and must be requested at time of booking.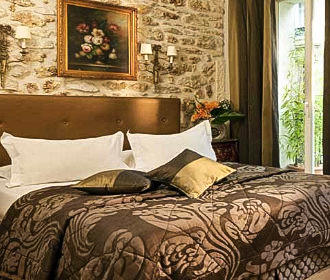 ---
Yet all rooms at Hotel Kleber come equipped with wardrobe, desk, personal safe, direct dial telephone, free WiFi and a very good sized flat screen TV in addition to a minibar and a courtesy tray for making your own tea and coffee.


Access to the Hotel Kleber


Located in the 16th Arrondissement, when it comes to reaching the Hotel Kleber via public transport in Paris, you will find that the closest bus stops to this hotel are for bus line 22, bus 30 and bus 82 along with the Noctilien Night bus via line N53.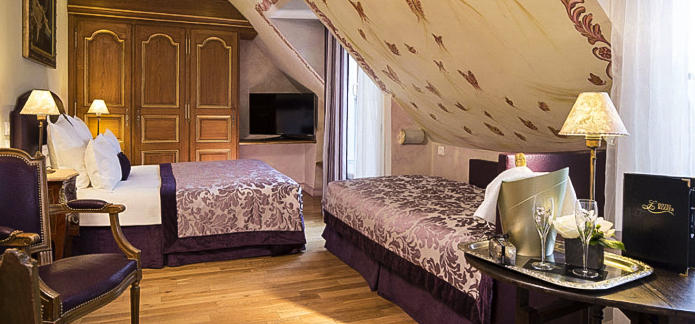 ---
Also on the Avenue Kleber in a westerly direction you have the Boissiere Metro stop serving Metro line 6, yet continuing on this road you reach the Trocadero Metro station serving line 6 and Metro line 9.

In the opposite direction to Hotel Kleber you have the Kleber metro stop serving the Metro line 6, yet heading further along the Avenue Kleber in a northerly direction you will come to the Charles de Gaulle - Etoile stop, which is an RER train station for the RER A train line that is ideal for getting to Disneyland Paris, and this is also a Metro station for the Metro lines 1, 2 and 6.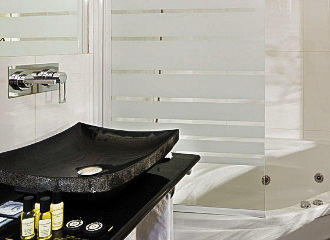 ---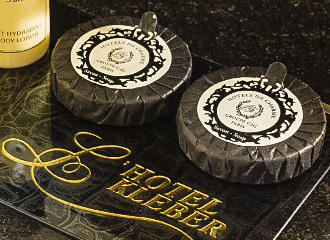 ---
All around this notorious junction there are bus stops on each of the roads that lead from it, such as bus line 92 on the Avenue Marceau, bus line 73 along with Noctilien bus line N11 and bus N24 on the famous Avenue des Champs Elysees, Noctilien bus N151 and bus N153 on the Avenue de Friedland and Paris bus lines 22, 52 and 341 on the Avenue Hoche.
Although if you are heading to Place du Trocadero then there are additional Paris buses for bus line 32 and bus 63 that will get you to other parts of the city, but don't forget to enjoy the impressive views from the Palais de Chaillot terrace looking over the Trocadero Gardens to the Eiffel Tower located on the opposite bank of the River Seine.
Paris Hotel booking info

Hotel Kleber
7 Rue de Belloy
75016
Paris
Ile de France
France

Tel: 0033 1 47 23 80 22
Fax: 0033 1 49 52 07 20
GPS: 48.86874, 2.29208

Website: http://www.paris-hotel-kleber.com/