La Cantine Russe - Russian Restaurant with entertainment

This is a Russian restaurant in Paris located with the conservatory for performing arts and although open for lunch, of an evening you can enjoy an a la carte meal along with free entertainment, whether it be people singing folk songs, arias, or even dancing.


A bit of history

Fedor Chaliapin was one of the founders of the Conservatoire Russe de Paris Serge Rachmaninoff, and realising that students of the music school and performing arts needed somewhere close by to eat, the Cantine Russe was established.

It was in fact one of the first Russian restaurants in Paris that first opened its doors in 1923 and was originally run by an Imperial cook and the waitresses were Russian countesses, and at the time, the meals were served free to the first students and Russian emigrants who had little or no money, while they were studying their chosen profession far away from the comforts of family and home.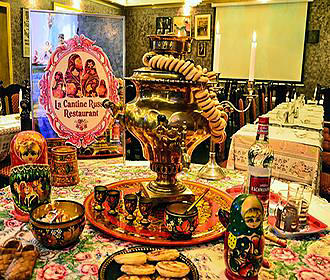 La Cantine Russe has always had live music and entertainment every since it first opened, and initially this was to get the students together, but also as a thank you for the meals they were provided, plus it was also a way of showcasing their skills to the curious and other residents in Paris.


About La Cantine Russe Russian Restaurant and Entertainment

The professional music school and performing arts school called the Conservatoire Russe de Paris Serge Rachmaninoff, provides numerous concerts and different performances throughout the year, and the Russian restaurant located within the building, provides traditional Russian cuisine and hosts many of the students from the school who perform here as well.

The elegant decor of the restaurant with its crisp white tablecloths contrasting with the rich reds and velvet curtains, combined with soft lighting, along with old black and white photographs of Russian monasteries adorning the walls, yet as you enter, you can also see a picture of Fedor Chaliapin who first founded this restaurant.

On top of this, there is a small stage with all the spotlights, where you can experience many of the students performing, and who knows, some of them may well become famous in time just as many have in the past, which makes this an unusual venue for an evening meal.
However, there is also an outside terrace area within the courtyard of the Russian Conservatory, which is laid out of an evening during the warmer months, complete with sun canopies and candelabras placed in the centre of the tables, again laid out in a similar way to inside but in more cottage sort of style with chequered tablecloths and wicker chairs, that make this a cosy place where you can listen to practise sessions from the Conservatoire or even Vivaldi being played, etc.

Dining of an evening inside means that not only can you experience the Russian cuisine, but also enjoy non-stop performances from many of the students at the school who will perform anything from folk songs through to dance, opera and much more.

Often these are accompanied by a traditional Russian string instrument called a Balalaika, or the director of La Canteen Russe, playing the piano, but later in the evening you can listen to Russian disco favourites and dance the night away until the early hours.

Yet when you dine here, it seems like going back in time to how a traditional Russian restaurant would have been like, where it almost seems to be a happy go lucky type of atmosphere, but you can still have an enjoyable evening in an unusual and unique venue.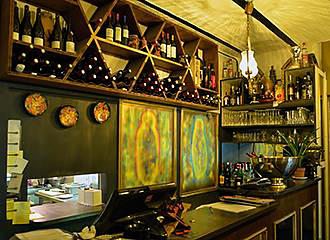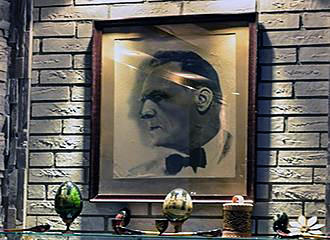 The Cuisine at the Cantine Russe Restaurant

Of a lunchtime at La Cantine Russe there is a fixed price menu with a choice of starter and a choice of main course plus a dessert of the day for €18 as of 2018.

When it comes to an evening, this Russian restaurant in Paris provides an a la carte menu with delights for starters such as Blinis with salmon and creme fraiche, or Ouha, which is a fish soup with vodka, creme fraiche and caviar, or it could be a salad or Borchtch, which is a traditional beetroot soup, with these varying in cost from around €9 upwards to around €30 as of 2018.

Main courses start from around €16 as of 2018 at La Cantine Russe and could be Babouchka, which is a beef dish with mashed potato, vegetables and haricot beans, Beef Stroganoff with mushrooms and onions, Chicken Kiev or Shashluk kebabs with a choice of chicken or pork and again the cost varies up to around €30.

The main course could also be Varenykis, which is like a stuffed dumpling, but there is also a French menu as well as the Russian menu, so perhaps Mussels in white wine or cream accompanied by fries, snails, a seafood platter or duck with honey would be more to your liking. However, there is also a childrens menu available for those under the age of 10, which is a cost of €13 as of 2018.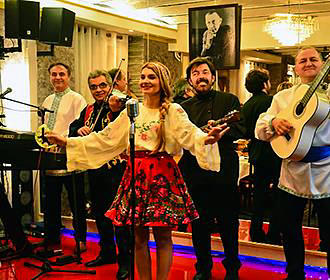 Visiting the Cantine Russe in Paris

You will find the Cantine Russe open from midday through to 3pm and then from 7pm through to midnight on a Monday to Saturday, yet it is closed on a Sunday and on certain other dates, so it is always wise to check prior to arriving.

Evening performances at this restaurant in Paris start from 8pm, plus we would like to point out that bookings are recommended for an evening, as there are limited spaces available and has become an exceedingly popular restaurant in Paris for something completely different.

You will find the Cantine Russe located in an ideal situation right by the River Seine in the 16th Arrondissement and it is close to numerous different tourist attractions including the Palais de Tokyo, the Musee Quai Branly, the impressive fountains within the Trocadero Gardens by the Palais de Chaillot and many others including the famous Eiffel Tower on the opposite bank.

This Russian restaurant in Paris is situated in between the Pont d'Alma bridge near to the Flamme de la Liberte, with the Pont d'Iena bridge the other way, and the closest Metro stations are the Iena stop or the Alma-Marceau stop that both serve the Metro Line 9.

Yet there is also a Batobus docking station reasonably close as well, which is right by the foot of the Eiffel Tower and this is the water bus that travels up and down the River Seine, stopping at strategic points close to historical monuments such as Notre Dame Cathedral.

However, you also have the Bus Lines 32, 42, 63, 72, 80, 82, 92 that will also get you within walking distance of La Cantine Russe located within the Conservatoire Russe de Paris Serge Rachmaninoff, plus there are also bus tours such as L'OpenTour that have dedicated stops nearby as well.