Hotel Joke - 3 star unusual hotel in Paris

With quirky design features and stylish but fun furniture, this makes for an unusual 3 Star hotel in Paris that is family and disabled friendly, provides a buffet breakfast, has 44 en suite rooms with free WiFi, complementary Astotel Open Bar for soft drinks and snacks, plus more.
Average Double
€110 - €240
---
About the Hotel Joke

Quirky. Surprising. Originality. In addition to surprising and entertaining, are just some of the words that describe the Hotel Joke, which was designed by the Maidenberg Architecture company that specialise in the design, architecture and interior design of hotels in Paris, who were commissioned by the Astotel Group.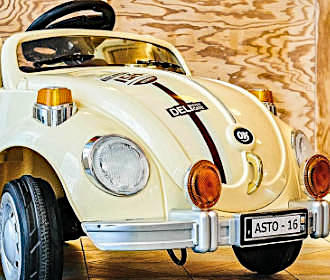 ---
Astotel have several different 3 Star hotels and also 4 Star hotels in Paris, and several of these have been completely refurbished by Philippe Maidenberg and his company, who also work alongside other professionals to create a completely different perspective or image that always incorporates functionality as well as originality, which is exactly what you will find at the Hotel Joke.
Situated in a six story building, with a lift for easy access and access for those the disabled or those with reduced mobility, you will discover features from the 2015 refurbishment that incorporates details such as lights that look like balloons, mini child cars, crazy geometric floors and walls, panels with different words, even upside down books on a shelf that has others you can read, xylophone styled chairs and so on.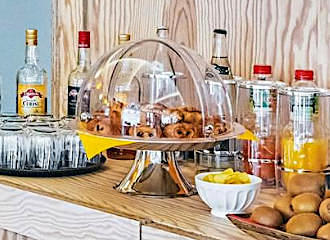 ---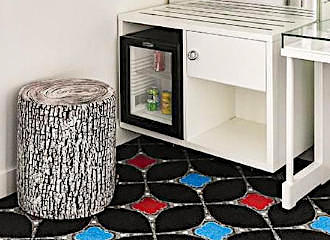 ---
Hotel Facilities

Situated in the 9th Arrondissement within walking distance of many tourist attractions in Paris such as the Moulin Rouge, as you enter the Hotel Joke, which is a 3 star hotel in Paris almost like a boutique hotel, you will find a modern yet quirky lobby area as an area where you can relax and enjoy the free and unlimited WiFi, in addition to a small courtyard garden area that you can enjoy on a nice day.

So this is an unusual themed hotel in Paris that has a 24 hour reception with multilingual staff able to help you get the most out of your stay, whether it be booking a tour, restaurant reservation, helping you plan your transport connections, etc, plus it is disabled friendly, as we mentioned earlier.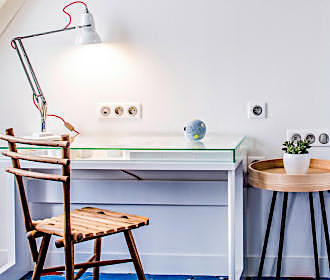 ---
It is also a family friendly hotel that appeals to youngsters with some of the funky or playful features, and with children under the age of two being able to stay free of charge with baby cots available upon request, this make sense, especially since there are even toys around that children can play with as well.

Now as for other facilities at this 3 Star hotel in Paris, you will find a luggage hold, laundry service that is operated by an outside company, an iron and ironing board on request, French and International newspapers available, free unlimited WiFi and much more including the Astotel Open Bar concept.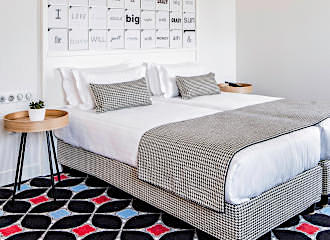 ---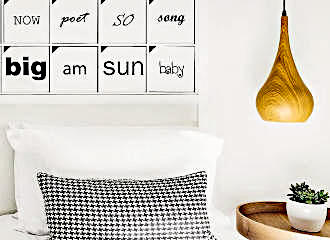 ---
Talking of the Astotel Open Bar Concept, this is where the Hotel Joke provide free snacks like pastries, fruit and sweets every afternoon along with free soft drinks such as coke, fruit juices and hot beverages. Yet even if you are out and about enjoying the city, you can still take advantage of the offer at any of the other Astotel Hotels, upon proof you are staying there.

When it comes to breakfast, this is served buffet style within the dedicated breakfast room from 7am through to 10:30am, with a wide choice on offer from hot and cold options, cereals, fruit, bread and accompaniments, etc.

---
But do not despair if you have an allergy, require gluten free options and so on, as the hotel staff will help you get the best start to the day, in addition to the fact that if you book with the hotel directly, breakfast is included within the room cost, rather than being an additional charge, plus you can also opt for room service for a continental breakfast option.


Rooms at the Hotel Joke

There are a total of 44 rooms at the Hotel Joke, which are all decorated in a modern way with different aspects that continue on the theme of this hotel, and although on the reasonably small side, which is actually typical of Paris in general, they are very well equipped.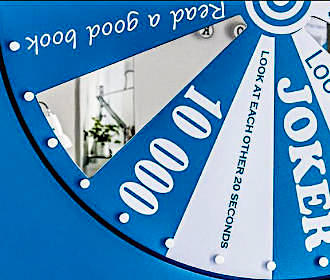 ---
The rooms are all doubled glazed, air conditioned, carpeted and have an en suite bathroom with either a bath or shower and a hair dryer, plus a desk with lamp, free unlimited WiFi, a flat screen TV with satellite channels and a personal safe.

Each room comes with a mini bar, with complementary soft drinks and water that is re-stocked daily in addition to a courtesy tray with kettle for making your own tea and coffee, which is rather unusual for many hotels in Paris.

You will find there are single rooms at approximately 13 metres squared, standard twin or double rooms at around 15 metres squared, Privilege rooms at around 20m squared and Superior rooms at approximately 23 metres squared, with the latter two categories being able to accommodate a baby cot upon prior request and subject to availability.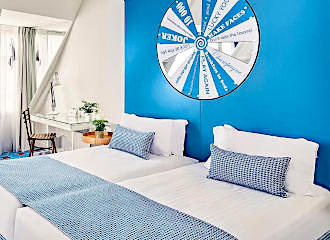 ---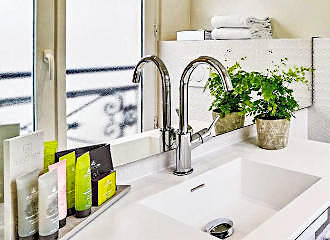 ---
When it comes to staying with friends or family, there is the Connecting room that has a standard double room one side and a single the other side, both with their own bathroom, mini bar and courtesy tray. Alternatively, slightly larger is the Family room that can accommodate four guests interconnecting with a double and a twin room, and again with separate bathrooms, but one with a bath, the other with a shower.


Access to the Hotel Joke

The nearest Metro station is the Blanche stop serving line 2, yet a little further walk in an easterly direction and you have the Pigalle stop serving metro line 2 and metro line 12 or in a westerly direction you have the Place de Clichy stop serving metro lines 2 and 13.
Alternatively, the Paris bus lines 21, 30, 40, 54, 68, 74, 80 and 95 along with the Noctilien Night Bus Service via lines N01 and N02, will all get you within walking distance of this 3 Star hotel in Paris.

In addition, if you want to discover something completely different, you have the PromoTrain, which is the tourist train of Montmartre, that will take you round this very historical and lively area of Paris.
Paris Hotel booking info

Hotel Joke
69 Rue Blanche
75009
Paris
Ile de France
France

Tel: 0033 1 40 40 71 71
GPS: 48.88246, 2.3318

Website: https://www.astotel.com/hotel/joke/overview