Musee du Vin Restaurant Les Echansons

Les Echansons Restaurant is located within the Musee du Vin in fabulous surroundings of the vaulted cellars that were used by the Friars of the Minimes Monastery in Passy for storing their wine.

There is a long rich history of the Musee du Vin and the area where it is located with it being an unusual museum, which is a great place to visit for anyone who is fascinated with wine or the tasting of French wines, and the name of the restaurant even has a great background, named after a person who would serve wine.


Restaurant within old cellar walls

Yet the setting for the restaurant within the old cellar walls that are still exposed, the columns and the subtle lighting combined with wooden chairs and tables, really makes you feel like you are in the depths of an old chateau or castle in France, which makes this a very different and unique experience in Paris.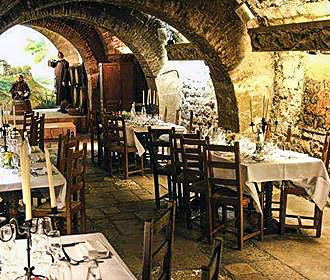 Of course, as you can no doubt imagine, there are a vast array of different French wines to choose from that you can appreciate tasting and understanding more about from an expert Sommelier of the Musee du Vin Wine Museum, with their own wine cellar that holds over 200 references.

The chef of Les Enchansons will welcome you of a lunchtime, with fine traditional French cuisine utilising fresh ingredients and the produce available that day, so the menu is always constantly changing.

But to give you an idea of delights that may be available, these could be starters such as Egg poached in red wine sauce with asparagus tips, Pan-fried scallops and creamed sweet potato or Semi-cooked foie gras with brioche & fruit chutney, but there is an additional charge for this last option.

Main Courses could be Provençal-style beef stew, Lamb confit with sauteed potatoes, dried fruits and a honey sauce or Cod-fish loin, with virgin sauce (made with extra virgin olive oil), capers and tapenade.

Desserts could be tempting choices such as Chocolate fondant cake and ice cream of your choice, Caramelized upside-down apple pie and vanilla ice-cream or Strawberries in vanilla-flavoured cream and almond crisp, which are actually all served within a glass.
You can also experience tasting different cheeses and wine that are paired perfectly, yet if you are a novice and unsure what wine should pair with what food, the sommelier or your wait staff will be more than happy to provide their suggestions to make your meal even more enjoyable.

When it comes to eating at Les Echansons you can choose just a main meal, or you could opt for one of the menu options and Terroir Menu is either a starter and main course or main course and dessert with coffee, but drinks are an optional extra and this is a cost of €29.50 as of 2018.

The second is called the Dionysos Menu at a cost of €37 and includes a starter, main course, dessert and coffee, however, the ultimate is the Bacchus Menu at a cost of €63 as of 2018 that includes a starter, main course, cheese course, dessert, coffee, and admission to the Musee du Vin included within the cost.

Whatever option you choose, wine pairing is an option, but the cost to visit the Museum of Wine is only included with the Bacchus Menu option.


Access to Les Echansons restaurant in Paris

This restaurant is situated within the Musee du Vin, which is the wine museum in Paris that is located in the 16th Arrondissement close to the River Seine and most famous monument in Paris, the Eiffel Tower. In fact, the Eiffel Tower restaurant used to store their wines in these cellars for a while before the place became a museum.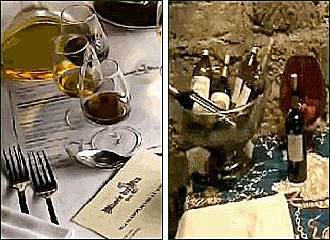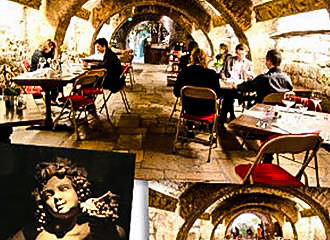 You may be pleased to know that this restaurant in Paris is accessible to the disabled but is only open on a Tuesday through to a Saturday for lunch between noon and 3pm and there is no evening service.

Les Echansons is also closed at times the museum is closed, on National French holidays and also from 25th December through to 2nd January, plus it can be closed if the whole venue has been booked for a function.

We would also like to point out that this is not somewhere you just pop in to, and reservations do have to be made prior, which can be done by telephone, email or via their dedicated website.

When it comes to getting to Les Echansons via public transport in Paris, you will find that the nearest Metro Station is called the Passy stop on line 6, yet the nearest RER train station is the Champs de Mars - Tour-Eiffel stop serving the RER C line, which is on the opposite side of the River Seine, accessed by going over the Pont de Bir-Hakeim.

Alternatively you could utilise the Buses with the Bus lines 32 or 72 being the closest to the Musee du Vin and the Enchansons Restaurant, however the bus lines 22, 52 and 82 will also get you within walking distance of this unique venue and many other tourist attractions in this area of Paris.