Brasserie Bofinger in Paris

First founded in 1864 but with a Belle Epoque setting, this historical brasserie restaurant still provides traditional French cuisine with an emphasis on dishes from the Alsace region, plus it has a seafood stand available for a takeaway option.


A bit of history

Frederic Bofinger, who originally came from the Colmar area of the Alsace region in France, decided to open a modest establishment in Paris back in 1864, which is located close to the Place de la Bastille square, and this was the preferred area for many Alsatian workers who were employed in Paris at the time.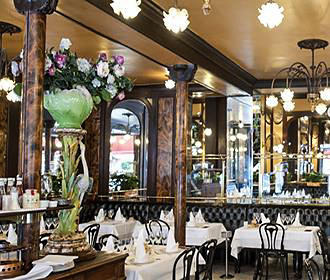 The customers to bring in their own jugs or pots in order to be served beer, and this was the first ever brasserie in Paris to offer draught beer on tap, and they used to enjoy this along with delights such as sauerkraut or delicatessen meats.

This led to its success, but Brasserie Bofinger became even more popular with the arrival of refugees from the Alsace and Lorraine regions in France that were annexed by Prussia, and then in 1919 Bofinger expanded and was refurbished in the Belle Epoche style.

However, by the 1930s, the Brasserie Bofinger needed to expand again, and it was the artist Hansi who was entrusted with the decor for one of the rooms on the first floor, which are now purely for private functions, plus he painted the blue sign that still hangs outside this restaurant in Paris today.
Arriving from the Gare d'Austerlitz and the Gare de Lyon train stations in Paris, the Bofinger restaurant has seen many a diplomat and politician over the years along with numerous celebrities and artists.

And in fact, in 1981 Francois Mitterrand reserved the first floor of this restaurant in Paris in order to celebrate his election victory as the new French President, plus with the opening of the Opera Bastille, the Brasserie Bofinger has continued to be the restaurant of choice for a unique dining experience in a historical setting.


About Brasserie Bofinger Restaurant

You will find the grand dining room with its beautiful Belle Epoche decor showing the historical side of the brasserie including the bevelled mirrors, bench seats, the lights and paintings with the walls in an Art Nouveau style, not forgetting that it has a fabulous cupola roof.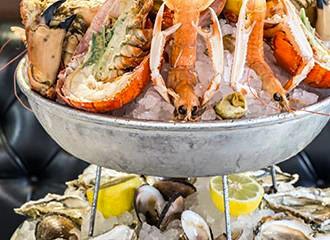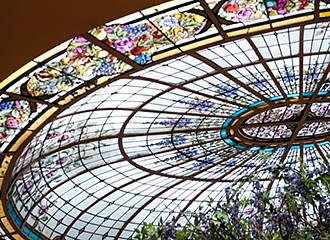 Yet on the first floor there are different rooms available as private salons that can accommodate varying amounts of people, and as we mentioned earlier, one of these was completely redecorated in the 1930s, and has remained the same period styling ever since, which also makes for an exception banqueting venue for a special occasion.

When you decide to enjoy a lunch or dinner at the Bofinger restaurant, you will be able to discover many authentic period features, including the revolving entrance door, the bar, the impressive spiral staircase and of course the cupola.

However, there are many more original features to discover including ceramics, the bronze sconces, the original bevelled mirrors and the leather bench seats, which all provide a unique character of its own with an impressive history.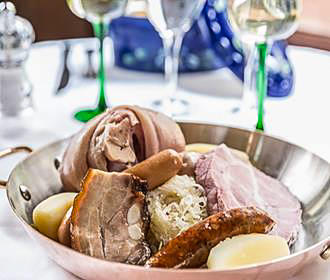 French cuisine at the Bofinger restaurant

The Brasserie Bofinger is a family and child friendly restaurant in Paris that has a dedicated childrens menu available for those ages between 4 and 12 years of age, which consists of a main course, dessert and a drink for €14.50 as of 2014.

There are also a few formula menus available at the Bofinger Brasserie, which are valid each day except for on all French national holidays, the eve of these holidays and any other exceptional days such as Valentines day.

You could opt for a starter and main course or main and dessert for €31 as of 2014 or a three course meal for €38 not including drinks, and there is a selection of different choices available for each course.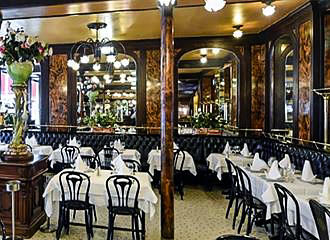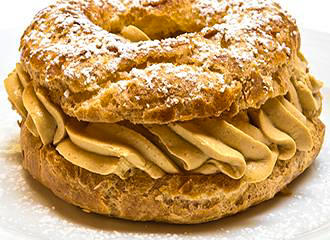 Starters could be delights such as Duck Foie Gras with a black cherry chutney and espelette pepper followed by a Chateaubriand steak with tomato confit, green beans, French fries and a bearnaise sauce finishing with a Lemon meringue tart and lime sorbet, for example.

Yet there is also a Prestige Menu available, which includes a glass of champagne and an appetiser as well as the three course, and this is a cost of €59 as of 2014, however, we would like to point out that all of the formulas are not available for groups or parties totalling ten or more people.

The Brasserie Bofinger is renowned for its seafood, and there are an incredible amount of choices in seafood, shellfish and platters to choose from with oysters ranging in cost from around €17 to €40, a platter from €27 through to €122 and shellfish plus crustaceans ranging in cost from €6.50 up to €42 as of 2014.

You could choose a platter such as the Fishmonger which includes a half American lobster, half a crab, 4 prawns, 3 langoustines, brown shrimps and shellfish or the Royal Bofinger that includes 1 American lobster, 4 langoustines, 1 crab, 4 prawns, 18 assorted oysters, brown shrimps and shellfish.

However, if you would rather have a takeaway seafood platter or just pick and choose at different bits of seafood and oysters from their stand and take them home or back to your hotel in Paris, then this is also possible at the Bofinger. And you may be pleased to know that there is a 15 percent discount on all takeaway purchases made this way.

Yet, there is also an a la carte menu available for fine dining in what has become an historical gourmet restaurant in Paris with starters ranging in cost from around €10 up to €22. These could include a Cheese topped onion soup, a Traditional meat pie with green pepper and Riesling jelly, Burgundy snails marinated in Chablis or a Carpaccio of American lobster with scallops, a ginger flavoured vinaigrette and walnut crumble.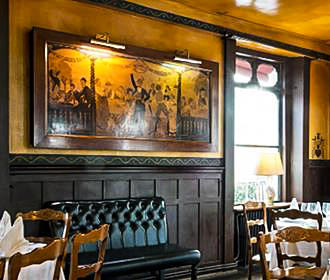 There are both traditional and contemporary main courses available at the Brasserie Bofinger, and these range in cost from €22 up to around €42 as of 2014 and will include fish courses, meat dishes and the traditional Alsatian dishes that have forged its reputation over the decades.

To start with, you have the Sauerkraut selection including the frankfurter, Jura sausage, smoked bacon, salt pork chop, white pudding, black pudding and steamed potatoes to name one, yet there is also one called a Sea Sauerkraut that includes monkfish, smoked haddock, squid ink quenelles, salmon, langoustines and again, steamed potatoes.

But if you want a fish dish, this could be Grilled salmon with spring onion hash browns in a shellfish juice or Sole meuniere, which can either be grilled or steamed depending upon your preference and served with boiled potatoes. Yet meat dishes could be Beef tartare with French fries, Duck breast and Foie Gras cooked with Naveline orange and served with a thin apple tart or a Sauteed fillet of beef with potato gratin that combines milk and a green pepper sauce.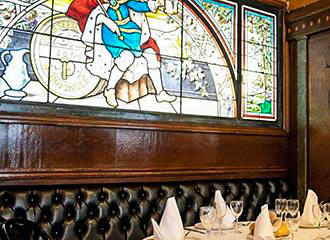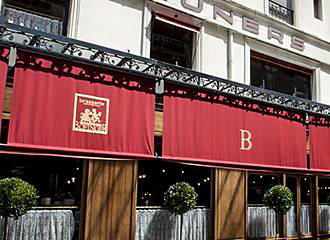 Yet the desserts are also to die for including a Choux pastry with praline cream, or Profiteroles with warm varrhona chocolate, not forgetting their selection of tasting desserts and these range in cost from around €11.50 to €13.50 as of 2014.


Visiting the Brasserie Bofinger Restaurant in Paris

Now the Brasserie Bofinger is open seven days a week and on a Monday to Friday it is open from noon until 3pm for lunch and then again of an evening from 6.30pm through to midnight for dinner.

On a Saturday they open from noon until 3.30pm then again from 6.30pm through to midnight, however, on a Sunday there is continuous service from noon right through to 11pm. But we would like to point out that during the month of August the closing time is actually 11pm each evening.

And you may be pleased to know that this restaurant is air conditioned plus there are different languages spoken, which are of course French, but also English, Spanish, German and Arabic.

Now when it come to getting to the Bofinger restaurant via public transport in Paris, the nearest Metro station is the Bastille stop via lines 1, 5 and 8. But if you have your own vehicle, then you could take advantage of the valet parking that this establishment offers, which is available from 7.30pm on a Monday to Saturday and from opening time on a Sunday.