Timhotel Le Louvre - 3 Star Hotel in Paris France

In walking distance of the Louvre Museum, this 3 star Paris hotel has a dedicated room for wheelchair users, family rooms, a 24 hour reception, free unlimited WiFi, all you can eat buffet breakfast, a personal safe and courtesy tray in all hotel rooms, plus much more.
Average Double
€120 - €240
---
About Timhotel Le Louvre

Situated in the 1st Arrondissement on a quiet street just off the Rue Saint-Honore and a short walk to the Rue de Rivoli, which both play important roles in the history of Paris, and is close to numerous tourist attractions such as the Angelina Tearoom, the Musee de l'Orangerie home to Monet paintings, the Arc de Triomphe du Carrousel and the River Seine. Yet as the Timhotel Le Louvre name suggests, it is also within very easy walking distance of the most famous of all museums in Paris, if not the world.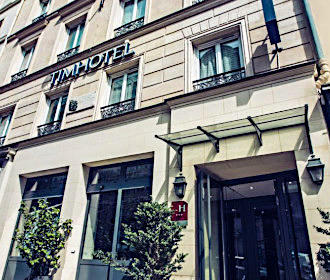 ---
But just as a point of interest, located on the facade of the hotel just as you are about to enter, if you look up to the first floor and to the left of the entrance you will see a plaque, which refers tragedians who are a type of playwright or actor that performed certain types of plays, and when translated into English, this reads:
This building keeps the memory of the stays in Paris (1880 - 1892) of the great Romanian tragedians
Aristizza Romanesou (1854-1918)
Grioore Manolesou (1857-1892)
So being close to the Comedie Francaise where tragedians like Molliere etc used to perform, and is still a major institution running performances today, it is rather apt to have the plaque, plus inside the hotel you will also be able to discover pictures on the walls from years gone by for even more nostalgia.

The Timhotel Le Louvre 3 star hotel also has an internal patio courtyard you can enjoy for those finer days, which is an ideal place to enjoy an al fresco breakfast or just relax after a day of sightseeing in the City of Lights.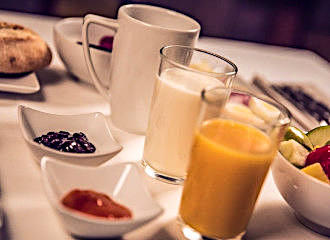 ---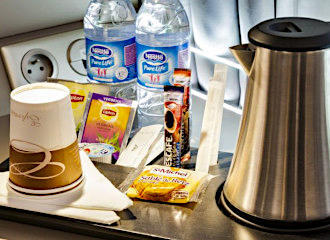 ---
Hotel Facilities at the Timhotel Le Louvre

The Timhotel Le Louvre hotel has a 24 hour reception with staff able to speak different languages including French, English, German, and Spanish, who will welcome you and be more than happy to help you get the most out of your holiday in Paris, whether it be making reservations at a restaurant, booking a ticket for a show, etc.

There is a luggage hold for those of you arriving before check-in time or wish to remain in the city after check-out, plus you can request a wake-up call if required. The Timhotel Le Louvre also offers a laundry service and there is an iron and ironing board available upon request.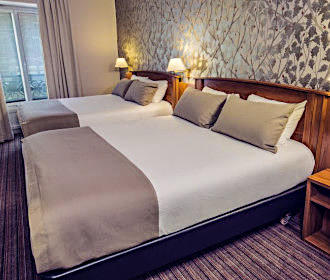 ---
With a lounge area, free newspapers, and a business corner with a computer available, there is also free and unlimited WiFi for those of you that have your own internet enabled devices, plus adaptors are available for your electrical appliances to borrow if you have forgotten to pack one, in addition to fax and photocopying services for an additional charge.

Breakfast is served daily from 6:30am through to 10:30am on weekdays and 11am at weekends, and within the dedicated breakfast room you will discover the all you can eat breakfast buffet consisting of things such as French breads and pastries plus accompaniments like jams, spreads and honey, cereals, yoghurt, fruit salad, ham, cheeses, even bacon and eggs, not forgetting various drinks such as juices, milk, tea, coffee and chocolate.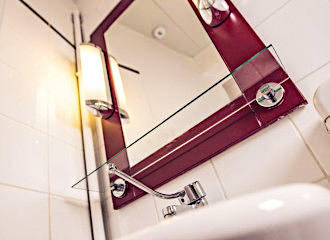 ---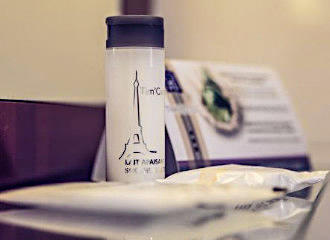 ---
As we mentioned earlier, you could also utilise the patio during nice weather for an al fresco start to your day, although if you prefer, you can opt for a French continental breakfast served to your room, and additionally, children under the age of 12 can enjoy breakfast for free when you book directly with Timhotel Le Louvre.


Rooms at the Timhotel Le Louvre Hotel

With 56 rooms in total, when it comes to rooms at the Timhotel Le Louvre, you will find single, twin, double, triple and quadruple rooms within the Comfort category that all come with an en suite modern bathroom including hairdryer and have either a bath or shower.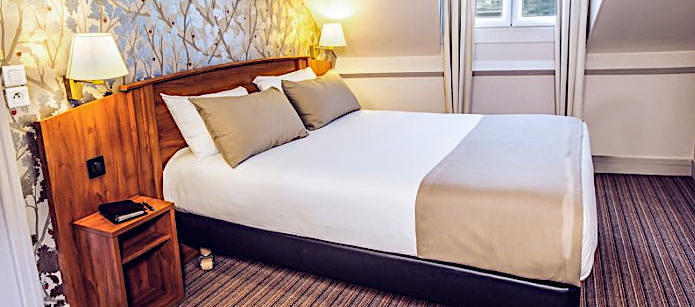 ---
Each room is soundproofed, has air-conditioning, is equipped with a desk, telephone, free WiFi, personal safe, flat screen TV with international channels and a courtesy tray for making your own tea and coffee, plus mineral water is supplied upon arrival.

However, there are also Superior double rooms available that are slightly larger and in addition to the facilities mentioned above, they have extra comforts including a minibar with certain drinks free, Nespresso machine, bathrobes and slippers and complementary toiletries upon arrival as well.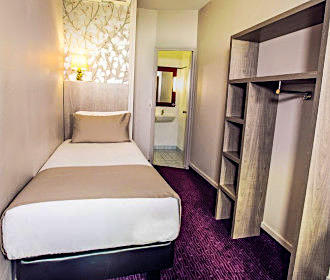 ---
Additionally, as we mentioned earlier, the Timhotel Le Louvre is classified as a disabled friendly hotel in Paris with a room equipped for wheelchair users, plus they have facilities for those with sight problems and hearing problems as well.


Access to the Timhotel Le Louvre

Located in the 1st Arrondissement, when it comes to reaching the Timhotel Le Louvre hotel via public transport in Paris, you will find that the nearest bus stops are located on the Rue Saint-Honore for bus line 21 and bus line 67.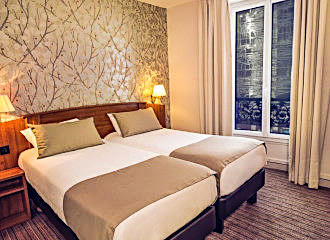 ---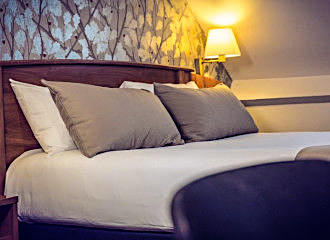 ---
In addition, you have the Paris bus lines 27, 39, 68, 69, 72, 74, 85 and 95 along with the Noctilien Night Bus via lines N11, N15, N16, N24, which will all get you within easy walking distance of this 3 star hotel in Paris.

However, when you look at the Metro stations, you have the Louvre - Rivoli stop serving metro line 1 and in a south westerly direction you have the Palais Royal - Musee du Louvre stop serving the Paris Metro lines 1 and 7.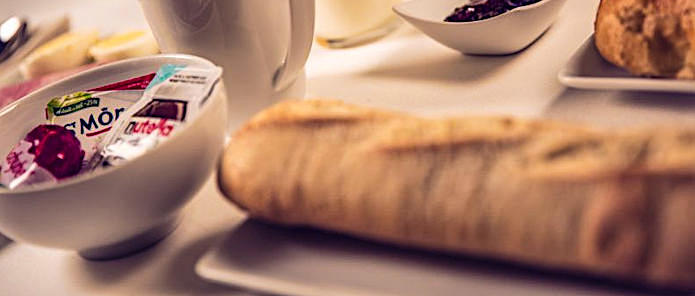 ---
In addition, there is the Chatelet Les Halles train station also within walking distance at approximately 800 metres, which serves metro line 4 as well as the RER A train line that is ideal for getting to Disneyland Paris, the RER B train for getting to Charles de Gaulle Airport and the RER D train lines.

Yet for those of you who want to discover more tourist attractions in Paris, there are different bus tours available and stops that are within walking distance of the Timhotel Le Louvre, which include OpenTour that has a hop on and hop off bus sightseeing tour bus service operating three routes with numerous stops around the city, you can get to see many Paris monuments and landmarks that you might otherwise miss.
There is also the Batobus, which is a water bus operating along the River Seine as a hop on and hop off service with docking stations along the river at strategic locations to reach famous sights like the Eiffel Tower, which is also within walking distance of the Timhotel Le Louvre hotel at just over 1000 metres depending upon whether you take a meander through the Tuileries Gardens on route or not!
Paris Hotel booking info

Timhotel Le Louvre
4 Rue Croix des Petits Champs
75001
Paris
Ile de France
France

Tel: 0033 1 42 60 34 86
Fax: 0033 1 42 60 10 39
GPS: 48.86246, 2.33947

Website: https://www.timhotel.com/fr/place/le-louvre-palais-royal_17