Square Saint-Eloi in Paris

Named after an area called the Court Saint-Eloi, this square and garden was first established in the 1970s, but was improved and enlarged in 2007 to include a fountain, childrens playground and much more.


About Square Saint-Eloi

Although named Square Saint-Eloi, this is now really classified as a garden in Paris, and it is located in an area that once belonged to the Trinity Convent back in the 1700s, which was then occupied by craftsmen.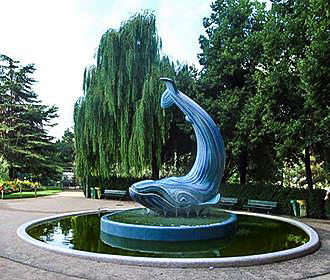 The area with its craft workshops and small houses was known as the Court Saint-Eloi, which is where this square gets in name from, yet the area was redeveloped in the late 1960s when restructuring of the whole district was taking place, and hence this square in Paris was first laid out at the beginning of the 1970s.

With plenty of grass areas that children can utilise for ball games along with a childrens playground and a sandpit, the Square Saint-Eloi is popular with families, yet there are also park benches for you to sit and relax admiring the many different varieties of flowers, shrubs and trees including cedars, maples birches and a weeping willow.

There is also an unusual fountain in Paris located within the garden that was put in place in 1982, and produced by the artist Michel Le Corre, within the centre of the basin you can admire a ceramic sculpture in the form of a blue whale.
But there are also other features to be found within this square in Paris that are also on a water theme including a rowing boat that is now planted with various flowers and is completely surrounded by flowers in a large bed. There is also a small wooden bridge that goes over another area in the Square Saint-Eloi, which again, has been planted with numerous different types of flowers.

So as you can no doubt tell, this is a pretty garden and square that is well worth a visit if you have the time and are in the area, which is popular with children because of its sculpture and facilities.


Visiting Square Saint-Eloi in Paris

The Square Saint-Eloi is located in the 12th Arrondissement of Paris and is accessible from the Rue du Colonel Rozanoff, however, there is also an entrance on the Passage Montgallet, which is accessible to those that are disabled.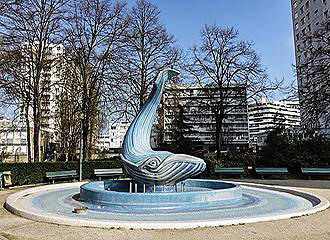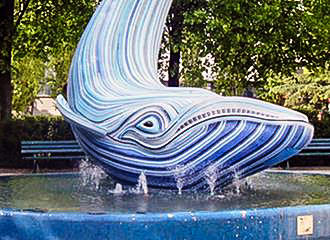 However, we would like to point out that not all areas of this square in Paris are accessible to the disabled, plus it is normally only open from around 9am to 5pm, but this can be slightly longer during the summer months. Yet you may be pleased to know that there is a water point here along with a public toilet, plus this area is one that has the Paris WiFi.

Now when it comes to reaching the Square Saint-Eloi via public transport in Paris, the nearest Metro station is the Montgallet stop via line 8, or alternatively you have the Reuilly-Diderot stop that serves both line 1 and 8. Yet the Gare de Lyon train station is the closest RER station serving lines A and D, yet also serves lines 1 and 14 of the Paris Metro.