Pont Saint Louis bridge in Paris

The Pont Saint Louis is a bridge in Paris that connects the Ile de la Cite and the Ile Saint-Louis islands in the River Seine and even though there has been a bridge since the 1600s, this one only dates from 1970.


A bit of history

It was in approximately 1630 that a bridge was constructed between the two islands in the River Seine by the eastern side of Notre Dame Cathedral and this wooden bridge was named the Pont Saint-Landry, but it collapsed only a few years later after some processions had gone over it.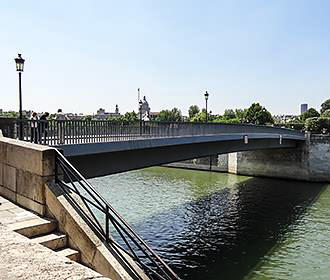 The bridge was replaced in 1656, yet was demolished a year later after being severely damaged by flooding of the River Seine and for many years there was no link between the Ile de la Cite and the Ile Saint Louis.

However, that changed in 1717, with the decision to construct a seven arch bridge, which became known as the Pont Rouge, or Red Bridge, due to the red lead paint that was used, yet this ended up getting swept away with the floods in 1795.

Another bridge over the River Seine was then constructed in 1804 during the reign of Napoleon Bonaparte I, which was mainly constructed of oak, yet protected by copper plates and tar, but yet again it was demolished in 1811 after it partially collapsed and was replaced.

By 1842 a single span bridge was constructed in a Gothic style to match the Notre Dame de Paris Cathedral, which was a footbridge, known in French as a passerelle, and was called the Passerelle de la Cite, however, this also got replaced in 1862 by a metal bridge.
Unfortunately, this bridge was also deemed to have a bad fate, as it was struct several times by river traffic, and in 1939 there was a major accident that caused an explosion and ended with three people drowning. And so, in 1941 an old footbridge was installed as a temporary measure, but everyone felt that it was an eyesore for such a prestigious location.


About the Pont Saint Louis

It took several years and many attempts in vain to come up with a technical and architectural design for a new bridge over the River Seine between the Ile Saint Louis and the Ile de la Cite islands, and the it was only in 1968 they a final decision was reached.

The design was for two box girders making a 67 metre span with reinforced concrete, yet with plain lines that would not distract from the impressive historical monument in Paris of Notre Dame with its flying buttress supports.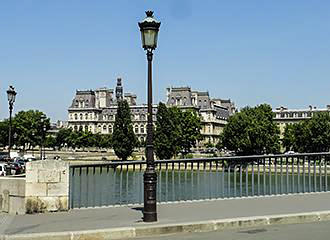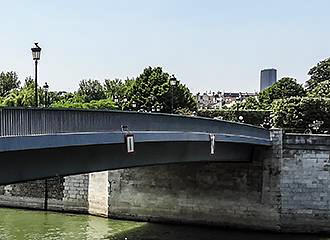 Designed by J F Coste and Long-Depaquit, construction started in 1968 and was completed in 1970, and was inaugurated with the name Pont Saint Louis bridge, which has a road and a path on either side, and this is the same bridge that you can see today.


Visiting the Pont Saint Louis

As you are very well aware by now, Pont Saint Louis is a bridge connecting the Ile de la Cite and the Ile Saint Louis, and is located in the 4th Arrondissement, yet the nearest Metro stations are either the Pont Marie stop or the Cite stop.

However, you can also get close by via the Batobus water bus, which has a dock opposite the Notre Dame Cathedral, and some of the tours in Paris such as l'OpenTour will also get you near to the Ile Saint Louis.