MiniPalais Restaurant in Paris

The MiniPalais is a lounge style restaurant in Paris that is located within an outstanding setting in the Grand Palais, which has a view down to the Alexander III bridge that crosses the River Seine and serves French cuisine in an elegant and refined atmosphere.


About the MiniPalais restaurant

The MiniPalais found in the Grand Palais, has recently undergone a complete renovation by the architects Gilles and Boissier, who have conceived the restaurant to be like an artists workshop and you enter the restaurant through the impressive bronze door of the Alexandre III Rotunda.

Once inside the restaurant you will find a parquet floor, wall fabrics that are set off by elegant black marble details, fully restored mosaics and specially placed mirrors that portray an even larger space.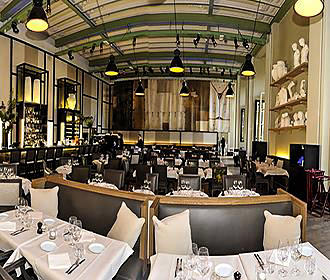 ---
Plus the ceiling has also been renovated to show the metal structure that has been repainted in the signature colour of mignonette green, which was originally trademarked for the Grand Palais. And from the ceiling hang large workshop lights that are able to change colours to provide different ambiences at certain times of the day or for special events.

There are also plaster statues dotted around, a large patchwork that measures approximately 4m X 12m that dominates the dining room, yet goes very well with the refined leather furniture and subtle colours, which make the whole dining experience even more warm, intimate and inviting.

However, the MiniPalais also has a loggia terrace, in other words, a lovely covered terrace that has impressive imperial columns on the edge of the terrace going the full length and there are fully restored mosaics on the floors and walls, which portrays its original elegance, and is therefore a great place to enjoy on a warm day.


The Cocktail Bar of the MiniPalais

You will find a bar at the MiniPalais, which is also a cocktail bar that has become recognised as one of the top cocktail bars in Paris where you will find the traditional classics such as a Bloody Mary, Mojito with champagne or the Cosmopolitain.
Yet there are also a variety of unusual cocktail creations that have been designed specifically for the bar within the Grand Palais, with names such as Cold Blood, MiniPalais, Golden Diplomat, Eden Ale and Wineberry.

However, there are also numerous other drinks available including spirits such as different vodkas, rums and whiskies, aperitifs like Bailey's, Campari, Pimm's and Cointreau along with soft drinks, fruit juices, beers, ciders, mineral waters, plus a wide selection of hot beverages.

Yet we could not finish this section off without mentioning the extensive wine menu, with a wide variety of wines served by the glass. Plus there is an even more extensive selection of white, rose and red wines along with champagnes from all different regions in France that are served by the bottle, which range in cost from approximately €30 up to well over a €1,000 for a Bordeaux Grand Cru.


The Cuisine at the MiniPalais

The menu at this restaurant in Paris matches perfectly with the unique setting and stature of its location, and has been designed by a three star Michelin chef to provide authentic French cuisine with lunches, dinners and tasty snacks available throughout the day.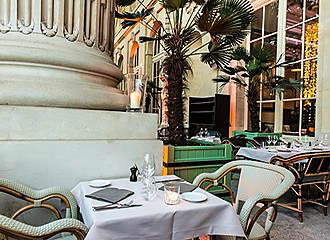 ---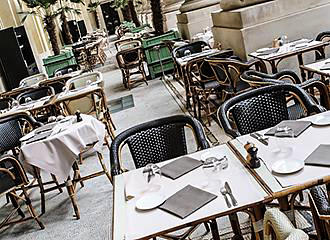 Focusing on fresh produce and also thinking eco friendly to preserve the environment, the menu changes throughout the seasons according to what produce is available, yet you can guarantee there will be no endangered fish on the menu, and only the best quality ingredients, although the menu sometimes changes even more frequently depending upon what is available.

The French cuisine at Le MiniPalais is kept simple yet inviting and authentic where you can enjoy a complete three or even four course meal and starters could be Heart of lettuce with parmesan cheese, olive oil and balsamic vinegar, Burrata with thin slices of Parma ham, tomatoes and pine nuts, King prawns tempura, ginger ketchup and soy sauce or Knife cut tuna tartar mildly spiced with wasabi and crunchy fennel for instance.

Main courses could be Spring vegetables casserole with olive oïl and garlic flower, Steamed salmon, green cabbage, ginger butter and candied lemon, Roasted pollock, chorizo broth and nasturtium flower, Knife cut raw beef tartar with French fries, Roasted duck filet with spices, daikon confit with orange, Roasted chicken breast in its juice, white asparagus and peas or Braised veal sweetbreads with Comte cheese crust and potatoes mousseline for example.

You then have an option of a cheese platter, or you can skip this course and go straight for a dessert, which could be a delight such as Yellow and white peach fruit, fine cheese with vanilla chiffon, the signature MiniPalais strawberry cake, Chocolate tart with coffee ice cream, Vanilla millefeuille with caramel or perhaps a Giant rum Baba with light vanilla cream served for 2 people would be more to your liking, although there is also the option of a Cafe Gourmand as well.

Now as we mentioned, the menu does change according to what ingredients and produce is available, so the above is provided just as a guide. But to give you an idea of costs, as of 2018 a starter is from €11 up to around €18, a main course is from €18 up to around €40, a cheese platter is €13 and a dessert is from €8 up to approximately €18.

However, don't forget that you could also have a bottle of wine with your meal, plus wine pairing is also available from the impressive wine menu that can be tailored to accompany each course, not forgetting you could also have an aperitif, etc.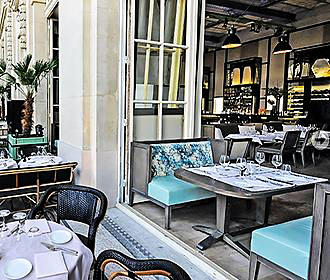 ---
And here at the MiniPalais, as you have already read, there is a good wine menu with many prestigious labels, however, there are also French wines from young wine growers who work in a biodynamic way for those of you that want to experience something a little different.


Access to Le MiniPalais Restaurant

Situated within the Grand Palais in a location that s known as the Golden Triangle, right next to the famous Avenue des Champs Elysees in the 8th Arrondissement of Paris, the imperial columns make it distinguishable straight away, however there are few steps to reach the door, if you utilise the Rotonde Alexandre III entrance, although it can be accessed from the main disabled friendly entrance on the Avenue Winston Churchill as well.

The MiniPalais cocktail bar is open from 10am through to 2am and the MiniPalais restaurant is open every day from midday through to midnight with lunches and snacks served continually throughout the day. However, if you are thinking about an evening meal within the unique setting of the Grand Palais, then booking is highly recommended, if not virtually essential.

As for getting to the MiniPalais via public transport, you will find that the nearest Metro station is the Champs-Elysees - Clemenceau stop serving lines 1 and 13 or a little further walk and you have the Franklin D Roosevelt stop via lines 1 and 9.

There are numerous Paris buses that will get you here such as lines 28, 42, 72, 63, 73, 83 and 93, along with the Noctilien Night Bus Service via lines N01, N02, N11 and N24. But the nearest RER train station is located on the opposite bank of the River Seine, which is called the Invalides stop serving the RER C line and this is also a Metro station serving lines 8 and 13.

Yet you also have the Batobus water bus stop on the River Seine located nearby, plus numerous tours in Paris such as l'OpenTour also stop close to this bar and restaurant.

However, if you have your own transport, then you will be pleased to know that there are several car parks close by including one at the Place de la Concorde, another called Alma Georges-V and another called Rond-Point des Champs Elysees.