Le Montclair Hostel in Paris

Located in the Montmartre area in the 18th Arrondissement Le Montclair is actually classed as a hostel and a budget hotel due to the fact they have some private double and twin rooms with en suites, plus there is a 24 hour reception, free WiFi, an equipped kitchen, bar and breakfast included within the cost.
Services at Le Montclair Hostel

You will find that the Montclair Hostel has a 24 hour reception with multilingual staff who are happy to help provide you with tourist information, leaflets and even booking things such as excursions or airport transport, plus different tours and special events like tastings are also organised at different times.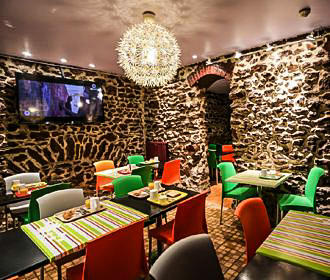 ---
At reception there are plenty of different games that you can request like chess, playing cards, etc plus there is also table football and a TV located within the lobby area, that doubles up as a licensed bar and lounge area for relaxation or meeting up with different people.

There are computers available within the lobby area as well, although there is a cost for their use, however, free WiFi is available throughout the entire hostel, plus Le Montclair Hostel offers a luggage storage service and safes are also available for your valuables at reception.
Breakfast in the form of a typical Parisian continental style is provided each morning to get you started for the day, which sometimes comes in with the cost of your accommodation, but depending upon the options you choose when booking, this is not always the case. Yet for those of you on a tight budget who do not wish to pay for meals out, then you may be pleased to know that there is a fully equipped kitchen that you can utilise for making snacks and meals.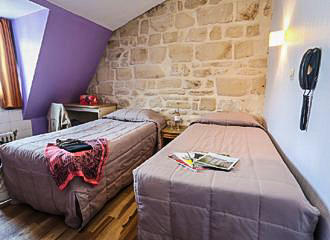 ---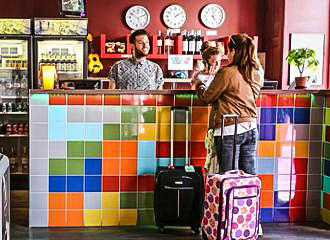 ---
If you are in a dorm and do not have a towel, then you can rent one from reception, although they are supplied within the budget hotel accommodation in the private rooms. In addition to this, an iron and ironing board along with hairdryers are also available for your use, just by asking at reception.


Accommodation at Le Montclair Hostel in Paris

You will find that there are dormitories available for women only or men only along with mixed dorms which come with or without an individual bathroom and vary in size from 4 beds through to 8 beds, normally organised as bunk beds.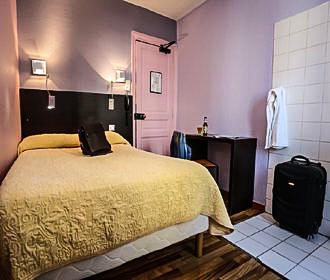 ---
There are also private double and twin rooms at Le Montclair Hostel and Budget Hotel, where you have the option of a shared or private bathroom, plus there are dorm style private triple and quadruple rooms, which are family friendly and pet friendly. However, if you book a quadruple for instance, but there are only three of you, you still have to pay the entire cost for the room as though there were four of you.

Bedding is supplied in all types of accommodation, with the rooms cleaned daily, however, in the communal rooms and ones with shared bathrooms towels are not provided, only in dedicated en suite rooms but as we mentioned earlier, if you did not bring your own towel, then you can rent one from reception at a nominal charge.
Access to Le Montclair Hostel in Paris

You will find the Montclair Hostel in Paris combined with its budget hotel accommodation, within the Montmartre area in the 18th Arrondissement, and the nearest Metro station is the Jules Joffrin stop serving metro line 12.

However, the Paris bus lines 31, 40, 60, 80 and 85 will also get you close by, but a little further walk away and you have the Marcadet - Poissonniers Metro station serving metro lines 4 and 12.
Paris Hotel booking info

Le Montclair Hostel et Hotel
62 Rue Ramey
75018
Paris
Ile de France
France

Tel: 0033 1 46 06 46 07
Fax: 0033 1 46 06 46 09
GPS: 48.89167, 2.34488

Website: https://www.montclair-hostel.com/