Le Cafe Cache in Paris

Located within the cultural art centre of the 104 Centquatre, the Hidden Cafe, as it translates to, has a wide variety of dishes on offer with comfort food such as hamburger and chips, etc along with snacks, fresh fruit juices and coffee in a 1950s setting.


About the Cafe Cache

The Cafe Cache resembles something between a coffee shop meeting place and a cafe that has a very relaxed environment, and this is an ideal place to meet up with friends and enjoy snacks, lunch, etc.

Located within the cultural art centre known as 104 or Centquatre, the contemporary and unusual decor was designed by Sebastien Wierinck who was one of the resident artists at Centquatre and he took his inspiration from the 1950s to come up with a unique design that would imply comfort and friendliness for all.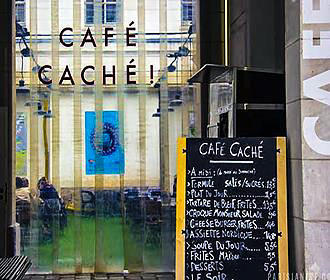 There is of course the main cafe, which becomes exceedingly busy with a convivial friendly atmosphere, but there is also a courtyard area, which is covered and heated in winter to make this an enjoyable venue all year round.

When it comes to the cuisine, it is like comfort food including quick snacks that could be sandwiches through to tapas, although there are main dishes like pork fillet with rice, a Cheeseburger and chips or Beef tartare with chips and salad, plus there are salads and much more on this varied menu that will not break the bank.

As for the tapas option it could be House fries, Cheeses of the moment, Iberico chorizo, Salad of endives with bacon and nuts, etc and to give you an idea of cost these are €5 as of 2018 or three options for €12. A Dish of the day or main meal is around €12 to €14.
However there are also sweet delights on offer such Apple crumble or Panna cotta with caramelised hazelnut for €5 as of 2018, yet the main emphasis of The Hidden Cafe is conviviality through its drinks and beverages, so that people can get together with friends, colleagues or family in a relaxed friendly atmosphere.

From freshly squeezed fruit juices and juice mixes through to milkshakes, hot beverages such as a variety of teas and coffees through to other non alcoholic drinks like sodas, there is a wide range of drinks available.

Yet Le Cafe Cache is also a licensed bar and here you could enjoy a cocktail like a Mojito, a beer such as Kronenbourg, aperitifs like Kir or even champagne and spirits such as vodka or Jack Daniels that could be accompanied by a soft drink for only €1 extra.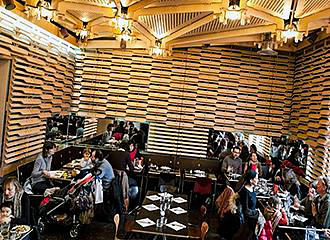 Visiting the Cafe Cache in Paris

As we have mentioned before, you will find Le Cafe Cache located within the 104 Centquatre art and cultural centre within the 19th Arrondissement, however, there is an entrance on the Rue d'Aubervilliers, which means the cafe can still be accessed even when the cultural centre is closed.

On a Tuesday and Wednesday this cafe in Paris is open from 9am through to 8pm, but until 10pm on nights where there are performances being held at the Centquatre. Then on a Thursday, Friday and Saturday the Hidden Cafe is open from 9am through to 10:30pm.

You will also find it open on a Sunday from 11am through to 8am, but it is always closed on a Monday along with certain national French holidays, plus on other holidays they do vary their times, so it is worth checking prior to turning up if it is a celebration or general holiday in Paris.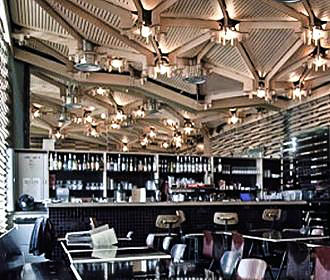 Now when it comes to reaching the Hidden Cafe via public transport in Paris, you will find that the nearest Metro stations are the Crimee stop and the Riquet stop that both serve line 7, the Marx Dormoy stop via line 2 or a little further away, the Stalingrad stop serving the lines 2, 5 and 7.

However, the Bus Lines 54 and 60 along with the Noctilien Night Bus Service via Line N42 will also get you close by yet if you are travelling to or from this area of Paris by train, then the nearest RER train station is the Curial stop serving the RER E Line.

In addition to this, the Tramway via Line T3b will also get you within walking distance plus there are Velib stations for the self service bike hire scheme located close by as well, not forgetting that boat cruises such as Canauxrama will also get you within walking distance.