Photos of Madonna with Child statue on Fountain of the Virgin at Notre Dame Cathedral Paris France - Page 132

Situated on the eastern side of the Notre Dame de Paris by its apse, yet within the Square Jean XXIII, you will be able to discover a neo gothic statue and fountain called the Fountain of the Virgin, which is what you can see in these high definition photos we took, and although it is far more modern than the cathedral itself having only been sculpted in 1845, this fountain and its statue are still in keeping with the same style of architecture of this historical monument in Paris and famous Catholic Church.

<< Previous 131 132 133 134 135 136 137 138 139 140 Next >>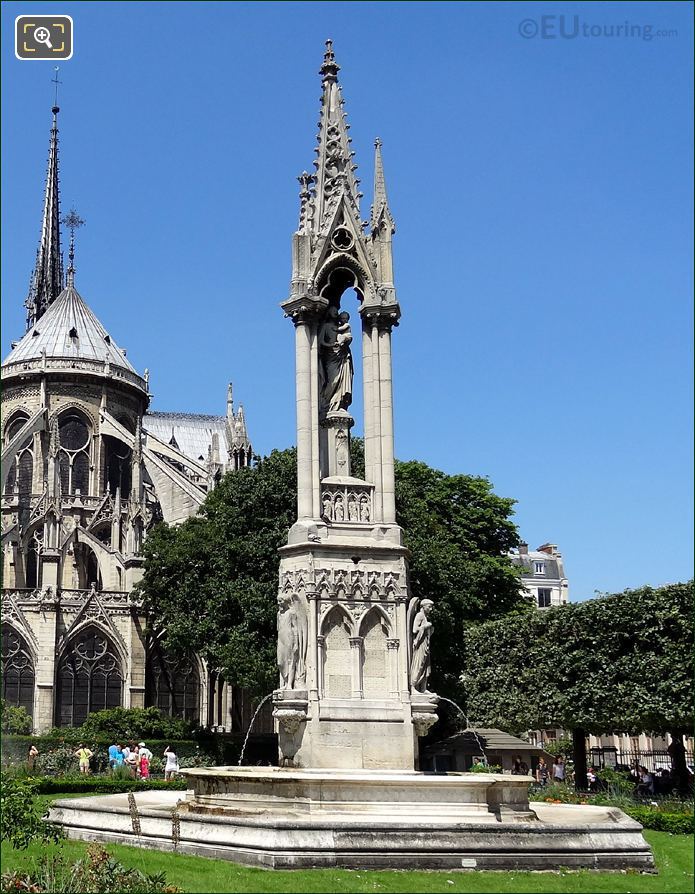 Now the French name of this water fountain is Fontaine de la Vierge which translates to Fountain of the Virgin, yet is is also often known as the Fontaine de l'Archeveche or the Fountain of Notre Dame, and this is a HD photo we took after having just passed the cathedral looking out of the Square Jean XXIII garden.

And as you can tell from this image, it is an elegantly styled fountain with statues of archangels where the water comes out, and in fact, it stands about 10 metres in height with its central statue.
This is a close up photo we took of the Fontaine de la Vierge with its statue in the centre of Madonna with Child, as you can see in this image, which was apparently was designed by the architect Vigoureux although some say it was designed by Hale.

Yet we have found out that this fountain and its statues was sculpted in a gothic style by the sculptor Louis Merlieux in 1845 and then was put in place very shortly after the gardens of the Square Jean XXIII were finished behind the Notre Dame Cathedral.