Hotel Le 123 Sebastopol - Paris 4 star unusual hotel

With a cinema theme designed around directors and actors, this is an unusual hotel that has facilities including a bar, gym, private cinema and meeting room, along with being disabled friendly, it also has family rooms, offers buffet breakfast, room service and the Astotel Open Bar concept with free soft drinks and snacks.
Average Double
€165 - €340
---
About Hotel Le 123 Sebastopol

This is a 4 Star hotel in Paris located within a building that was originally constructed around the start of the 1900s, and part of the Astotel Hotel Group, it was completely refurbished in 2013 by the company Maidenberg Architecture, who specialise in design, architecture, building regulations and interior design of hotels in Paris.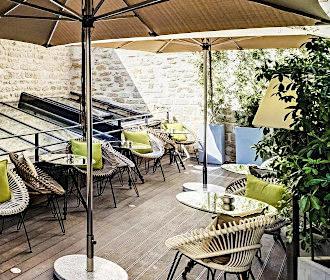 ---
Founded by Philippe Maidenberg, who originally had hands on experience whilst studying, such as working with the late I M Pei on the Grand Louvre project for the Louvre Museum, there is a dedicated team of specialists, yet they also often call upon outside influences for specialist designs, just like they did for the Astotel Hotel Le 123 Sebastopol.
From the minute you walk into the lobby of Hotel Le 123 Sebastopol you will be transported to the world of cinema with posters and film boards, the top of the reception desk that is alight with the names of the people who were instrumental in the design making it look like the front of a theatre or cinema advertising what's on, along with their framed photos and biographies, through to a popcorn machine and red carpet travelling along the corridor, making you feel like you are at the famous awards ceremony.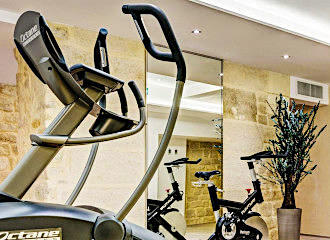 ---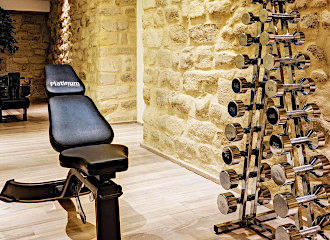 ---
Each floor has a specific theme and in conjunction with Astotel and Maidenberg Architecture, these stars of cinema and film were instrumental in making this a truly unusual hotel in Paris including Ennio Morricone who is considered to be the world's greatest film composer, and one of the elements is a grand piano along with music scores written on walls of bedrooms on one floor of the hotel.

Another floor is dedicated to Jean-Paul Belmondo, the renowned French actor who was originally interested in boxing, and yes, you guessed it, rooms on another floor have a boxing theme, along with large prints captured from his films.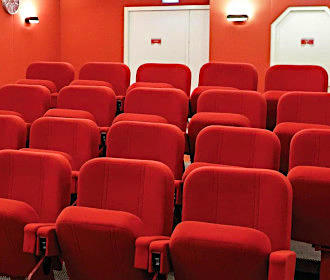 ---
Whereas another floor is dedicated to actress Elsa Zylberstein and the theme of the rooms is truly romantic with plush velvet and hanging chandeliers, reminiscent of some of the romantic films she has starred in.

Other quirky and original features include seats that pop up and pull down, just like you get in a theatre or cinema, through to the cocktail bar that is set like a stage, the red carpet theme continues through different areas of the Hotel Le 123 Sebastopol, such as in the glassed walled and ceiling breakfast room and on the stairs, in addition to bathroom basin cabinets designed to look like they would be a case holding film reels.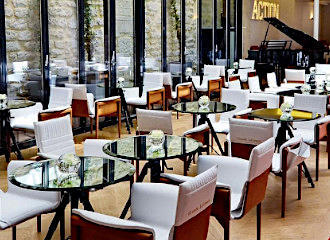 ---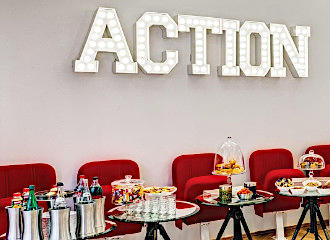 ---
Facilities at Hotel Le 123 Sebastopol

Being that this is a 4 Star Hotel in Paris, as you would expect, there is a 24 hour reception with multilingual staff, all of whom are able to speak different and varied languages, which makes this ideal for international travellers, also offering concierge services such as arranging transport, making restaurant reservations, advice on what events are going on through to booking tickets for attractions and shows etc.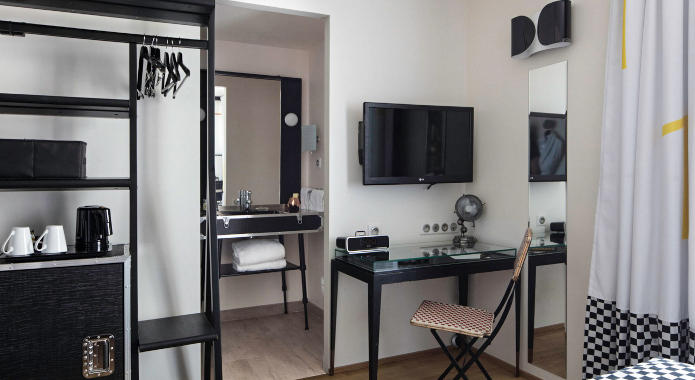 ---
There is a lift for easy access to all parts of Hotel Le 123 Sebastopol and a luggage hold service for those of you arriving prior to check-in time, plus this is also a disabled friendly hotel. Operated by an outside company, there is a laundry and dry-cleaning service offered for additional charges, although an iron and ironing board are also available at reception upon request. A meeting room come small function room is also available for additional charges depending upon requirements.

When it comes to relaxation, there is a lounge area and international newspapers are available, plus there is free WiFi throughout the hotel, so you can keep in touch with what is happening back home. Not forgetting there is the cocktail bar that we mentioned earlier, which is a great place to relax of an evening and enjoy one of the cocktail mixes or other drinks, although on a nice day come summers evening you could also take advantage of the terrace.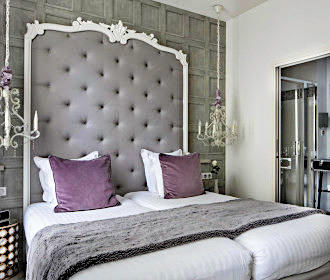 ---
Perhaps watching something in the private projection room cinema is more to your liking, but for those of you who like to keep up a fitness regime, you will be pleased to know that there is a gym with a variety of equipment including weights, etc, which can be found in a room that has traditional stone walls and both of these are for the exclusive use of guests only.

Hotel Le 123 Sebastopol offers a buffet breakfast with a wide variety of delights on offer include some hot choices and the more traditional like breads, pastries and jams, yet there are also cold cuts, cheeses, fresh fruit, salad and more, providing a good start to the day.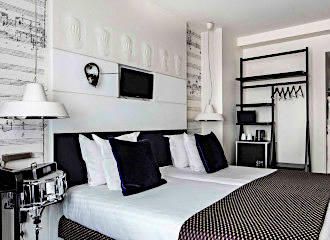 ---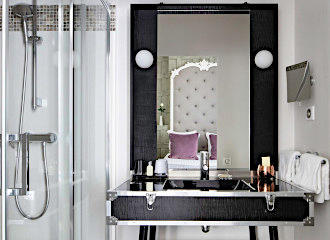 ---
The buffet breakfast is available within the glass walled and glassed ceiling dining room, which is by the bar and social area, and is served between the hours of 7am and 10:30am or 11am at weekends, although you can opt for room service if you prefer, plus there is a room service menu, and breakfast is included within the cost of the room if you book directly with the hotel.

Being that this is an Astotel Hotel, you will also be able to take advantage of the Astotel Open Bar concept where soft drinks along with snacks such as sweets, fruit and pastries are laid out every afternoon for guests, completely free of charge. Yet even if you are visiting tourist attractions in Paris and cannot get back to your accommodation, you can enjoy the Asto Tour benefit of the free afternoon delights at any of their other hotels in the city.

---
Rooms at the Hotel Le 123 Sebastopol

There are 63 rooms in total at Hotel Le 123 Sebastopol that are arranged as singles, standard doubles or twins and superior twins or doubles. Additionally, there are the Privilege double rooms that are the top category, which are more spacious at around 25 metres squared, compared to a standard double of around 18m squared.

You may also be pleased to know that this is a family friendly hotel, with children under the age of two staying free of charge and baby cots being available upon request subject to availability. However, for older children or even friends travelling together, there are also Family rooms able to accommodate four people that have a double and a twin room with two separate bathrooms that connect to each other. Alternatively, on the same concept there is the ultimate Privilege family room at approximately 15 metres squared larger than the standard family rooms.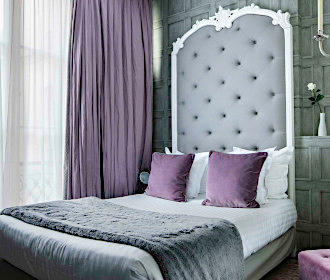 ---
Each room is soundproofed, double glazed, has individual air conditioning or heating, comes with a desk and lamp, clothes storage, an en suite bathroom with either a bath or shower, magnifying mirror, hairdryer, bathrobes, slippers and complementary toiletries, plus some of the rooms have a seating area or balcony.

Additional hotel room facilities at Le 123 Sebastopol include a personal safe, direct dial telephone, free WiFi, a radio alarm clock, USB point, iPod / iPhone docking station, flat screen TV with satellite channels, a minibar with free soft drinks re-stocked daily and a courtesy tray with kettle for making your own tea or coffee, although some of the rooms also have an added benefit of a coffee machine as well.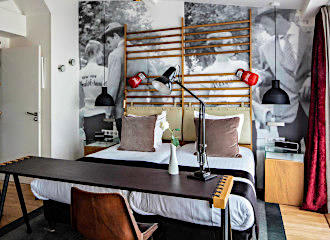 ---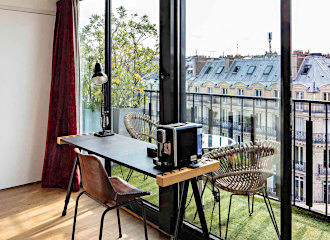 ---
Access to Hotel Le 123 Sebastopol

Situated in the 2nd Arrondissement close to some popular tourist attractions like the Saint-Martin-des-Champs Priory, you will find there are many different options for getting to the Hotel Le 123 Sebastopol via public transport in Paris.

To start with you have the Metro station Reaumur - Sebastopol serving metro line 3 and metro line 4 located in a southerly direction, or in a northerly direction you have the Strasbourg - Saint-Denis stop serving Metro lines 4, 8 and 9, both of which are around a two minute walk. Whereas in a south easterly direction a little further walk away and you have the Arts et Metiers stop serving metro line 3 and metro line 11. In addition, for something rather unusual, the line 11 platform has a themed design, like a steampunk submarine!
Whereas the nearest RER train station is the Chatelet - Les Halles stop as though you were heading south in the direction of the River Seine, and this serves the RER A train, RER B train and RER D train lines.

Alternatively, if you are thinking about the Paris buses, then bus lines 20, 32, 38, 39 and 75 along with Noctilien Night bus lines N12, N13, N14 and N23 will all get you within easy walking distance of this 4 Star hotel.
Paris Hotel booking info

Hotel Le 123 Sebastopol
123 Boulevard de Sebastopol
75002
Paris
Ile de France
France

Tel: 0033 1 40 39 61 23
GPS: 48.86765, 2.35305

Website: https://www.astotel.com/hotel/123-sebastopol/overview