This location is now closed and renamed Cafe EP.

The following article is left as-is for historical and archiving purposes.
Goust d'Enrico Bernardo Restaurant

This gourmet restaurant was located within a historical building as part of the Elephant Paname cultural venue, that was run by one of the top sommeliers in the world, with a unique concept of providing the appropriate wine to accompany your choice of Mediterranean dish, although this has since CLOSED and been replaced by the Cafe EP.


About the Goust d'Enrico Bernardo Restaurant

The information below about Goust is for reference as the restaurant used to be, because this has since closed, although Enrico Bernardo is looking at opening up a completely different venue in time.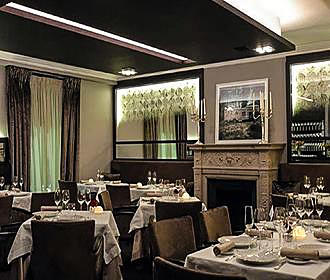 The restaurant was located within the Elephant Paname, which is a cultural centre dedicated to dance, performance, music, etc and is classed as one of the cultural centres in Paris, that is located within a fully restored Napoleon III mansion house with its ornate decor, where you could have enjoyed the gastronomical delights of Mediterranean cuisine.

The Goust was actually a rather unique concept where whatever dish you chose, the sommelier would match a wine to go with it, and this was the idea of a world renowned sommelier called Enrico Bernardo.

In fact, Enrico Bernardo was voted the world best sommelier back in 2004, and at only aged 27, he was the youngest person to achieve this award in its history. And having already opened a restaurant called Il Vino that was one of the top table Michelin starred restaurants in Paris, the Goust was his next adventure, to bring culture and cuisine together at the Elephant Paname.

Now as we mentioned above, the Goust restaurant was located within a fully restored Napoleon III mansion house, which has been converted into a cultural centre for the arts including dance and music although the restaurant has now closed.
So, if you wanted an intimate, romantic setting that could only cater for 36 covers at a time, you could have enjoyed a relaxing gourmet meal in the refined setting of this restaurant, with its warm and elegant decor of brown and cream shades that complemented the gold and bronze setting, the tapestries, and the stylish table settings. Not forgetting the heavy curtains, beautiful and comforting period fireplace, the rich thick carpets and comfortable chairs, accompanied by professional yet friendly staff, that made this a night to remember.

And when it comes to the cuisine at Goust d'Enrico Bernardo, you would have found this was Mediterranean inspired cuisine from a very competent Spanish chef with an extensive a la carte menu available.

However, there was a lunch menu available with a starter and main course or main course and dessert for €39 as of 2015, along with a three course option. But of an evening, there were different types of menus such as a degustation or tasting menu, which was a great way of experiencing several types of dishes, especially if you are unsure.

Yet, as we mentioned there was an a la carte option, plus other specific menus such as one called the Saveurs Iberiques, which was a Spanish menu, and there were so many tempting and mouth watering delights, all perfectly paired with specific wines chosen by the sommeliers for each course.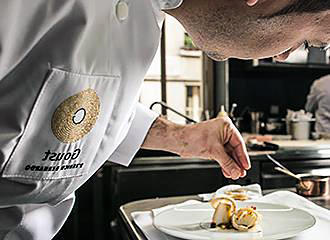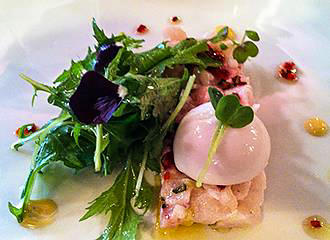 So, at Goust you could have experienced delights like Royale de Foie Gras with a drizzle of olive oil and pine nuts, Tuna tartare with an egg filled with mango coulis or Crisp red mullet with a potato croquette and an eel garlic sauce. You could have chosen Gazpacho of cucumber overlaid with two slices of lobster, fromage frais and Spanish caviar topped with coconut milk or Ballotine of sole with a sea urchin sauce.

Other dishes included Poached egg with a garnish of black truffle on a bed of long-stewed beef and Duckling with a light jus and a garnish of lightly mentholated shiso leaves, to name a few of the gourmet menu choices that were on offer. And to give you an idea of costs, the menus ranged in price from around €80 to €130 as of 2015, which is the same sort of cost you were looking at if you opted for the a la carte experience.


Visiting the Goust d'Enrico Bernardo Restaurant

Now as we have mentioned previously, the Goust Restaurant has closed but was originally located within the restored Napoleon III mansion now home to the cultural centre of Elephant Paname, which is situated in the 2nd Arrondissement close to numerous different tourist attractions.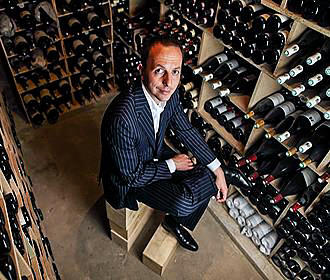 This restaurant in Paris used to be open for lunch on a Tuesday through to Saturday and for evening dinner from 7pm through to midnight on a Tuesday through to Saturday, however, this has now been replaced by the Cafe EP that is open on a Monday to Friday from noon until 5pm.

But you can still experience the Elephant Paname cultural centre, and when it comes to reaching this venue via public transport in Paris, you will find that the nearest Metro station is the Opera stop serving lines 3, 7 and 8, whereas the nearest RER train station is the Auber stop serving line A.

However, there are numerous different buses that stop near to the Elephant Paname and the former Goust restaurant, which include the lines 20, 22, 27, 42, 52, 66, 81 and 95, but a little further away and you could utilise the Madeleine Metro station that serves lines 8, 12 and 14.