6 Mandel Bed and Breakfast - Paris B&B

The 6 Mandel is a unique property located in the 16th Arrondissement of Paris with great views of the Eiffel Tower and created around the famous Christian Dior and his friend Jacques Homberg, it is an exclusive place offering confidentiality with B&B along with event rental.
Accom Type
Bed & Breakfast
---
Average Double
€195 - €240
---
About the 6 Mandel B&B

Located in prestigious surroundings, this is an 18th century mansion house that has a rich history, with one of its former owners being the silent movie actress Pearl White, and another was Princess of Caraman Chimay, before it was purchased in 1956 by Jacques Homberg, a very close friend of Christian Dior.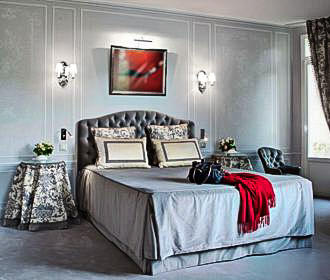 ---
Over the years the owners had left their mark on the property, much of which was in an Art Nouveau style and the fact that the two close friends never purchased anything without consulting each other, they were inspired by the decor and decided to keep it original and just restore the mansion to its former glory.

Unfortunately Christian Dior passed away in the 1950s, but Jacques Homberg resided here on the Avenue Georges Mandel until he passed away in the year 2000 and many of his art works are now to be found within museums such as The Louvre in Paris, France and the MET in New York, USA.
So when Jean-Christophe Stoerkel acquired the property, which is spread over an area of approximately 100 metres square over three floors, he decided to pay tribute to the last owner and his close friend, the fashion designer of the famous brand Christian Dior, by recreating a space influenced by them back in the 1950s.


Accommodation at the 6 Mandel B&B in Paris

The bedroom at the 6 Mandel is sumptuous and elegant utilising the shades of pearl grey, with the grey velvet coming from the last apartment where Christian Dior lived that was a short walk from this property.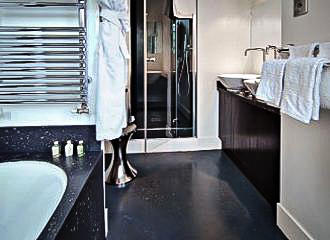 ---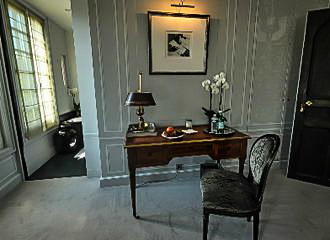 ---
There is a print on the wall above the bed in red, relating to the designer's favourite colour, which is by Gruau who was Christian Dior's friend that contributed to numerous ad campaigns for different high end fashion collections.

The bedding is made out of velvet with the Dior folds, plus the headboard and tub chair within the room were all adored by Christian Dior. Trimmings within the bed and breakfast room are by Declercq, which could be found in abundance in all the properties that were owned by Christian Dior and Jacques Homberg, plus there is a Medallion chair dating from the reign of King Louis XV, which is still an emblem of the Dior brand.

Also within the 6 Mandel B&B room you will find a Napoleon III cabinet and above this is an original photograph showing Christian Dior presenting a garment referred to as the Blenheim Dress to Princess Margaret at Blenheim Palace in London.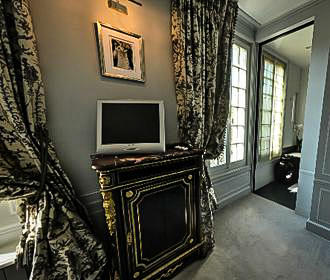 ---
In addition to this, there is a picture of Christian Dior drawing at his desk along with another original picture hanging on the wall that shows Dior and one of his favourite models, Lucky, plus there is a desk and table lamp.

Now as you would expect from such a prestigious room, there is also a luxurious en suite bathroom with bath, shower, two individual sinks next to each other along with complimentary toiletries and bathrobes provided for that little extra comfort, just like being in a Paris 5 star hotel.

Being classed as a B&B, breakfast can be arranged, although this is an additional cost per person to the room itself.


Event Rental at 6 Mandel

Jean-Christophe Stoerkel also utilises the 6 Mandel for exclusive events, whether it be a private function or for professional requirements where you can utilise the living room, mezzanine, contemporary kitchen and a garden of 130 square metres along with the en suite bedroom.
There are different services that can be organised according to your needs, whether it be staging, florists, musicians, opera singers, a valet service and catering, which would be by one of the chefs that the 6 Mandel utilise depending upon your requirements and the type of cuisine, buffet, etc.

Whether you wish to have a seated lunch or formal dinner for up to twenty people, a cocktail party or a reception for up to fifty people, the 6 Mandel can organise your special event at this unique place in Paris, with views to the Eiffel Tower and numerous Paris tourist attractions within walking distance.


Access to 6 Mandel in Paris

Located within a prestigious area in the 16th Arrondissement of Paris, the 6 Mandel B&B is located within a short walk of the Metro station called the Trocadero stop serving metro line 6 and metro line 9, however, the Paris bus lines 22, 30, 32 and 63, along with Night bus line N53 will also get you close by.
Paris Hotel booking info

6 Mandel
6 Avenue Georges Mandel
75116
Paris
Ile de France
France

Tel: 0033 1 42 27 27 93
Fax: 0033 1 45 05 30 26
Mobile: 0033 6 09 84 77 05
GPS: 48.86335, 2.28497

Website: https://www.6mandel.com/