Square Sarah Bernhardt in Paris

This square was named after the famous actress Sarah Bernhardt and first laid out in the 1930s there are almost 200 different trees with around 50 different species along with numerous bushes, perennials and flowers, yet there is also a large childrens playground, an obelisk, open air amphitheatre and plenty of park benches.


About Square Sarah Bernhardt

The Square sarah Bernhardt was first laid out in 1936 in a typical 1930s style on an area that used to be part of a former gas plant, and this square was named after Sarah Bernhardt who was a famous French actress in both theatre and in movies such as La Tosca.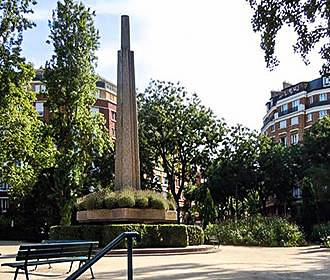 Within this square in Paris you will find a red brick shelter close to the large childrens playground, which has been laid out in a circular shape, yet there is a smaller playground for the younger children, plus two sandpits as well, and both areas have plenty of park benches so that you can sit watching them playing happily.

There is also an amphitheatre style auditorium where you can often discover people providing impromptu performances of music or dance, and everyone seems to get involved, plus this building has two lovely mosaics that you can discover.

In another area of the Square Sarah Bernhardt there is an obelisk that sits in the middle of a circular flowerbed with lots of bushes and yet again, plenty of park benches around the outskirts where you can relax, rest your weary feet or read a book.
But one of the main draws is the fact that this garden in Paris has won numerous awards in gardening competitions and has been recognised for its rare varieties of plants and trees that are not often found within France. And with almost 200 trees of around 50 different varieties, you can discover beautifully maintained cone shaped yew trees, poplars, lime, cedar, acacias, ginkgo biloba, Japanese pagoda, boxwood trees etc.

There are also many other bushes, perennials and pretty flowerbeds, with some other plants you may recognise including forsythia, hydrangeas, azaleas and rhododendrons, so this means it is also a haven for wildlife, and not being in a very tourist ridden area of the city, the Square Sarah Bernhardt is also a calm and peaceful garden.


Visiting Square Sarah Bernhardt in Paris

You will find this square and garden in Paris located within the 20th Arrondissement on the outskirts of the city, and it is normally open from either 8am or 9am depending upon the day of the week, yet it closes any time between around 5.30pm during the winter and 9.30pm during the summer months.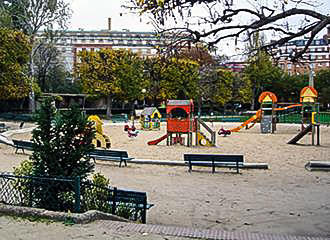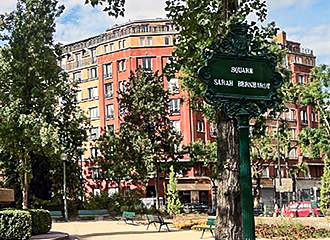 Now you may be pleased to know that there are two water points for fresh water to top up your bottles along with public toilets and even WiFi available, yet unfortunately, some areas are not accessible to the disabled, such as the open auditorium style amphitheatre that has steps going up to it.

But when it comes to getting to the Square sarah Bernhardt via public transport in Paris, you will find that the most convenient Metro station on a direct route is the Buzenval stop serving line 9. However, you also have the Nation stop that serves lines 1, 2, 6 and 9 plus this is an RER train station for line A.

Alternatively, you have the Porte de Vincennes station that serves the Metro line 1 along with the Paris tramway for lines T3a and T3b, plus there is a Velib station for the self service bike scheme in Paris, which is located on the Rue Buzenval.