Le Cirque Phenix Circus in Paris

The largest circus tent in the world had its debut in Paris in the year 2000 and since its opening, millions of people have been entertained with its fabulous shows and the latest creation of CirKAfrica 2 from Soweto to Harlem that also goes on tour, is no exception, yet even the tent itself is a marvel.


About Cirque Phenix

The Cirque Phenix is an enormous, luxury big top circus tent that was created in Paris by Alain Pacherie, and being able to cater for 6000 spectators for any one circus performance, it is the largest big top in the world.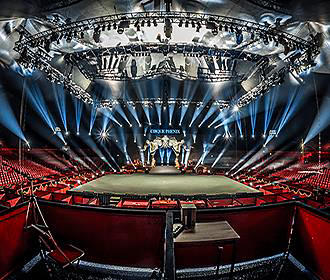 With an innovative and modern highly technical design, you will not find any interior pillars or structures that are normally in a circus tent, which always inhibit a spectators view at certain angles, as this massive canvas big top is supported by external pillars.

This also means that the Cirque Phenix can change the layout to accommodate different types of settings, so instead of 6000 people circus style it can cater for up to 9000 concert seats.

Plus spread over an area of 20,000 square metres, the interior is luxurious and inspired by a French Second Empire style you will find velour seats, carpets and heavy curtains with other traditional fixtures in deep reds and gold that provides a cosy feeling of warmth despite its size.
And incredibly, the Cirque Phenix actually takes around five weeks to erect and around two weeks to dismantle, and although it is always located in the same place, it is not set up permanently all year round, so do bear this in mind if you would like to visit this tourist attraction in Paris.


Visiting Cirque Phenix Circus

Now you may be pleased to know that this circus in Paris is accessible to the disabled with dedicated facilities available, and help is at hand if you contact them in advance, plus there are also facilities for babies and young children in a nursery space. Although, it is not recommended for very young babies due to the powerful sound system and the comfort of others around you, but any child attending, no matter what their age must have a ticket for safety reasons.

The circus does go on tour, and therefore is not accessible all year round, but to find out more and book you can contact Cirque Phenix by telephone or go to their website, and we would also like to point out that pets are not allowed, even if carried in a basket.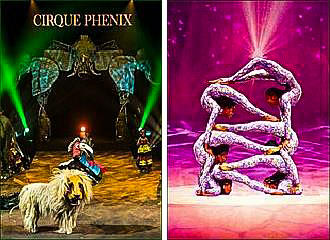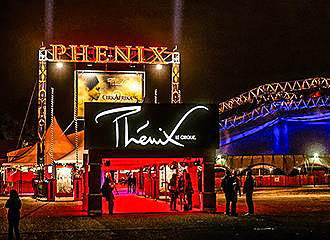 But when it comes to getting to the circus via public transport in Paris, you will find that the nearest Metro stations are the Liberte stop via line 8 or the Porte de Charenton stop that also serves line 8 plus this is a T3a tramway stop as well.

However, if you have your own transport, then you will be pleased to know that the Cirque Phenix offers free parking close to the tent for its patrons, plus snacks and drinks such as coffee etc are also available on site.