Mansouria Moroccan Restaurant in Paris

Mansouria is a restaurant in Paris serving Moroccan cuisine in a comfortable and authentic atmosphere, where you can choose from sofas or proper tables and chairs, to enjoy delights such as traditional Couscous or Tagine dishes, with formulas and an a la carte menu available along with even a takeaway option.


About Mansouria Restaurant

This restaurant was started by Fatema Hal back in 1984, and having studied Arabic literature and Ethnology, yet with a major passion for Moroccan cuisine and the mix of different spices that have combined from different cultures, she decided to launch into the culinary world, even producing recipe books.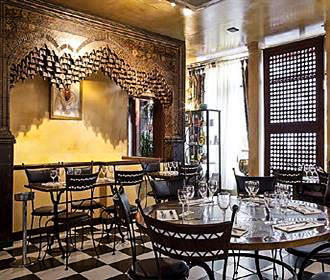 Fatema Hal decided to name her restaurant after a town in Morocco, and provide an authentic Moroccan decor that combines soft furnishings such as sofas and cushions, along with the more traditional approach of a restaurant setting combining wrought iron and wood for tables and chairs. And these all seem to fit in place perfectly against the dark and rich tones of the walls and other furnishings, which makes it a refined, yet cosy and relaxed setting.


Cuisine at Mansouria

Whether you are thinking about trying a dish called Mourouzia that dates from the 12th century, which is lamb flavoured with 27 spices and cooked in a heavy bottomed pot with honey sauce, raisons and almonds, or a Tagine, which is cooked in a Touagin or Tajine earthenware pot like a stew, then these are just a couple of choices you have at Mansouria.
There is an a la carte menu available at this Moroccan restaurant in Paris with starters like Harira traditional Moroccan soup through to salads and a Discovery selection that range in cost from around €8 up to €30 as of 2015.

Main courses could be a Tagine such as Chicken with olives and preserved lemons or Lamb with prunes and almonds for instance, or you could opt for a Couscous dish such as Kascsou Bidaoui with vegetables, raisins, chickpeas and a choice of chicken, lamb or lamb kebabs and range in cost from around €18 up to €30 as of 2015.

You will find that the Mansouria restaurant also provides different formula menus, and a basic one called the Diaffa is €28 with a small choice of starters and a main course plus a specific dessert like orange salad flavoured with cinnamon. Whereas for €36 as of 2015 you get the Discover starter, which consists of eight different selections, then a choice of main dish followed by an assortment of Moroccan pastries.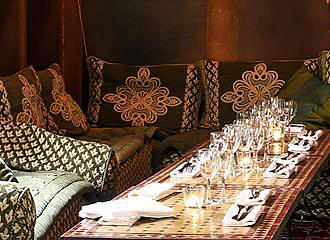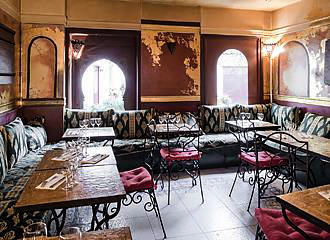 However, there is also a formula Deffa at €55 per person with your choice from the a la carte menu and also includes tea or coffee. Yet the Coffret Deffa is for two people and at a cost of €95 as of 2015, you will get a Mansouria cocktail each, then the Discovery starters, a specific selection you can choose from for the main course, then the assortment of pastries for dessert or a milk pastille. Plus you also get one bottle of either a red or rose wine to accompany the meal.

But the Mansouria restaurant also offers a takeaway service including sandwiches, a hamburger and different salads, along with their tagine and couscous dishes plus desserts, so even if you would rather enjoy your meal at your apartment or other accommodation, then this is also possible.


Visiting Mansouria Restaurant

Now the Mansouria restaurant is normally open for lunch between noon and 2pm and again in the evening for dinners, however, booking is recommended, and we would also highly recommend contacting them first, to ensure they are open, as they can also privatise the venue for receptions, etc.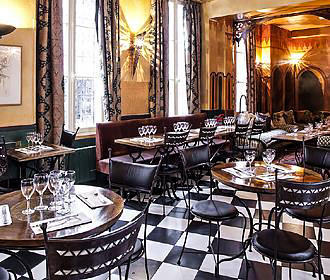 And when it comes to getting to this authentic Moroccan restaurant via public transport in Paris, you will find that is located in the 11th Arrondissement and the nearest Metro station is the Faidherbe - Chaligny stop serving line 8, which is located on the Rue du Faubourg Saint-Antoine. But further along that road you will get to the Nation stop that serves lines 1, 2, 6 and 9 along with line A of the RER trains.