Le Mouton Blanc Restaurant in Paris

Le Mouton Blanc is one of the oldest restaurants in Paris where famous names such as Moliere once dined, and with its historical spirit, yet a fresh look and warm feel, you can enjoy typical French cuisine in a friendly setting whether it be with friends or for a more romantic meal.


About Mouton Blanc restaurant

This is one of the oldest restaurants in Paris, which serves traditional French cuisine in a setting rich with history, and even though the decor has changed over the years, you will still be able to find many reminders of the original, so as not to lose its historical heritage.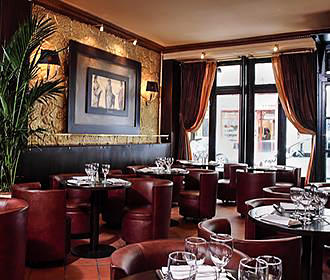 More recently Le Mouton Blanc has had completely new furnishings in 2008, and the old stone walls are now painted in shades of gold and copper, yet adorning the walls there are still numerous portraits depicting many of its illustrious past patrons such as Moliere, Boileau and La Fontaine.

Yet the dining room has now been divided into three different sections with entirely different atmospheres, one being with long tables and benches that are ideal for groups of people, and the second has small round tables and charming armchairs, that provides a great setting for a family meal or lunch with friends. However, the third area of the dining room has been laid out like booths, which provides a feeling of intimacy for those that would like a more romantic meal.


Cuisine at the Mouton Blanc

There are a wide variety of different dishes to choose from on the a la carte menu at Le Mouton Blanc restaurant, yet they provide a gourmet menu for €30, which includes a Kir aperitif and a half bottle of wine or mineral water along with a starter, main course, cheese selection and dessert.
For the gourmet menu starters could be crisp baked goats cheese and mixed salad or avocado and prawns served with a cocktail sauce. And main courses could be pan fried gilt head bream with courgettes in thyme, duck breast with a sweet and sour sauce of shoulder of lamb confit with carrots.

Yet when it comes to the a la carte menu, there are some even more tempting choices like one of the French delicacies of cuisine for starters such as snails with garlic and parsley butter or Foie Gras with toasted country bread, but you could also opt for Label Rouge Scottish salmon tartare with dill and citrus fruits. And as of 2014 the starters range in cost from around €5 up to €13.

Main courses are around €10 up to €21 as of 2014 and could be Griddles scallops with a fine ratatouille, Grilled fillet of beef with bearnaise sauce and French fries, an Omelette with fine herbs, or Sliced grilled veal kidney served with a Madeira sauce to name a few additional selections available.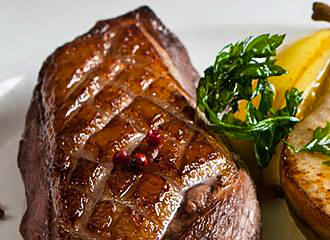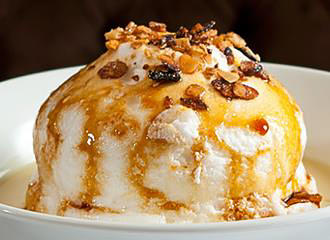 A cheese platter as they call it with a selection of different cheeses is €5, which you can opt for instead of a dessert or as an additional course. Yet the very tempting desserts at this restaurant in Paris could be a traditional apple tart, profiteroles and a pot of warm chocolate, ices creams and sorbets plus many others like crème brulee and range in cost from around €4.50 up to €8.


Visiting Le Mouton Blanc Restaurant in Paris

Located in the 16th Arrondissement of Paris, you will find le Mouton Blanc open seven days a week from noon until 3pm and then from 7pm through to 11pm, and although booking is not necessary for individuals, it is still highly recommended to reserve a table.

And when it comes to the public transport in Paris, the nearest Metro station is the Michel-Ange - Auteuil stop via lines 9 or 10. However, the bus numbers 22, 52 or 62 will also get you close by as well.