Photos of the Bateaux Mouches sightseeing cruise boats in Paris France - Page 1

Probably some of the most well known pleasure cruise boats on the River Seine belong to the Beateau-Mouches company, who have been running pleasure cruises, sightseeing tours and dinner cruises up and down the River Seine for over sixty years, and as you will see from these photos we took, their cruise boats can easily be recognised.

Bateaux Mouches photos 1 2 3 4 5 6 7 8 9 10 Next >>


Picture of Bateaux Mouches sightseeing cruise boat passing under the Eiffel Tower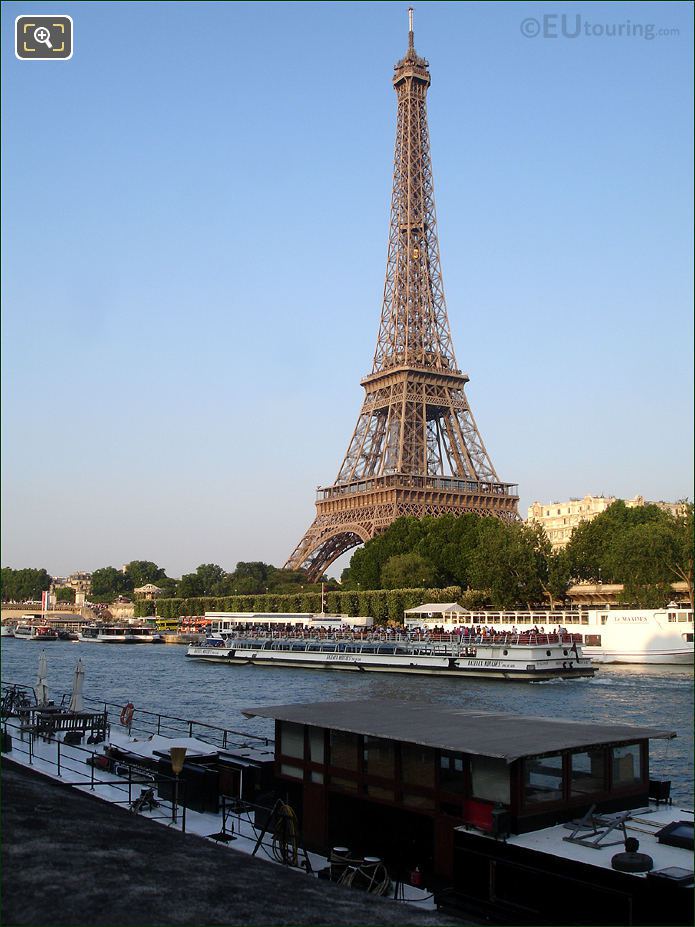 The Bateaux Mouches have their dock at the Port de la Conference by the Pont de l'Alma bridge on the right bank of the River Seine, and like in this picture you can see one of their boats that offer sightseeing tours all year round, although departures can vary due to unforeseen circumstances such as weather, plus there are only guaranteed sailings at specific times, as it is dependent upon the number of people wishing to enjoy a cruise.


Picture of Bateaux Mouches lunch cruise on the River Seine
This is a close up photo we took showing a part of a restaurant boat from the Bateaux Mouches fleet, with people enjoying a lunch cruise on the River Seine in elegant surroundings while admiring the many tourist attractions they will get to see from a completely different perspective, yet we would like to point out that according to the company themselves, smart attire is required for this and the dinner cruises, plus booking is advised or even required in some instances, especially for certain dates.


This picture shows one of the Bateaux Mouches boats passing under the Pont Alexandre III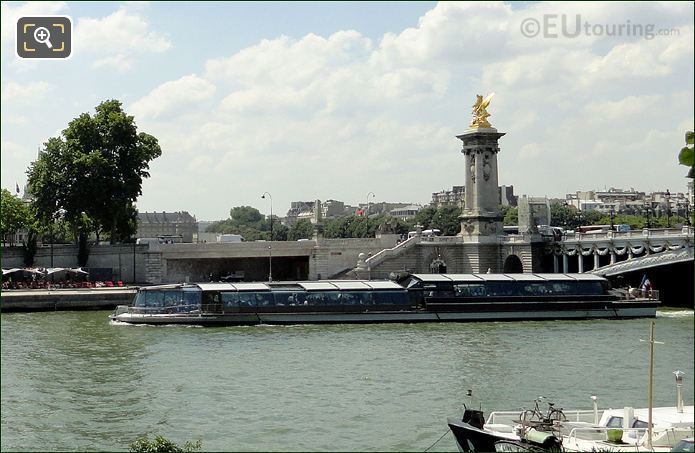 The Bateaux Mouches are a company offering sightseeing tours along with lunch and dinner cruises on the River Seine, and this is a photo we took of one of their restaurant boats just as it had passed underneath the ornate Pont Alexandre III bridge, and although the lunch cruises are normally only available at weekends or on holidays, these floating restaurants can also cater for private receptions and corporate functions.


Bateaux Mouches boat cruise along the River Seine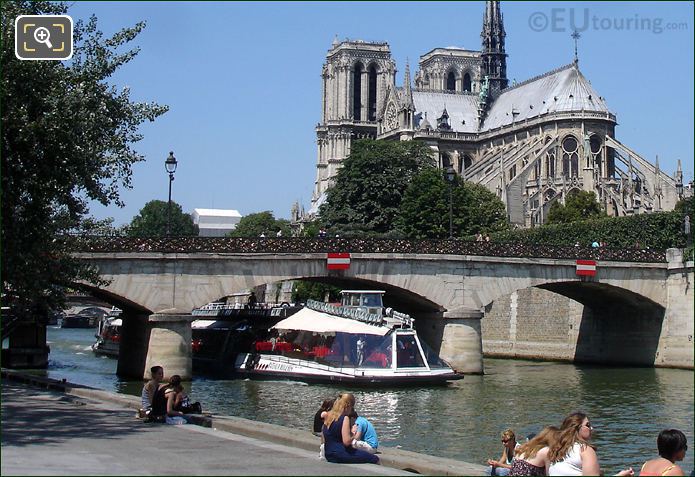 Whether you wish to have lunch while floating down the river like people were doing on this boat as it was going under the Pont de l'Archeveche, or a romantic dinner cruise on the River Seine, the Bateaux Mouches offer both options including truly romantic dinners accompanied by piano music, or even a full package with limo and champagne if you want to propose to your loved one in an idyllic setting, yet just because it would be of an evening, you will not miss out on seeing the historical monuments, because these are all lit up, and if you look carefully at the photo we took, you will see that there are numerous lights all along the top of the boat for this very reason.


Tourists enjoy the views on one of the Bateaux Mouches sightseeing cruise boats
You will get to see lots of different companies that offer cruises and sightseeing tours on the River Seine, and like this photo we took of one of the fleet of nine sightseeing boats from the Bateaux Mouches company, which was started by Jean Bruel shortly after World War II had finished, as he had the idea of Parisiens and tourists being able to enjoy themselves once again with a different view of Paris from the river.


Photo of Bateaux Mouches sightseeing cruise boat passing under the Pont des Arts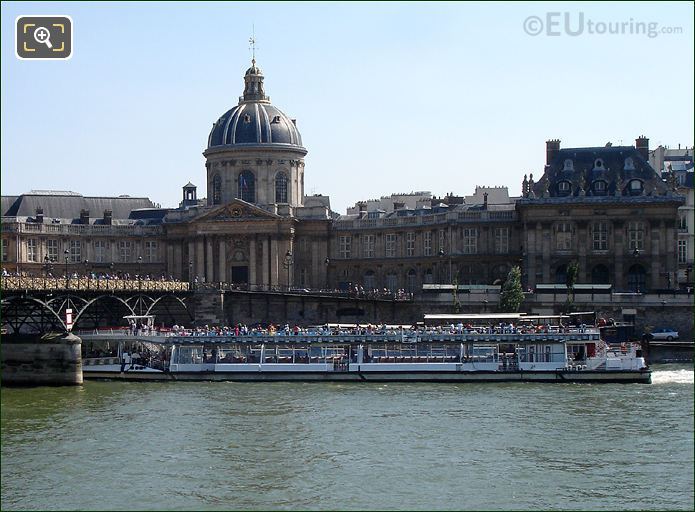 You will find that the sightseeing tours available with the Bateaux Mouches also have an audio guide, which is available in different languages including French, English, German, Spanish and Japanese, so you can find out unusual bits of information and facts about some of the many tourist attractions you will pass on the River Seine cruise, just like the people you can see in this photo that were on the top deck enjoying the nice weather and views, as they were going past the Institut de France and under the Pont des Arts, or Bridge of Love, as it has become known.


Bateaux Mouches cruise boat next to the Ile de la Cite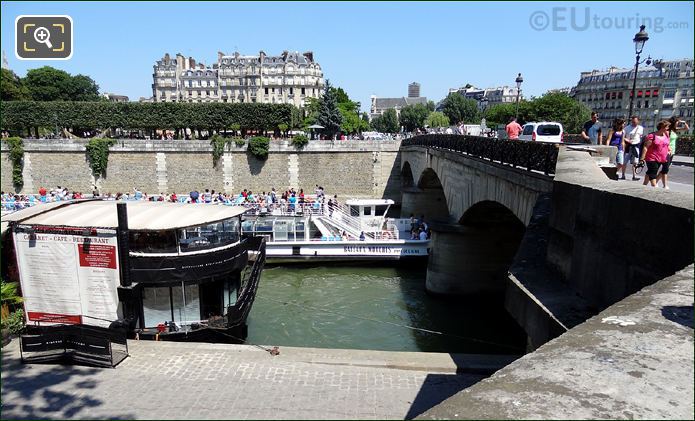 As we were standing by the floating restaurant that also serves as a cabaret, we took this photo looking over to the Ile de la Cite island and the Pont de l'Archeveche, or Lovers Bridge with its thousands of lovelocks, just as one of the sightseeing cruises on the River Seine from the Bateaux Mouches company was going by, and as you can tell, being a nice day, the top open deck of the boat was very crowded with the amount of tourists enjoying the cruise that takes just over an hour.

Bateaux Mouches photos 1 2 3 4 5 6 7 8 9 10 Next >>


If you would like to use any of these photos for non commercial use we only ask that you please do include recognition to ourselves "eutouring.com", but if you are not sure with regards to usage, please contact us.