The Charbon Rouge is now closed.

The following article is left as-is for historical and archiving purposes.
Charbon Rouge restaurant in Paris

The Charbon Rouge basically translates to red coal, and this is a grill come steak house restaurant in Paris with its main emphasis on Beef accompanied by wine from specific areas around the world, and these are all char-grill cooked, although they do supply a few other dishes as well.

The imaginative idea of two chefs that have dedicated their knowledge and passion to bring about some of the most sumptuous and flavoursome beef dishes, where quality means everything, and they call the Charbon Rouge grill restaurant in Paris as the French Latino Steak House.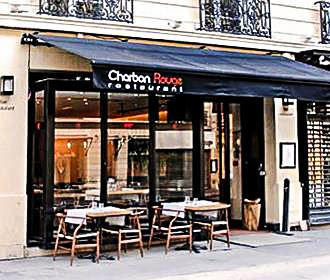 The decor is very minimalistic with pictures of cattle adorning the walls and lots of cow bells, wooden chairs and tables, and set over two floors the place can open up on the terrace for warm evenings, yet of an evening there is a more refined dining experience with softer lighting all in all makes this a great place to go with friends with a warm and friendly atmosphere to enjoy.


About the beef

The beef is specifically chosen for its quality and you can choose from the Charolais beef from the Burgundy region of France, the Angus or Hereford from Argentina, the Black Angus from the USA or the Japanese Wagyu from New Zealand. And yes, this is a grill restaurant, or steak house and therefore all of the beef is charcoal grilled for an even more unique flavour.

Now, just like a good French cheese or one of the many French wines that should be matured, even after slaughtering, beef should be matured or hung in a ventilated fridge for approximately 21 days, and this to improve the quality of the meat by making it more tender and intensifying the flavour.
Also, when you think about a really good steak, some people think that no fat is good, but in fact, beef should be marbled, and that is the term that is used when you see very fine strands or flecks of fat that run through a good piece of beef. And again, this will make the beef more tender, plus enhance the flavour, yet a kilo of the Japanese marbled Wagyu beef can sell in Japan for €300 or more!


Cuisine at the Charbon Rouge restaurant in Paris

Of a lunch time the Charbon Rouge has different formulas, which is what set dishes or set menus are often known as in the restaurants in Paris, and here you can choose to have just a main course at a cost of €15 per person as of 2012, and this could be something like grilled US Black Angus skirt steak with French fries.

Our you could go for a starter and main course with coffee or main course and dessert with coffee only costing €23.50, or a three course meal with coffee is €28 per person as of 2012, and this restaurant also does a special of the day along with a fish main course, which could be a fillet of sea bream with Dominican style rice, yet there is the a la carte option available as well.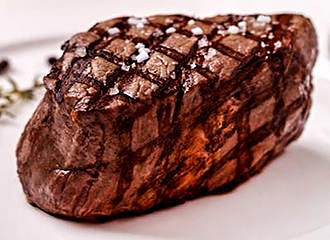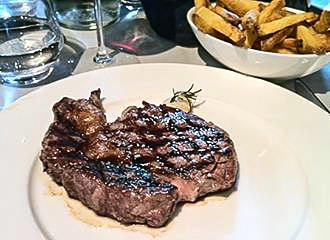 Of an evening there is the a la carte menu and for starters you could enjoy Caesar or beef salad, maybe mixed grilled sausages or grilled octopus, or perhaps the Charbon Rouge soup or a carpaccio of either Foie Gras, salmon or beef.

The starters range in cost from around €8 up to around €16 and when it comes to the main course, these range in price from €25 up to €160 for a 500g Wagyu beef steak, but they do also do a hamburger with bacon and cheese for €18.

Yet some delights that may tempt you for the main course include rib eye steak, skeward beef, sirloin steak, bone in tenderloin, and so on, and of course you can choose what type of beef you wish to enjoy.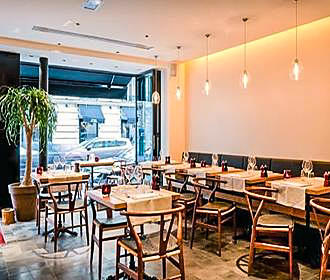 However, there is lamb, veal, Scottish salmon, king prawns and other delicacies on the menu, plus you can choose what you would like to accompany the dish of your choice from a good selection including French fries, grilled vegetables, Dominican rice, Caesar salad, etc.

The Charbon Rouge also has a good selection of desserts and the presentation make the meal even more special, plus there are wines from around the world, although, as we are sure you can appreciate, most of the wines are red, although there are some white wines and odd few rose wines available.


Access to Charbon Rouge Steak House in Paris

The Charbon Rouge is open every day of the week from 12 noon through to 11.30pm and offers a non stop service.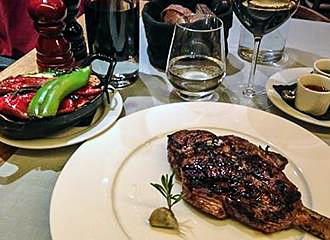 Also, this restaurant in Paris is air conditioned and is located close to the famous Champs Elysees avenue.

As for public transport, the nearest Metro station is called the Frankin D Roosevelt stop, however, there is also valet parking available of an evening, and although reservations are not always necessary, but it is always advisable to book for an evening, which can be done online or via telephone.