Location is now closed and renamed lecaponeparis.

The following article is left as-is for historical and archiving purposes.
Cafe Marco Polo Restaurant and Brasserie

This brasserie style restaurant is named after the explorer Marco Polo and in an elegant setting it is open seven days a week for breakfast through to lunch and dinner with continuous service providing seafood platters through a la carte meals, pizzas and formulas including a childrens menu.


About Cafe Marco Polo in Paris

The Cafe Marco Polo was named after the Italian merchant and explorer Marco Polo, who actually died back in the 1300s, yet it was through his detailed accounts of his voyages that he inspired many other explorers including Christopher Columbus, and he was also instrumental in European cartography, which is the study and production of maps.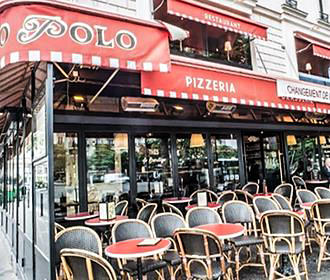 So within this restaurant in Paris, you will find different aspects relating to this theme, such as the menus themselves that have an old map as their design, along with ceilings that represent globes, mapping, the stars, etc and related pictures hanging on the walls.

And as for the decor, well there are different areas within the Cafe Marco Polo, including tables for four that are set into alcoves with a window view and the soft tones of purples and burgundy contrasting with the white table cloths with velvet style seating, makes this a pleasant and unusual setting, no matter what time of day you go.


Cuisine at Cafe Marco Polo Restaurant
Now when it comes to the cuisine at Cafe Marco Polo, there are a wide variety of different choices to suite all tastes and we will start with the seafood selection.

Now, when it comes to seafood, it does depend upon the seasons and what is available, but you could opt to have a Grand Plateau for 1 or Le Double Plateau for 2 people at €48.90 or €88.20 respectively, and includes oysters, Spanish mussels, langoustines, 1/2 crab, clams, along with a portion of whelks, prawns and grey shrimps.

However, items can also be purchased separately such as a plate of Royal grey shrimps for €9.80, a portion of winkles or whelks for €10.60, 6 Madagascar prawns for €17.30, etc. Plus the Cafe Marco Polo also has an oyster degustation option for €37.80 or an option of l'Assiette de la Mer, which translates to An Assortment of Seafood for €23.90 as of 2015.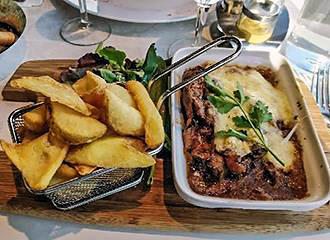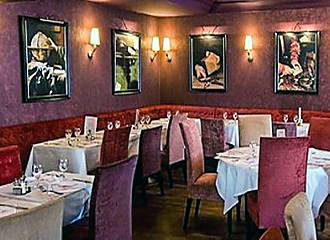 You will then find that this Parisian style brasserie also has a pasta dishes such as Lasagne or Tagliatelle along with pizzas and you can choose numerous different ones, but then add to these with extra ingredients such as tuna, ham, chorizo, salmon, olives, creme fraiche, etc, for an additional supplement per item extra.

Also, this brasserie in Paris has a Express Formulas of the Day available with specific choices for a starter and main course or main and dessert for €19.60 as of 2015, and there is a dedicated childrens menu for those aged under 12, in addition to burgers and other grillades.

Yet we mentioned earlier that the Marco Polo is also a restaurant serving an a la carte menu and the Entrees, or starters, could be salads, Burgundy snails, Foie Gras or assortments put together and these range in cost from €7.50 up to €20.50 depending upon what you order.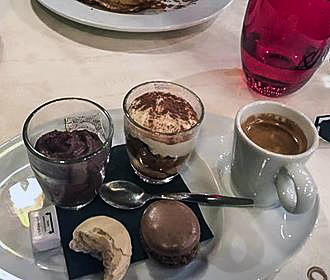 The Plats or main courses could be things such as veal, grilled steak, fillet of chicken, beef tartare, salmon, mussels, and specialities like house paella or fillet of beef with Foie Gras, to name a few choices. In addition to all of these, they also have a speciality dish for each day of the week such as a stew with bone marrow on a Tuesday or leg of lamb with potato gratin on a Sunday, and these range in cost from around €14.50 up to €30 as of 2015.

Now one thing you find all over Paris is their love of sweet pancakes as a dessert, which is a speciality of French cuisine known as crepes, and here they serve these with different toppings including even Grand Marnier. Yet you could opt for cheeses or a more standard dessert like tiramisu, chocolate mousse or creme brulee, plus the Cafe Marco Polo also has ice creams and sorbets on offer.

So as you can tell, there is a very varied selection of meals to choose from, and the fact that even children are catered for, this is an ideal place to stop for a bite to eat, enjoy an evening meal, or even a continental style breakfast to start the day.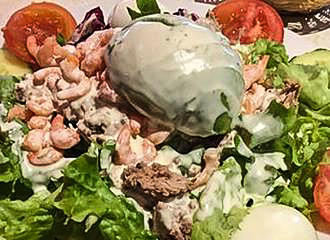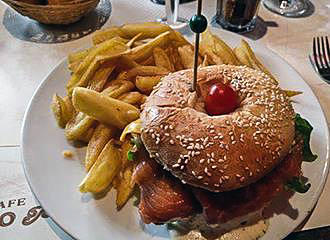 Visiting Cafe Marco Polo Restaurant in Paris

You will find this brasserie style restaurant in Paris located within the 12th Arrondissement close to the Place de la Nation, and it is open seven days a week providing continuous service from 7am where you can enjoy breakfast, right through lunch and dinner.

And not closing until 1am in the morning, you may be pleased to know that there is free WiFi access for its patrons, plus there is a terrace area that has been designated for smokers.

Now when it comes to getting to the Cafe Marco Polo via public transport in Paris, you will find that the nearest Metro station is the Nation stop that serves lines 1, 2, 6 and 9, plus this is also an RER train station serving line A.