The 1728 Restaurant in Paris France

The 1728 restaurant is named this due to its location within the building of the Hotel Mazin La Fayette that was constructed in 1728 and provides gourmet French cuisine in a historical setting amongst paintings, sculptures and other historical objects, which is like entering a museum.


About the 1728 Restaurant

The Hotel Mazin La Fayette is located within a building that was constructed in 1728 by Antoine Mazin, who was the military architect of King Louis XV back in 1728 plus studied and was passionate about mathematics, so the formula of 12 x 12 x 12 equalling 1728 was very appropriate for the restaurant that opened in 2001.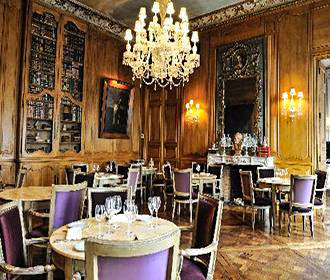 When the restaurant 1728 opened, it was like walking into a living museum in Paris with original features of the historical mansion that had been uncovered and restored, such as the parquet flooring which was discovered in its cellars, carved ceiling mouldings, wood panelling and the impressive marble fire places.

And because of the rich history of this mansion house that has seen many a famous person residing here over time like the Marquis de Lafayette, this has also meant that the Hotel Mazin La Fayette has now been classified as one of the historical monuments in Paris.

But apart from the fabulous architectural features and period decor of the mansion that also includes hand painted wallpaper and velvet chairs, there are approximately 300 different pieces of fine art including paintings, sculptures, busts, Venetian chandeliers and much more to discover, which makes for a unique and very formal, yet intimate and luxurious setting.
The 1728 Restaurant changes its mood and its clientele depending upon the times of day, with lunch time often seeing business men and even officials or diplomats visiting and coming from the Elysees Palace, but afternoon turns into a tea room where you can even discover traditional Japanese tea and other exotic teas along with old favourites.

Yet of an evening this is a place for romance, friends and family, or just a memorable evening in an idyllic and unique historical setting where elegance, refinement and a formal setting are order of the day.


Cuisine at the Restaurant 1728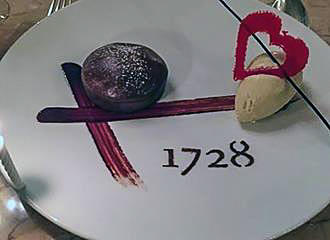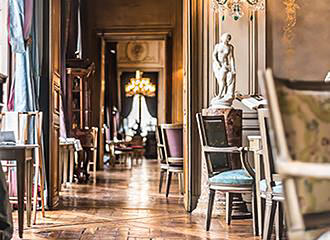 The 1728 is a gourmet restaurant in Paris serving fusion cuisine that blends Oriental and French food and of a lunch time there is a formula called the Business Menu, which is a cost of €35 as of 2014 for a starter and main course or a main and dessert, yet of an evening instead of the a la carte you can also opt for a Tasting Menu, which consists of several dishes in smaller portions in order to experience a wide variety of different creations, and this is a cost of €110 as of 2014. Plus there is also a formula known as the Dining Menu of an evening for €60, which is a three course option, but we would like to point out that all of these are the raw costs without drinks or an aperitif.

On the menu you could experience starters like Foie Gras with a grapefruit and ginger chutney and country bread toast, Slices of lobster with a Thai broth and crisp vegetables or Sashimi with tender cuts of tuna and gilt head bream, seaweed, lime, fresh fruits, ginger petals and Japanese tradition.

Main courses at the 1728 Restaurant could be Marinated beef Scandinavian style with new potatoes and tender salad greens, Fillet of John Dory with early vegetables and a basil emulsion or Rack of lamb marinated and oven roasted with braised carrots, greens and new potatoes, and the average cost of a main course is around €36 as of 2014.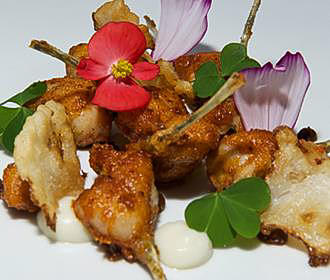 Visiting the 1728 Restaurant

Located in the 8th Arrondissement, you will find the 1728 restaurant open for lunch on a Monday to Friday from midday through to 2.30pm, and for dinner on a Monday to Saturday from 7.30pm through to 11pm.

However, they close on Sundays and on all National French holidays, and from what we can gather, afternoon tea is only normally available during the winter months.

It is highly recommended to make a reservation at the restaurant 1728, and this is compulsory for groups, but privatisation of rooms can also be arranged for different occasions and celebrations.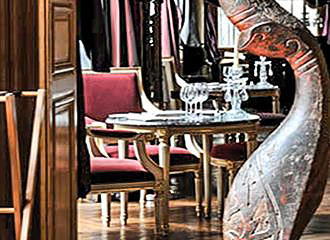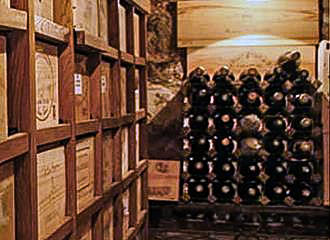 If you have your own transport, then there is a valet service available from 7.45pm, but when it comes to public transport in Paris, then the nearest Metro stations are the Concorde stop via lines 1, 8 and 12 or the Madeleine stop via lines 8, 12 and 14.

Yet it is also within walking distance of the famous Avenue des Champs Elysees, and the nearest Metro stop this way is the Champs Elysees - Clemenceau stop via lines 1 and 13, but there are of course several buses that stop along this avenue including the bus tours in Paris such as the company called l'OpenTour.