Pley Hotel - 4 Star Unusual Hotel in Paris France

This disabled, pet and family friendly unique radio themed 4 star hotel in Paris offering a buffet breakfast, room service, lounge and bar, rooftop terrace plus a restaurant, gym and wellness area, free WiFi and business services, along with en suite rooms that have complementary toiletries, personal safe, courtesy tray and much more.
Average Double
€160 - €250
---
About Pley Hotel in Paris

Originally known as the Hotel Etoile Saint-Honore, this has been completely revamped to become the unique Pley Hotel, which is a family friendly themed and unusual 4 Star hotel in Paris located in the 8th Arrondissement close to numerous Paris landmarks and monuments like the Arc de Triomphe. It is aptly named after the fact that it is based around radio from the 1930s in the area, where you can discover old posters, photographs, radio sets and more that also combines with contemporary aspects to provide a very unique vintage and vibrant atmosphere.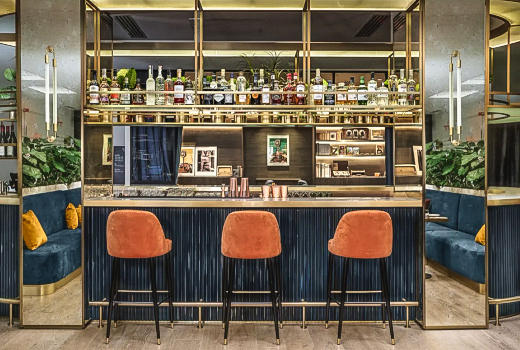 Pley Hotel Paris bar area
Services and Facilities at Pley Hotel

Having been entirely designed, Pley Hotel has modern comforts such as air conditioning along with a lift, free WiFi, business services including spaces that can be privatised for functions along with a bar, restaurant, rooftop terrace with bar and food services, in addition to a gym and wellness area where things such as Yoga sessions are organised.

Plus benefiting from a 24 hour reception with multilingual staff, they are there to help you get the most out of your stay and can offer advice on what is going on and where to go like discovering tourist attractions in Paris and also being a disabled friendly and pet friendly hotel in Paris, it is suitable for all, so you can make the most of your holiday in Paris.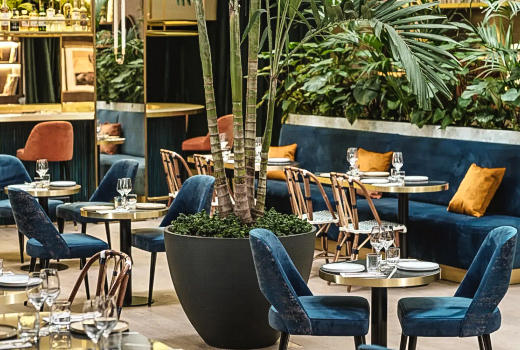 Pley Hotel bar lounge seating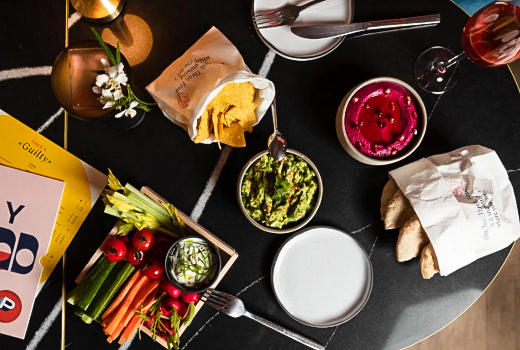 Pley Hotel restaurant food service available for lunch and dinner
Hotel Services and Facilities

- Gym with fitness equipment and weights (personal trainers available upon prior request for additional charges when booked in advance)
- Wellness in the form of Yoga and Pilates plus Massages available in room or via organised yoga classes throughout the year
- Breakfast served buffet style or served to your room
- Bar and Lounge open from 3pm to 11pm with various drinks and food service
- Rooftop terrace with cocktail bar and food services
- Restaurant open for lunch and dinner
- 24hr Room Service available with various meals and drinks etc on offer
- 24hr Reception with multilingual staff
- WiFi available throughout the hotel for free
- Business facilities with a meeting room available for additional charges
- Function facilities such as cocktail parties or sit-down dinners with various areas that can be privatised including the rooftop terrace, Le Studio and the Penthouse
Rooms at Pley Hotel

There are various categories of rooms at Pley Hotel in Paris, which are all soundproofed, have air conditioning and private bathroom some with a shower and others with a bath and complementary toiletries. Ranging from Standard to Deluxe and Junior Suites some of which have a terrace, there is also the Penthouse Suite with access to the rooftop.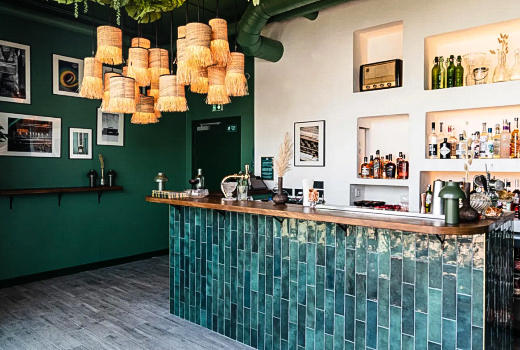 Pley Hotel green bar area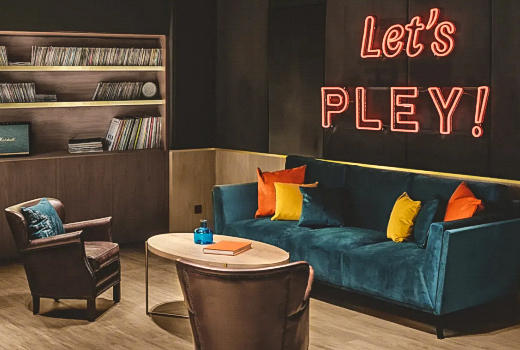 Pley Hotel lounge area with soft seating and table
Additionally, for families Pley Hotel offer connecting rooms that can accommodate up to 5 or 6 people or for those of you travelling in a party of 7, then a premium offering of the entire top floor can be privatised for yourselves, which includes terraces and the Penthouse Suite. Yet no matter what option you choose, all are well equipped to provide a relaxing comfortable stay including courtesy tray, minibar, Tivoli radio and much more.


Hotel Room Services and Facilities

- Private bathroom with bath or shower
- Complementary Toiletries
- Courtesy Tray with kettle (Nespresso machine in some)
- Minibar
- Desk
- Free WiFi
- Tivoli Bluetooth speaker phone (in some rooms)
- Tivoli radio
- Flat screen TV with satellite channels
- Personal Safe
- 24/7 Room Service for snacks, meals and drinks
- Balcony style terrace with table and chairs (in some rooms)
- Disabled friendly rooms available upon request but subject to availability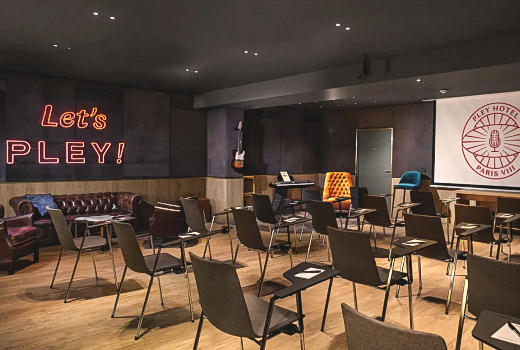 Pley Hotel business meeting room available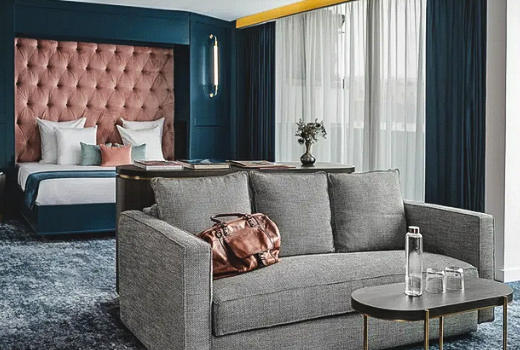 Pley Hotel suite penthouse room large bed, lounge area with settee and table
Pley Hotel Location

The Pley Hotel is located in a prestigious area with its many shopping opportunities including the street it is situated on and the Champs Elysees both of which are home to renowned names, yet there are also numerous cafes and restaurants plus Paris entertainment venues like the Salle Pleyel concert hall and The Lido cabaret within walking distance not forgetting its Paris parks and squares like Place Georges Guillaumin, Parc Monceau and the Jardins des Champs Elysees.

Additionally, being a city renowned for numerous iconic monuments in Paris, we have listed some of the most popular attractions to show the approximate walking distance from this 4 star hotel, although utilising public transport could be another option.


Walking distance to 5 popular attractions

- Eiffel Tower - 2.5 km
- Louvre Museum - 3 km
- Notre Dame Cathedral - 4.7 km
- Arc de Triomphe - 800m
- Sacre Coeur Basilica - 3.7 km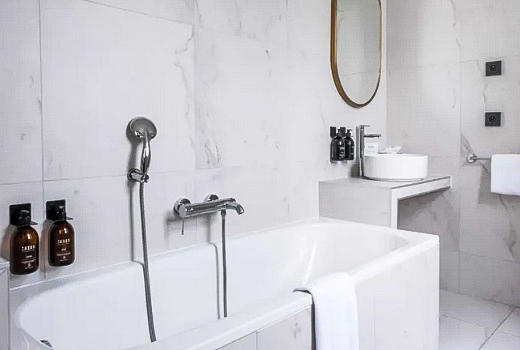 Pley Hotel en suite bathroom with bath with shower unit plus hand basin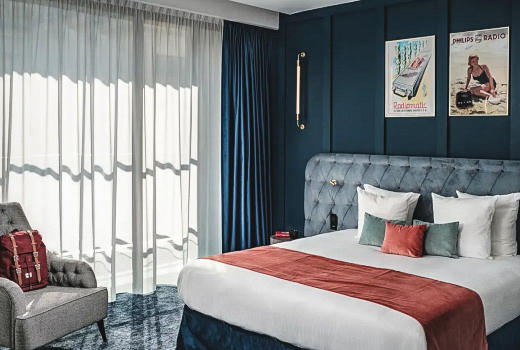 Pley Hotel double superior room large bed and soft relaxer chair
However, we have also listed some other Paris tourist attractions located around the hotel like the Chinese Pagoda and museums such as the impressive Musee Jacquemart-Andre that can be easily reached within under 1000 metres walking distance.


Tourist attractions nearby

- Salle Pleyel Concert Hall
- Place Georges Guillaumin
- Chinese Pagoda
- Arc de Triomphe
- Musee Jacquemart-Andre
- Avenue des Champs Elysees
- The Lido Cabaret
- Musee Nissim de Camondo
- Musee Cernuschi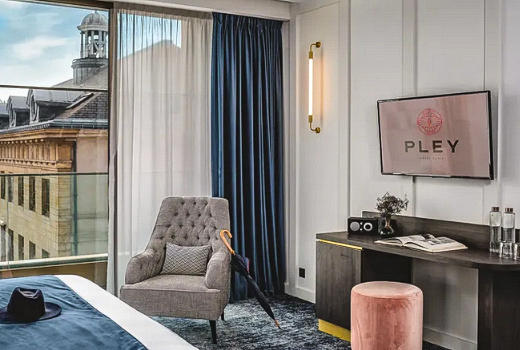 Pley Hotel deluxe room TV, desk and chair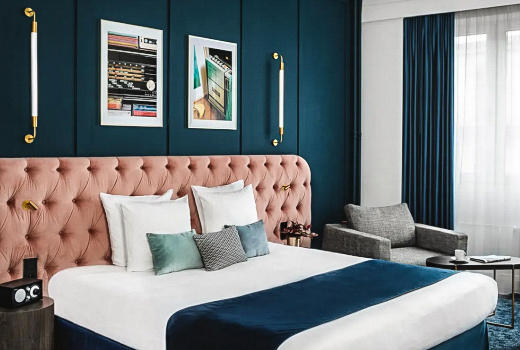 Pley Hotel junior suite spacy bed with soft relaxer chair and table
Getting to Pley Hotel in Paris

Situated in the 8th Arrondissement, when it comes to reaching Pley Hotel via public transport in Paris including Metro lines and Paris buses, there are various options within walking distance including the RER A line that is great for getting to Disneyland Paris, which can be reached in around a 7 minute walk.

Yet the Gare du Nord Train station is a popular choice for many being that is serves the RER B train line for getting to Charles de Gaulle Airport, RER B and OrlyVal for getting to Orly Airport, not forgetting TGV high speed trains and the Eurostar train that travels to London in approximately 2.5 hours.

- Gare du Nord - 4 kilometres
Transport close by

- Charles de Gaulle - Etoile Metro station - Metro lines 1, 2 and 6
- Bus lines 22, 43, 52
- Charles de Gaulle - Etoile train station - RER A
Paris Hotel booking info

Pley Hotel
214 Rue du Faubourg Saint Honore
75008
Paris
Ile de France
France

Tel: 0033 1 42 25 26 27
GPS: 48.8756, 2.30408

Website: https://pley-hotel.com/