Les Grandes Marches brasserie and restaurant in Paris

In an ideal location for a late dinner after watching a performance at the Opera Bastille or for breakfast before a day of sightseeing, this restaurant and brasserie serves traditional French gourmet cuisine and has specialities such as seafood platters.


About Grandes Marches Brasserie

This brightly lit and contemporary styled brasserie in Paris was refurbished back in 2012 and was designed by Carlos Ott to provide a warm, elegant and cosy decor, yet with contemporary styling which also included a grand but modern staircase that goes up to a mezzanine dining area.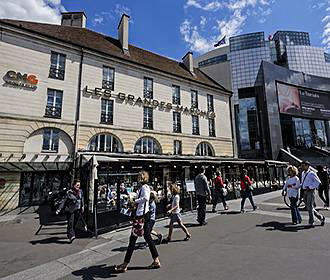 Within the ground floor dining room of Les Grandes Marches you will discover parquet flooring contrasting with ivory or light wood on the walls and large picture windows to provide a view to the terrace, which is heated in the cooler months, and the Place de la Bastille. Plus there is a glistening modern bar and a contemporary grand staircase sweeping up from the middle of the room.

Upstairs has the same contemporary yet warm and cosy atmosphere and provides lovely views across the Bastille square in Paris. And with comfortable lounge styled chairs, warm orange lighting and modern paintings hanging on the walls, this is an ideal setting for a romantic meal, dinner with family or with friends, yet there is also a private room for hire on the first floor as well.


Cuisine at Les Grandes Marches
You will find a breakfast formula available at Les Grandes Marches for a cost of €9.80 as of 2014, which consists of a hot drink like chocolate, cappuccino, etc, a pastry such as a croissant or you could opt for cereals or a yoghurt, then you get toast or two slices of bread, plus an orange juice or grapefruit juice.

Of a lunch time and certain evenings there is a formula known as the Business menu, which is only for individuals up to 10 people at a cost of €36. And for this you will get an aperitif then a starters such as onion soup of duck Foie gras, followed by a main course such as steak with green pepper sauce or seabream fillet with risotto. Then you can have cheese followed by a dessert and coffee to finish, plus the meal is accompanied by a half bottle of wine or mineral water.

Plus the Grandes Marches specialises in seafood, so you can indulge yourself with oysters or shellfish and seafood like shrimps, Spanish mussels, whelks, crab, etc ranging in cost from €4 up to €29.50.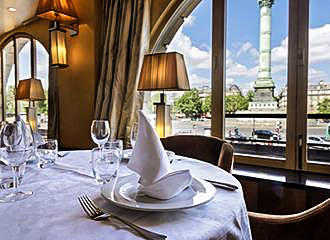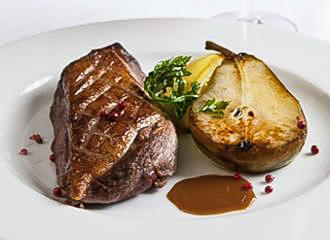 However, you can also opt for a seafood platter such as the Les Grandes Marches platter for one person that consists of 7 No 3 size Creuses oysters, 2 No 2 size Claires, 2 No 4 size flat oysters, small clams, 3 Spanish mussels, 1 clam, 1 crab, 3 prawns, langoustines, whelks, and shrimps. Or there is the Opera platter for one person with 3 No 3 size Claires, 3 No 3 size Speciales, 3 No 3 size Creuses oysters, whelks, 5 prawns, 3 langoustines, and 1 Canadian lobster, and these range in cost from €33 up to €74.

Yet there is also an a la carte menu available of traditional French gourmet cuisine at this restaurant in Paris and starters could be delights such as Gilthead bream carpaccio with passion fruit vinaigrette, Crisp-baked goat's cheese with smoked bacon and a rocket salad or Pan-fried squid and king prawns with espelette pepper with prices from €7 up to €20.

Main courses could be Griddled Label Rouge Scottish salmon with curried aubergine caviar, Baked scallops with mashed potatoes and baby vegetables, Fillet of beef with Bearnaise sauce, Griddled duck breast fillet from South-west France with sweet and sour sauce or Troyes andouillette chitterling sausage with mustard sauce to name a few that range in cost from around €17 to €38.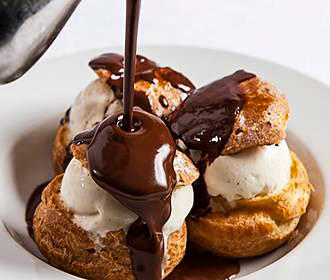 You could then opt for a cheese platter at Les Grandes Marches for €11 that always includes Roquefort cheese, which is served with a glass of port, before going for a temping dessert. An average of between €7.50 and €11 as of 2014, these could be Pineapple carpaccio with vanilla syrup and exotic fruit minestrone, Panna cotta with strawberry jam and candy floss ice cream or the Floating island soft meringue with lime zest and coconut for example.


Visiting Grandes Marches Brasserie

Les Grandes Marches is open 7 days a week from 8am through to 1am and there is valet parking available on a Monday to Friday for lunch at noon and of an evening, however on a Saturday the valet parking is only of an evening and on Sunday it is only available at noon.

But if you do not have your own vehicle, then you may need to utilise the public transport in Paris, and the nearest Metro station called the Bastille stop is only a few metres away serving lines 1, 5 and 8.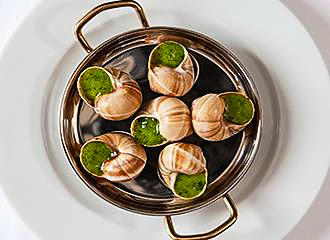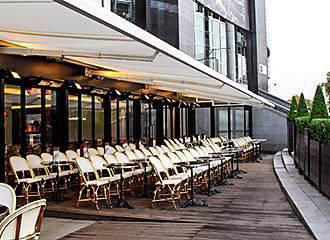 Yet if you are travelling by bus, which stops opposite this brasserie in Paris, you would need the numbers 20, 29, 65, 69, 76, 86, 87 and 91, but there is also a Velib station located at the square for the self service bike rental scheme.

However, we would like to point out that making a reservation is advisable especially for an evening, and this is required if you wish to take advantage of the valet parking. Plus you would need to contact the brasserie and restaurant in advance in order to book the private room for your own party or if you are in a large group.