Le Bouillon Belge Bar in Paris

You will find that this bar is dedicated to Belgium beers with over 100 different types of bottled beers on offer and ten different varieties on tap, plus they serve typical pub food such as chips and burgers along with cold cuts, cheeses, bagels, etc and they play host to different events like a Couscous night or the Mussels party with games for all to enjoy.


About Bouillon Belge

The Bouillon Belge has a warm and friendly atmosphere with the main emphasis on getting you to discover and experience a wide variety of different beers, whether it be a blonde, white, amber, fruity, etc, and there is always a selection on tap, but there are hundreds of different bottled beers to choose from.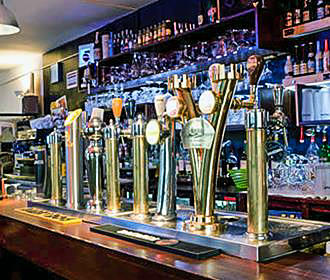 Now most people will have heard of Grolsch, which is 5 percent proof, and there are lighter beers than this such as a Lindemans Framboise at 2.5 percent proof, but there are also many going up to and above the 10 percent proof such as the Bush Ambree, the Kasteelbier Triple or Piraat.

Now as of 2015, a 25cl beer ranges in cost from €2.50 up to €5 and a 33cl to 50cl bottle of beer ranges from €6 to €6.50, but there is also a selection of 75cl bottled beers for €14. Plus the Bouillon Belge does have a small selection of soft drinks, aperitifs, wines and other alcoholic beverages like whisky, vodka, martini, etc.
When it comes to food at the Bouillon Belge, there are items that can be purchased from the bar at any time to accompany your drink such as eggplant tapenade, black olives, dried sausage, etc. Yet the menu items are only available between the hours of 7pm and 11.30pm, and there are cold cuts, cheeses, house French fries for €3.50, ravioli, hotdogs and burgers and even a cheesecake dessert option for €5.50 as of 2015.

And this bar in Paris also does themed nights where you could get free Mussels and you just have to buy the Chips or a drink, or at other times they have supplied couscous with certain drinks. Plus on certain evenings they have a games night with not just the pinball machine, but numerous board games that you can utilise to have even more fun in a relaxed and friendly atmosphere.


Visiting Bouillon Belge Bar in Paris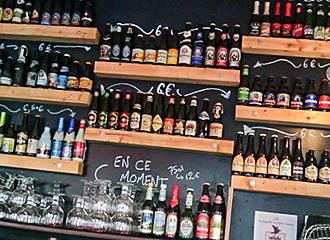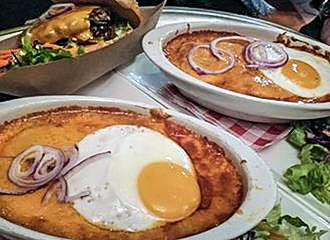 You will find the Bouillon Belge located in the 20th Arrondissement in the outskirts of Paris at the corner of Rue Planchet and Rue des Haies, and it is open seven days a week from 5pm through to 2am on a Monday to Saturday and from 5pm through to midnight on a Sunday.

Now when it comes to getting here via public transport in Paris, the nearest Metro stations are the Avron stop serving line 2 or the Buzenval stop serving line 9. Yet if you are travelling on the RER trains, then the nearest station is the Nation stop serving line A, but this is also a Metro stop serving lines 1, 2, 6 and 9.