Hotel des Batignolles - 3 Star Apartment and Hotel in Paris France

Being a family friendly 3 star hotel in Paris offering a 24 hour reception, buffet breakfast, lounge, games area with baby foot, etc, free WiFi, a meeting room and outdoor garden, you will find there are good sized en suite rooms with complementary toiletries, along with one apartment that has a kitchenette and its own private terrace garden and much more.
Accom Type
Hotel & Apartment
---
About Hotel des Batignolles in Paris

You will find the family friendly Hotel des Batignolles takes its name from its location in the Batignolles area in the 17th Arrondissement, which is close by Montmartre where you can discover the Moulin Rouge Cabaret and the impressive Sacre Cour Basilica and classed as a 3 star hotel in Paris, this is also known as an ApartHotel being that they have an apartment with its own kitchenette and private terrace for those wanting a little more independence.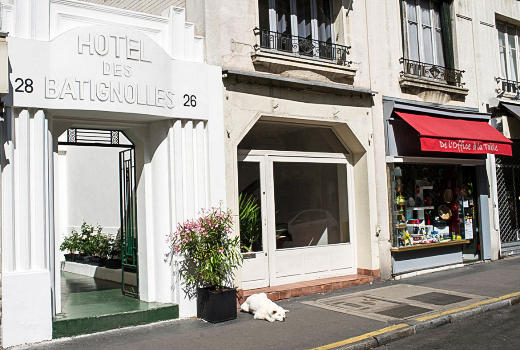 Hotel des Batignolles Paris facade
Services and Facilities at Hotel des Batignolles

Hotel des Batignolles is more like being within a home but with creature comforts of a hotel, such as a 24 hour reception with multilingual staff who are there to help you get the most out of your holiday in Paris, plus a lounge, relaxation area with books and games along with an interior garden where you can enjoy breakfast, sit and read a newspaper, just soak up the sun or catch up with friendly and family utilising the free WiFi.

Spread over 4 floors, Hotel des Batignolles is a warm and friendly hotel suitable for couples and families, and a baby cot can be supplied subject to prior request and availability, yet unfortunately, due to the style of the building there is no lift and therefore is not suitable for wheelchair users, although there are two rooms on the ground floor that have a walk in shower for those with reduced mobility that would not be able to negotiate stairs.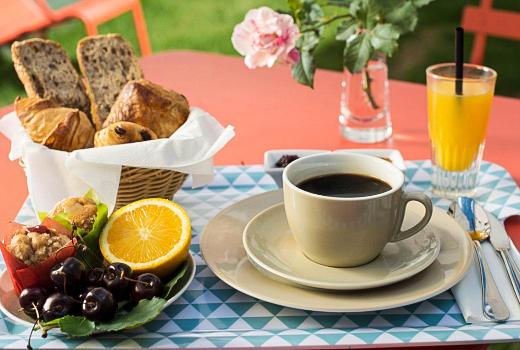 Hotel des Batignolles buffet breakfast service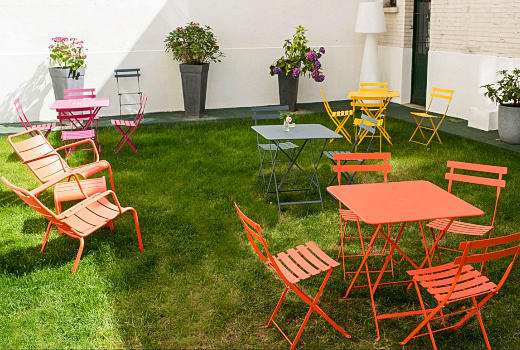 Hotel des Batignolles outdoor garden with seating
Hotel Services and Facilities

- Breakfast served buffet style from 7am to 10:30am within the breakfast room or al fresco in the garden during warmer weather
- Complementary welcome drink offered on arrival between 3pm and 8pm
- 24hr Reception with multilingual staff
- Emergency kits such as dental and sewing supplied if required at reception in addition to ironing equipment
- WiFi available throughout the hotel for free
- Business facilities with a meeting room available that can accommodate up to 20 people
- Newspapers available
- Outdoor Garden with seating
- Board games, books, baby foot table and a table tennis ping pong table outside during summer
Rooms at Hotel des Batignolles

There are 46 various categories of rooms at Hotel des Batignolles in Paris, which are all soundproofed, have a private bathroom some with a shower and others with a bath along with complementary toiletries. All are a good size and ranging from the smallest that are the 4 attic rooms at around 12 metres squared, we would like to point out that these are not suitable for people with large luggage as they are accessed by a narrow staircase.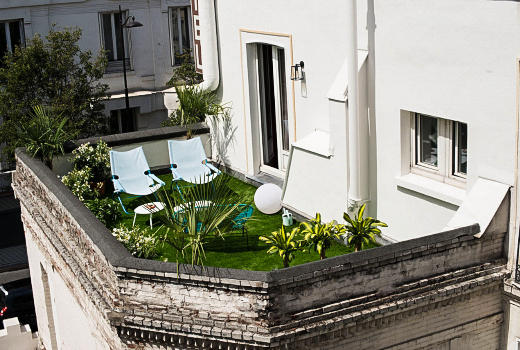 Hotel des Batignolles balcony garden with seating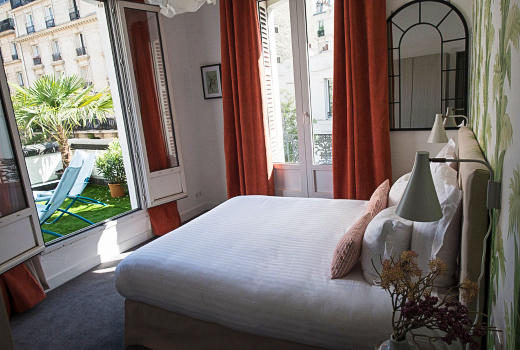 Hotel des Batignolles double room with balcony garden area
However the rest are a between 14 and 20 metres squared accessed by the original wooden staircase, then there is the Triple room and Junior Suites at around 21 to 24 metres squared that have a separate lounge area and can accommodate 4 people.

Hotel des Batignolles also has a private apartment that comes with a kitchenette, living room, walk-in shower bathroom and separate toilet, work area plus being on the ground floor it also has a private patio garden with seating to provide an even more relaxing comfortable stay, still being able to utilise the hotel services.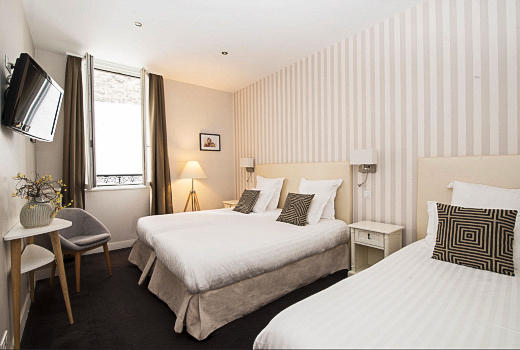 Hotel des Batignolles triple room beds plus TV, desk and chairs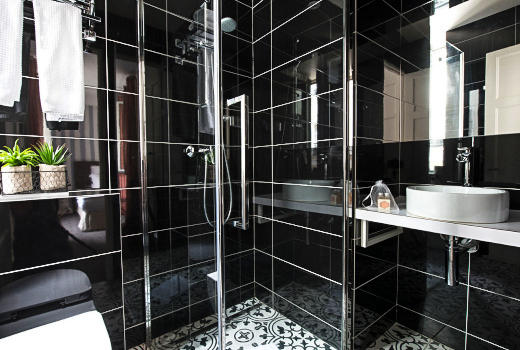 Hotel des Batignolles en suite bathroom with hand basin, shower cubicle and black tiles
Hotel Room Services and Facilities

- Private bathroom with bath or shower
- Complementary Toiletries
- Desk and lamp
- Free WiFi
- 32" flat screen HD TV
- Kitchenette in the Apartment
- Private terrace for the apartment
- Junior Suites with separate lounge area
- Baby cot supplied upon prior request


Hotel des Batignolles Location

Hotel des Batignolles is located by a lively area with its numerous cafes, bars and entertainment venues, yet this hotel is also close to the many shopping opportunities and the Opera area with the Palais Garnier Opera House.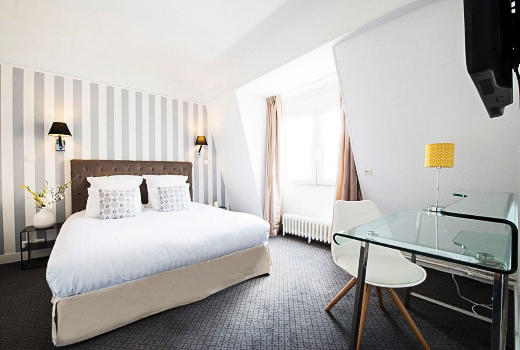 Hotel des Batignolles double room bed with TV, desk and chair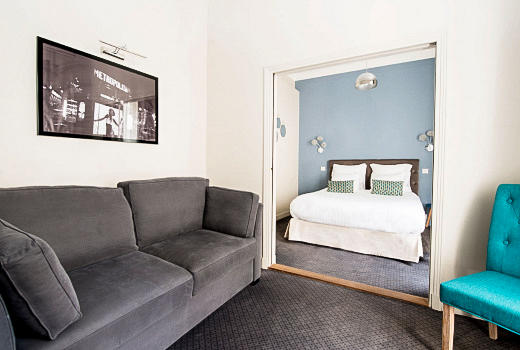 Hotel des Batignolles junior suite lounge area with soft seating
Additionally, being a city renowned for numerous iconic monuments in Paris, we have listed some of the most popular attractions to show the approximate walking distance from this 3 star hotel, although utilising public transport could be another option.


Walking distance to 5 popular attractions

- Eiffel Tower - 4.4 km
- Louvre Museum - 3 km
- Notre Dame Cathedral - 4.5 km
- Arc de Triomphe - 2.8 km
- Sacre Coeur Basilica - 1.8 km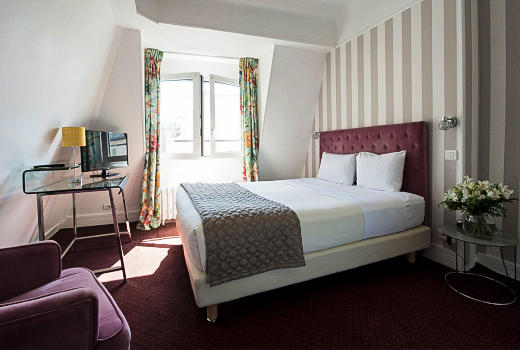 Hotel des Batignolles attic double room with bed, desk, TV and relaxer chair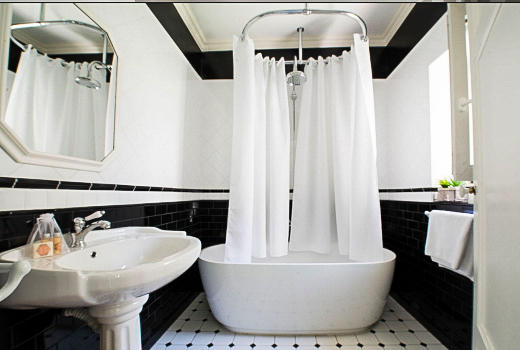 Hotel des Batignolles en suite bathroom with hand basin, round bathtub and shower unit
However, we have also listed some other Paris tourist attractions located around the hotel like the Moulin Rouge Cabaret, and museums such as the Musee de la Vie Romantique that can be easily reached within under 1000 metres walking distance.


Tourist attractions nearby

- Le Wagon Bleu Restaurant
- Le Bal Museum
- Moulin Rouge Cabaret
- Promo train - Petit train du Montmartre
- Musee de la Vie Romantique
- Les Trois Baudets
- Casino de Paris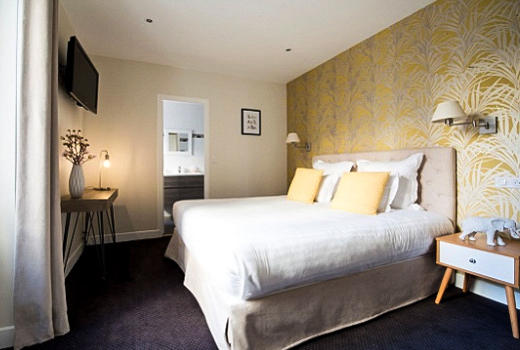 Hotel des Batignolles classic double room with bed side table, TV and desk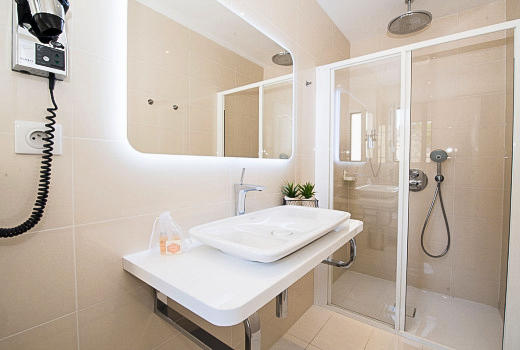 Hotel des Batignolles en suite bathroom with hand basin, shower cubicle and cream tiles
Getting to Hotel des Batignolles

Situated in the 17th Arrondissement, when it comes to reaching Hotel des Batignolles via public transport in Paris including Metro lines and Paris buses, there are various options within walking distance and even Gare Saint-Lazare train station is close by that can be reached in around a 10 minute walk.

Yet the Gare du Nord Train station is a popular choice for many being that is serves the RER B train line for getting to Charles de Gaulle Airport, RER B and OrlyVal for getting to Orly Airport, not forgetting TGV high speed trains and the Eurostar train that travels to London in approximately 2.5 hours.

- Gare du Nord - 2.4 kilometres
Transport close by

- Rome Metro station for line 2 - Place de Clichy station - for line 2 and line 13
- Bus line 30 plus 66 and 518 (Traverse B B)
Paris Hotel booking info

Hotel des Batignolles
26-28 Rue des Batignolles
75017
Paris
Ile de France
France

Tel: 0033 1 43 87 70 40
GPS: 48.88494, 2.32107

Website: https://www.batignolles.com/