Riad Nejma is closed with no re-opening date.

The following article is left as-is for historical and archiving purposes.
Riad Nejma Moroccan Restaurant with Entertainment in Paris

This is a Moroccan restaurant providing cuisine such as couscous, tagines, kebabs, etc with a truly eastern decor to match and entertainment like snake charmers, oriental dancers, traditional live music and much more for a fun evening in an authentic Moroccan venue.


About Riad Nejma

With an authentic Moroccan and Eastern decor with its palm trees and numerous other types of plants, through to ornate mirrors and traditional lighting, the theme is carried right through the different rooms and areas including their patio with ornaments and vases.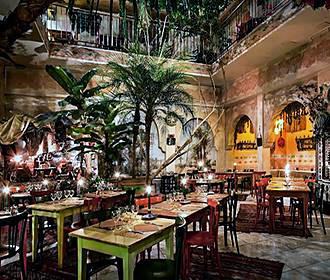 But on top of that, the Riad Nejma also has authentic crockery and dishes, which the food is served on, which altogether provides a warm atmosphere as though you are out for one of the true Arabian nights.

Yet, because they also have traditional Oriental live music from a small orchestra, through to other forms of entertainment such as Oriental dancers, it can make the evening more fun and discover more about this type of culture.

Depending upon the programming you may get to see a professional oriental belly dancer, a tattoo artist who will even decorate you with natural products that wear off in a few hours, a close up magician or a fortune teller. There is also a camel with its guide who make appearances, along with a snake charmer. But do not worry, if you are afraid of snakes then let the staff know, and you will be avoided during the show when he comes round to the tables with his python.
Cuisine at the Riad Nejma Restaurant

The Riad Nejma restaurant offers traditional oriental and Moroccan cuisines and has specific set menus in place for €35 with different names such as the Tangier or Marrakech menu, which include a starter, main course and dessert.

Yet there is also an a la carte menu available as well with starters such as different salads ranging in cost from €9 up to €16 as of 2014. You can opt for different Tagines such as a chicken tagine either with onions lemons and olives or with pears and honey and they are approximately €20.

Couscous dishes such as one with chicken, sausages and lamb or another with poultry skewers are available, along with meat dishes such lamb kebabs, Kefta skewers accompanied by oriental rice or Moroccan stir fried vegetables for between €17 and €32 as of 2014. But there are also some fish dishes available for €20 such as skewered prawns or sea bream with Chermoula, not forgetting some tempting desserts.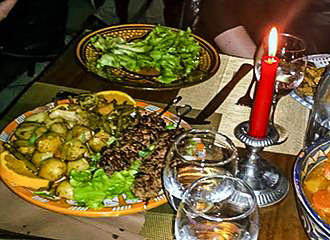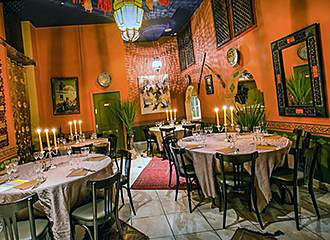 Visiting Riad Nejma

The Riad Nejma is located in the 4th Arrondissement with its terrace having a view over the Pompidou Centre, and the nearest Metro station is the Rambouteau stop via line 11.

You will find the Riad Nejma is open every day from 7.30pm through to around 1.30am, yet on a Saturday and Sunday they are also open for lunch from midday through to 3pm, although the entertainment is only provided of an evening and does vary each night.