Nuba Restaurant and Nightclub in Paris

Nuba is a restaurant and nightclub that also has an outdoor bar and terrace, and this is all located on the rooftop of Les Docks - Cite de la Mode et du Design, and is open for lunch and dinner followed by the club scene until 5am, although this has CLOSED and been replace with the Cafe OZ.


About Nuba in Paris

The Nuba next to the River Seine was first opened in 2013 by the founders of Le Baron, which is an exclusive nightclub in the 8th Arrondissement, but is in complete contrast, and aimed at the average person who just wants an enjoyable night out with friends in an unusual location.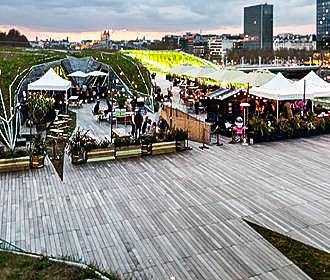 And yes, it is a very unusual location with its panoramic views over the River Seine from the rooftop terrace on the cultural centre of Les Docks - Cite de la Mode et du Design, but as mentioned above, this has closed and changed to the Cafe Oz, which is an additional Cafe Oz venue to the one at Place Denfert-Rochereau.

So the following information about Nuba itself is just for reference, although the theme, etc is still similar with the same concept of drinks, food and DJs, and it also has an unusual style incorporating wood, large bench style tables, deckchairs and sun parasols, through to an almost beach hut area where the DJs play, plus there is even a burger bar, along with the inevitable bar and even a table football game.

Yet, inside there is also a restaurant with a lunchtime formula of a main course and cafe gourmand available for approximately €21 as of 2014, but evening is a la carte and will set you back approximately €50 for a three course meal.

Inside Nuba, there is also a nightclub where you can dance away the night and enjoy a party atmosphere until the very early hours of the morning in a place designed with copper tones and different coloured lights for a festive and innovative venue that also sometimes has live music concerts as well.
And you can enjoy the terrace area and even the clubbing for free, but as with most other entertainment venues in Paris, there is sometimes a charge to attend a concert and even a burger at the evening terrace food truck will set you back around €8 as of 2014.

However, we would also like to point out that the outdoor bar and terrace is only open in nice weather, but this is an unusual venue where you get a very varied clientele, plus there is no particular dress code, so you just come along to enjoy yourself with friends or making new friends.


Visiting Nuba in Paris

As you have already gathered, Nuba, now Cafe Oz, is located on the rooftop of Les Docks - Cite de la Mode et du Design, which is located right by the River Seine in the 13th Arrondissement and the restaurant is open for lunch on a Thursday to Saturday from noon until 3pm.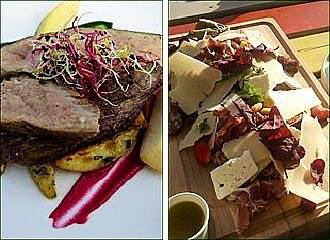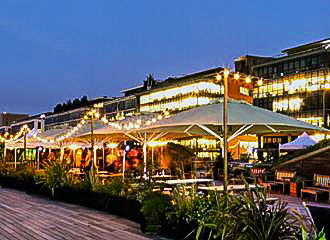 The Nuba restaurant is also open of an evening from 7pm through to 11pm and on a Sunday from noon until 5pm, yet there is also what is known as a foodtruck that serves burgers on the terrace from 8pm.

Then Nuba terrace is open right through from noon until 5am on a Thursday to Saturday and from noon until 7pm on a Sunday, and the Nuba nightclub is open on a Thursday to Saturday from 11pm through to 5am.

Now when it comes to getting here via public transport in Paris, the Gare d'Austerlitz train station serves line C of the RER and is also the nearest Metro station, which serves lines 5 and 10, or alternatively you have the Quai de la Gare Metro stop serving line 6, along with the bus numbers 24, 57, 61, 89 and 91.

However, we would like to point out that these modes of transport do stop during the early hours, so if you are leaving the nightclub late, then unless you wish to walk back to your hotel in Paris, you would need to organise a different means such as a taxi or the Noctilien Night Bus Service via lines N01, N02 and N31, to get you back to your accommodation.
Address and contact details
CLOSED - now Cafe OZ
Nuba, Le Rooftop des Docks - Cite de la Mode et du Design, 36 Quai d'Austerlitz, 75013, Paris, Ile de France, France

Restaurant Tel: +33 (0) 1 76 77 34 85


Related information
Cafe OZ photos
Les Docks - Cite de la Mode et du Design
Wanderlust
Transport options
Paris Metro lines 1, 5, 10, 14
Bus line 24
Bus line 57
Bus lines 61, 63, 65
Bus lines 87, 89
Bus line 91
Night bus lines N01, N02
Night bus line N31
RER Train lines A, C, D
Attractions close by
River Seine
Le Playtime Bar
Boeing Flight Simulator
Jazz Club Musique l'Improviste
Pont Charles de Gaulle
Cafe Barge
Le VIP Paris Dinner Cruises
Pont de Bercy
Gare d'Austerlitz
Jardin des Plantes
Parc de Bercy
Bibliotheque Francois-Mitterrand
Passerelle Simone de Beauvoir
Canal Saint-Martin