Le VIP Paris Yacht Hotel - Paris unusual accommodation

If you fancy staying at an unusual and romantic hotel designed specifically for couples, then how about the VIP Paris Yacht Hotel, which is a floating hotel on the River Seine, where you can also enjoy dinner and a romantic cruise before a night in one of the comfortable and unique fully equipped hotel rooms complete with en suite, air conditioning, room service, free WiFi and much more.
Average Double
€150 - €300
---
About Le VIP Paris Yacht Hotel

Rather than just being a boat that is permanently moored on the River Seine, Le VIP Paris Yacht Hotel is actually a true floating cruise boat come hotel that can travel at a cruising speed of between 12 and 22 kilometres per hour and has a 10 day range.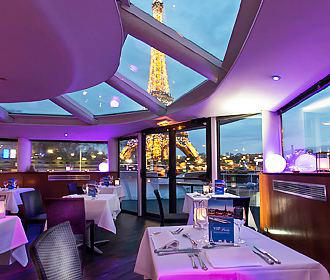 ---
There are comfortable lounge areas including a lounge bar on the yacht that measures almost 60 metres in length and almost 9 metres in width, with air conditioning throughout, along with free WiFi, plus there is a sun deck measuring 360 metres squared and a forward deck of 36 metres squared.

Based upon a theme of a romantic getaway, Le VIP Paris Yacht Hotel has been designed specifically with couples in mind that can cater for a maximum of 50 people, and there is a panoramic restaurant on board for a romantic dinner cruise meal to get your evening off to a great start, whether it be for a wedding anniversary, proposal, birthday, etc.
Room service is another feature to make your stay even more pleasurable, plus there is private parking at their dock, however, the yacht can also be privatised for a personal event with additional services offered such as entertainment, a cocktail style party rather than sit down meal, and so on.


Restaurant and Cruise

As we mentioned earlier, there is a panoramic restaurant on the VIP Paris Yacht Hotel, which caters specifically for couples and is an ideal venue for weddings, receptions, an anniversary or even a corporate event, where you can enjoy a refined setting with a gourmet meal.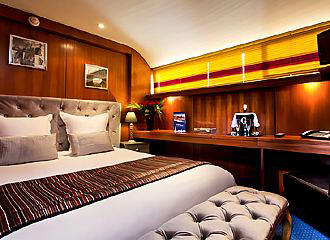 ---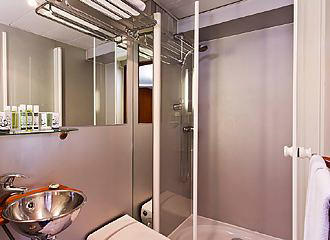 ---
With a dedicated sommelier for wine pairing to enjoy the cuisine to its fullest, if you can manage to take your eyes off your partner while enjoying the three course meal, you can also enjoy the cruise along the River Seine taking in many of the famous tourist attractions in Paris such as The Louvre, the Pont Alexandre III, Eiffel Tower, Pont Neuf, the Ile aux Cygnes with the Statue of Liberty and many more.

The chef creates a menu specific to the seasons with what fresh produce is available, but to give you an idea, starters could be delights like Foie gras sheet, pomegranate vinaigrette mango or Marinated salmon with dill, crunchy vegetables and sauce vierge, followed by a main course that could be Quasi veal, potato rosette, fricassee of mushrooms, rosemary veal jus or Cod fillet with herbs, vegetable tagliatelle, roasted shallots, saffron beurre blanc.

Then there is dessert which could be Shortbread , violet cream and Bourbon vanilla, roasted apricots or Chocolate biscuit, creme brulee, chocolate frosting and caramel and creamy chocolate, however there are also vegetarian options available along with a specific Kosher menu for an additional charge.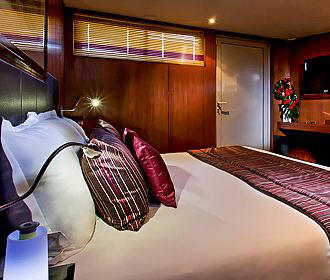 ---
Accommodation at Le VIP Paris Yacht Hotel

There are a total of 24 rooms or cabins as they are called, and each room on Le VIP Paris Yacht Hotel comes with air conditioning and heating depending upon the weather conditions. Being designed with a maritime theme they include mahogany wood trim and rich colours plus subtle lighting complementing the rooms and en suite bathrooms.

You will find high quality bedding, a mahogany desk, WiFi internet access, broadband Ethernet connection, reading lamp, an LCD TV and mini bar in each room as standard, plus room service is also available.

There are Standard rooms that come with a queen sized bed measuring 140cm in width and an en suite with a shower, along with the other features we mentioned above. Yet the Superior Rooms or cabins as they are also known, have a view over the River Seine and a double bed measuring 160cm, although you could opt for a twin room.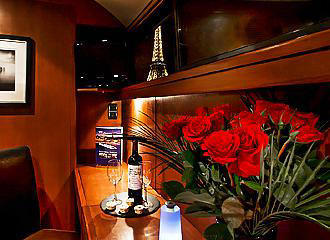 ---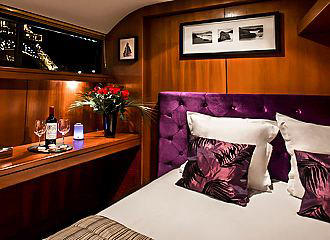 ---
Then there are six different Suites that come with a lounge area, bedroom with a large 200cm bed, LCD TV and an en suite fully equipped bathroom plus your very own personal Spa for two people.

They all have a different name, such as Passion, Nature and Pleasure that have a 62 jet spa suitable for two in a relaxation area where you can change the LEDs on it to compliment your mood and music, with several different massage settings to choose from as well. You also get a sofa, coffee table an additional LCD TV plus a Nespresso coffee machine as well.

However, there is also the Presidential Cabin, which comes with a large 200cm bed, an en suite with a hydro massage shower and separate toilet, but also your very own private terrace measuring 18 metres squared located on the aft deck, so you can admire the River Seine and the many attractions, or just relax in peace and harmony, whatever the time.
Access to the VIP Paris Yacht Hotel

Located at the Port de la Rapee on the River Seine in the 12th Arrondissement of Paris on the opposite bank to Les Docks - Cite de la Mode et du Design, for those of you that are travelling into Paris via your own transport, you will be pleased to know that they have their own private parking area at the quayside.

However, there are several different options for Paris public transport that are within a 5 to 10 minute walk, which includes the Gare de Lyon serving the Metro line 1 and metro line 14 along with the RER A & D train lines and Intercities trains, whereas the Gare d'Austerlitz is located on the opposite bank serving the metro line 5 and metro line 10 along with the RER C train line and Intercities trains.
Paris Hotel booking info

Le VIP Paris Yacht Hotel
7/9 Port de la Rapee
75012
Paris
Ile de France
France

Tel: 0033 1 44 68 06 38 - Monday to Friday 9am to 1pm and 2pm to 6pm
GPS: 48.84108, 2.37238

Website: https://www.le-vip-paris.com/