Le Calife Cruises on the River Seine

If you like the idea of enjoying a lunch or dinner cruise on the River Seine in a converted barge dating from 1939, that still has much of its old character and other unusual elements like stained glass windows, a piano in the music room, copper bar, etc, then this is a great option with meals even suitable for vegetarians.


About Le Calife in Paris

Le calife was originally constructed in 1939 in Belgium as a cargo carrying barge with twin engines that had a weight of 80 tons unlaiden, and after the decline of this type of transport, the barge was purchased for restoration.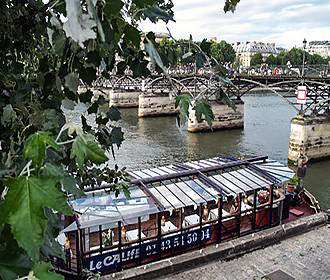 The dream of the owner, who is also the captain of the Calife, it took 18 years to fully restore and change this barge into a restaurant boat that could accommodate receptions as well, yet many things have remained in place, including the original steam engines, which you will get to hear while on the cruise.

The vision of the captain was to provide a very different setting compared to what you would find in other boats that provide River Seine cruises, and with this in mind there are many unusual features that can be enjoyed, especially for functions such as wedding receptions when the boat is privatised.

And to give you an idea of some of the finer details, there is a spiral staircase with the ceiling being a stained glass window and this takes you down to a small room known as the music room, which has an oval shaped bench where a few people can enjoy the atmosphere in the heart of the boat, plus there is an exotic wood lounge.
Now the captain is actually a musician as well, and you will find that there is a Steinway piano dating from 1879, plus there is a Buddha, which is over 300 years old. You will find a copper bar with stained glass dating from the 1800s, along with lots of woodwork including red mahogany, brass and other decorative details that were put in place during the years of transformation. And within Le Calife you can also admire ancient stained glass dating from 1789, Guiana teak and even look out of portholes that were recovered from old Italian ships.

Yet there is an area known as the Winter Garden, which is where receptions are held, plus this is also the restaurant for the River Seine Lunch and Dinner Cruises, where you will be seated by one of the windows for panoramic views to the many tourist attractions in Paris, and this is heated when needed, yet has air conditioning for those warmer days.

However Le Calife has been designed to have two terrace decks, with the Panoramic terrace being the one we just mentioned covered in glass, but there is also a Sun deck where you can also enjoy a meal on the terrace in the open air when the weather permits.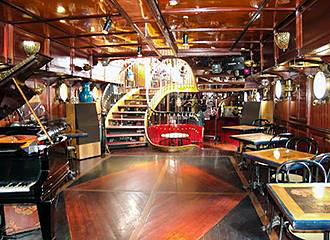 So, as you no doubt realise, this is a very unusual setting for lunch or dinner cruise, and when see you all the fine details that have been put in place by the captain for everyone's enjoyment, you can possibly appreciate why the work to get this barge in top condition took so long to achieve.


The Cuisine for Le Calife Lunch and Dinner Cruises

The Calife is a true cruising restaurant, that provides cuisine for lunch and dinner cruises along with meals and buffets for private functions such as wedding receptions, which are cooked on board by the dedicated team.

And with fresh market produce, the menu does change with the seasons, but there are two different menus you can choose from, although if you are a group of thirty or more, then a set menu for the group would be required.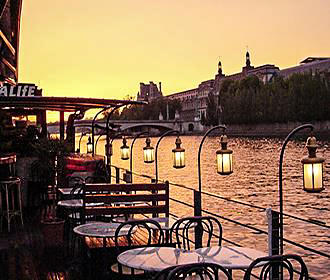 Le Calife has two different menu options, one called the Menu des Saints Peres, which is a cost of €67 as of 2015 including the two hour cruise, or you have the Menu Grand Palais at a cost of €108 including the River Seine cruise.

And with the Menu des Saint Peres you get a glass of champagne with appetizers followed by a starter such as Salmon tartare with seaweed flakes, olive oil, lime and dill or a vegetarian option of Warm goats cheese in crisp flaky pastry and honey.

Then there is a main course such as a Fillet of sea bass with white tarragon sauce served with rice and crisp seasonal vegetable or Roast guinea fowl in a wild mushroom sauce served with roast apple and herbed potatoes, followed by a dessert.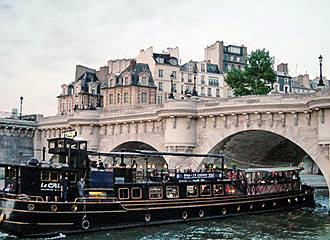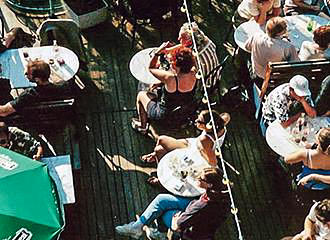 However Le calife also have The Menu Grand Palais, which has more options to choose from in the four courses plus you also get Kir Royal and appetisers to start with, and starters could be Foie Gras with a sweet shallot chutney, gingerbread and caramalised balsamic vinegar or Grilled prawns served with a zucchini mango salad and lime juice.

Main courses could be Fresh fish from the market of either Turbot or Saint Pierre that comes with orange sauce and is served with wild rice and crisp seasonal vegetables.

Alternatively you could opt for the captains favourite of Roast marinated shoulder of lamb with vegetables or Duck with honey and balsamic sauce with pureed celeriac and vegetables.

Then you get a cheese course with a mixed green salad and walnuts followed by a very tempting dessert such as Iced nougat, mango sauce, nougatine and ginger caramel with a shot of Cointreau, Tiramisu with a red berry coulis or Upside down apple tart served with savoury caramel ice cream and a measure of calvados.

However, there is also a vegetarian option for each course on the Menu Grand Palais and the starters could be Seasonal grilled vegetables with parmesan and roquette on a delicate flaky pastry. This could be followed by a main course of Sauteed vegetables with lemongrass and coconut served with shiitake mushrooms, tofu, quinoa and fresh coriander, and to round off the evening you could have a tempting dessert like Molten chocolate cake with custard and a Madagascan vanilla ice cream.

But as we mentioned previously, the above is just a general guide as the menu on the Calife will change depending upon what produce is available. And this is also different for groups, receptions and of course buffets, which have to be organised well in advance, yet you may be pleased to know that there is always a vegetarian option available.


Access to Calife Lunch and Dinner Cruises on the River Seine

You will find that Le Calife is located at the Port des Saints-Peres on the left bank of the River Seine in the 6th Arrondissement right by the Pont des Arts, Bridge of Love and when it comes to public transport in Paris, due to its location, there are numerous options available.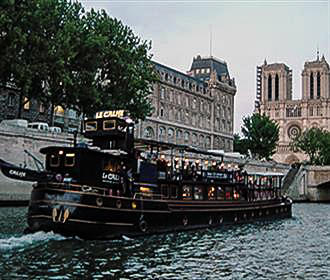 To start with you have the Metro and the closest Metro stations are the Odeon stop on lines 4 and 10, the Louvre - Rivoli stop serving line 1 or the Pont Neuf stop via line 7, yet the Paris Buses on lines 21, 24, 27, 69, 72 and 95 will also get you close by. Alternatively, you have the RER train stations with the closest being the Saint-Michel stop serving lines B and C or on the opposite bank you have the Chatelet station serving line A.

Now when it comes to the cruises themselves, Le Calife offers a lunch cruise on the River Seine on a Saturday and Sunday and boarding is between noon and 12.15pm, and they ask that you arrive no later than 12.30pm, so that you can be seated at your table and get comfortable before sailing.

The same scenario applies to the Calife Dinner Cruise on the River Seine, with boarding between 7.45pm and 8.15pm, but again no later than 8.30pm, and the gangway is removed 20 minutes after last boarding time ready to disembark for your two hour cruise and meal.

A deposit of €30 per person is requested in order to confirm your reservation and booking, which can be done via credit or debit card over the phone, and whatever cruise option you choose, you will depart and arrive back at the Port des Saint-Peres dock. However, a cruise can be cancelled due to unforeseen circumstances such as adverse weather conditions and in these situations, you have the option of taking another cruise or a refund.