La Mondaine Hotel - Unusual 3 Star Hotel in Paris France

Being an unusual 3 star hotel in Paris that was one a Maison Close this is designed specifically for couples with every room unique and reminiscent of escort services and times of the long gone brothels and services include breakfast, 24 hour bar and lounges, room service, free WiFi and laundry.
Average Double
€110 - €170
---
About La Mondaine Hotel in Paris

You will find La Mondaine is French for a type of worldly lady or escort and this 3 star hotel is aptly named being that it was once a Maison Close or brothel in English and is specifically for couples with no children or pets allowed. Located between the Montmartre area and the Opera area in the 9th Arrondissement it is unusual because there are reminders everywhere of the past before these establishments were banned, such as the red door to each room and leopard pattern carpet throughout, and this hotel is now used for photo shoots on occasions.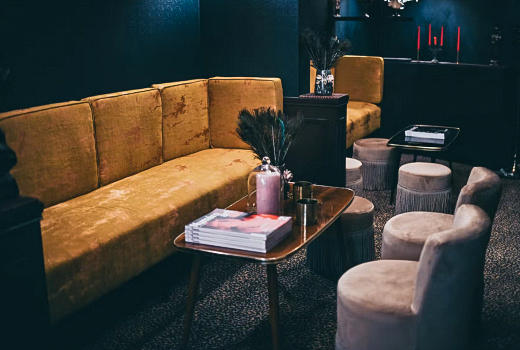 La Mondaine Hotel bar lounge area with soft seating
Services and Facilities at Hotel La Mondaine

Having been designed to be reminiscent of the past, La Mondaine Hotel has modern comforts such as a lift, although through the constraints of the building design it is not disabled friendly, yet it does offer free WiFi and laundry services. Plus benefiting from a 24 hour reception with staff able to speak English as well as French, they are there to help you get the most out of your stay including making restaurant reservations or booking a taxi and tickets for tourist attractions in Paris.

La Mondaine Hotel has different lounges and aspects that utilise old images, photos, decor and furniture to take you back in time to more frivolous and sumptuous times in keeping with the building and its occupants, which can make your holiday in Paris comfortable yet unique and enjoyable.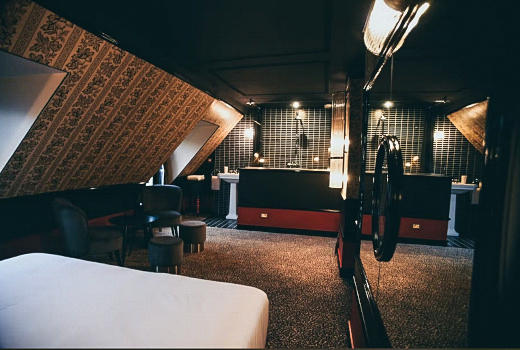 La Mondaine Hotel attic deluxe room with double bed and seating area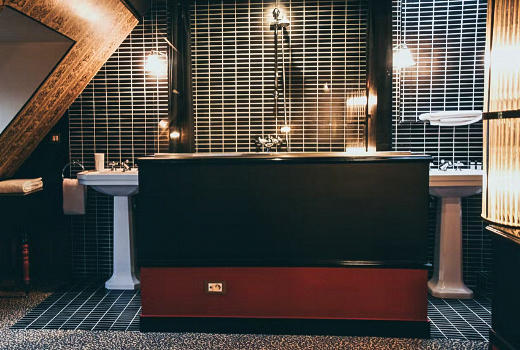 La Mondaine Hotel attic deluxe bathroom with open shower plus his and her hand basins
Hotel Services and Facilities

- Breakfast French continental style available from 7:30am daily to be enjoyed in one of the lounges or within your room
- Bar and Lounges open 24 hours a day
- Lunches and Dinners are available upon request
- Room Service available 24/7
- 24hr Reception with multilingual staff
- Luggage hold
- Laundry services for additional charges
- WiFi available throughout the hotel for free
- Lounges can be privatised for photo shoots
Rooms at La Mondaine Hotel

There are categories of rooms at La Mondaine Hotel Paris as Classic, Superior and Deluxe, which are all soundproofed, have heating or a ceiling fan but unfortunately no air conditioning, yet come with an en suite bathroom, some with a shower and others with a bath. Ranging from Classic, Superior or Deluxe that are the largest, these are for a maximum of two people, yet in keeping with its history, they do not have a TV, but do have a desk and free WiFi.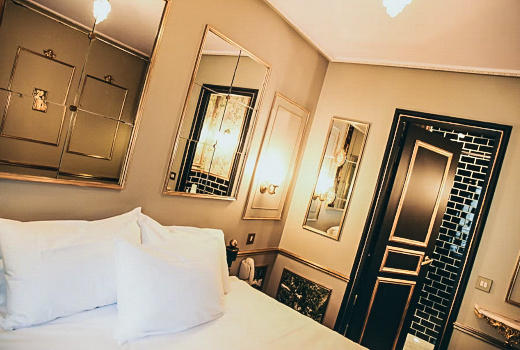 La Mondaine Hotel golden classic double bedroom with mirrors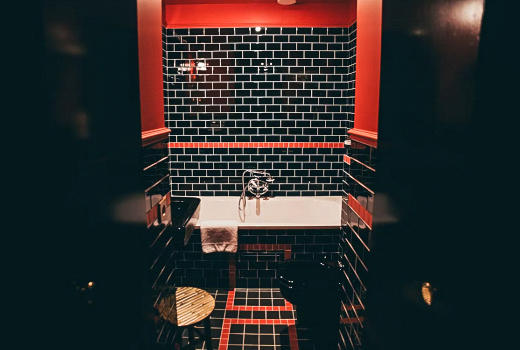 La Mondaine Hotel red and black tilled en suite bathroom
Hotel Room Services and Facilities

- Private Bathroom with a bath or shower
- Free WiFi
- Room Service
- Ceiling fan (no air conditioning)
- Desk
- Telephone
- Seating area (in some rooms)


La Mondaine Hotel Location

La Mondaine Hotel is located by the lively Montmartre area with its numerous cafes, bars and entertainment venues plus where you can discover the Sacre Coeur Basilica. Yet this hotel is also close to the Opera area with the Palais Garnier Opera House and many shopping opportunities.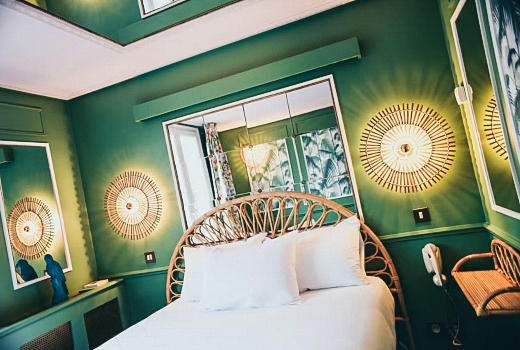 La Mondaine Hotel superior double bedroom bed with green decor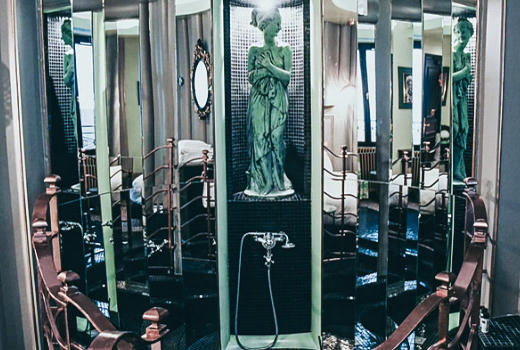 La Mondaine Hotel bathroom with mirrored shower unit and statue
Additionally, being a city renowned for numerous iconic monuments in Paris, we have listed some of the most popular attractions to show the approximate walking distance from this Paris 3 star hotel, although utilising public transport could be another option.


Walking distance to 5 popular attractions

- Eiffel Tower - 4.4 km
- Louvre Museum - 2.4 km
- Notre Dame Cathedral - 4.2 km
- Arc de Triomphe - 3 km
- Sacre Coeur Basilica - 1.5 km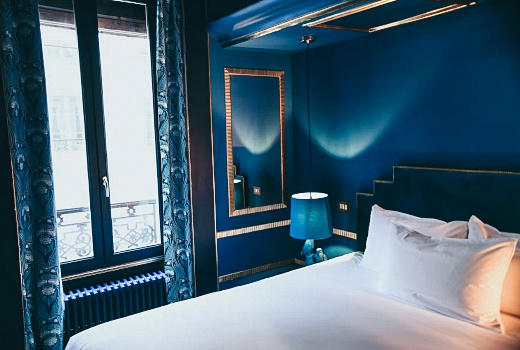 La Mondaine Hotel classic bedroom double bed with blue decor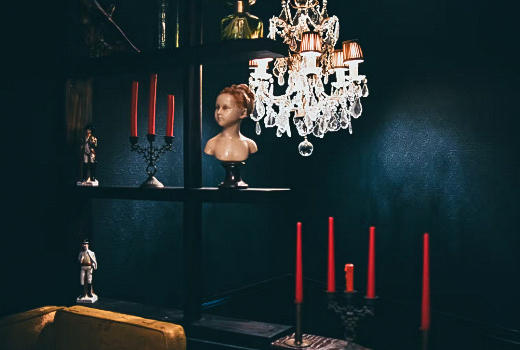 La Mondaine Hotel bar lounge area decor
However, we have also listed some other Paris tourist attractions located around the hotel like the Moulin Rouge Cabaret, and museums such as the Musee de la Vie Romantique that can be easily reached within under 1000 metres walking distance.


Tourist attractions nearby

- Casino de Paris
- Musee de la Vie Romantique
- Moulin Rouge Cabaret
- Les Trois Baudets
- Promo Train - Petit Train de Montmartre
- Musee Gustave Moreau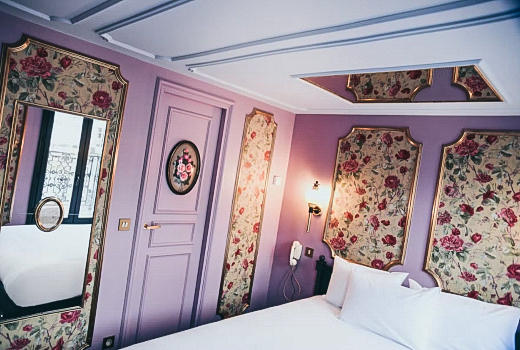 La Mondaine Hotel superior bedroom with gilded rose wall panels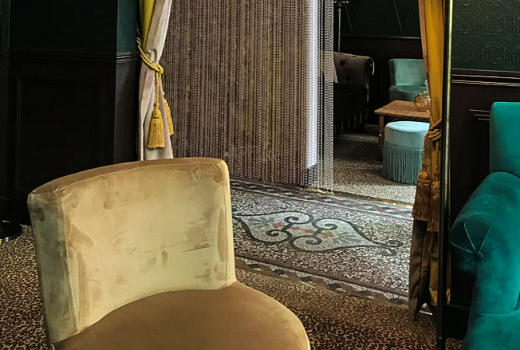 La Mondaine Hotel different lounge areas that are open 24 hours a day
Getting to La Mondaine Hotel

Situated in the 9th Arrondissement, when it comes to reaching La Mondaine Hotel via public transport in Paris including Metro lines and Paris buses, there are various options within walking distance and even Gare Saint-Lazare train station is close by that can be reached in around a 10 minute walk.

Yet the Gare du Nord Train station is a popular choice for many being that is serves the RER B train line for getting to Charles de Gaulle Airport, RER B and OrlyVal for getting to Orly Airport, not forgetting TGV high speed trains and the Eurostar train that travels to London in approximately 2.5 hours.

- Gare du Nord - 2.2 kilometres
Transport close by

- Place de Clichy Metro station - Metro lines 2 and 13
- Bus lines 21, 68, 95
- Noctilien N01 night bus line
Paris Hotel booking info

La Mondaine
4 Rue de Vintimille
75009
Paris
Ile de France
France

Tel: 0033 1 42 06 54 24
GPS: 48.88185, 2.32854

Website: https://www.lamondainehotel.fr/