Hotel Trianon Rive Gauche - 4 Star Hotel in Paris France

Being a family friendly 4 star hotel in Paris offering a buffet breakfast, room service, lounge and bar, free WiFi, laundry and business services, you will find there are en suite rooms with complementary toiletries, personal safe, mini bar, courtesy tray and some rooms even come with bathrobes, a balcony and much more.
Average Double
€160 - €240
---
About Hotel Trianon Rive Gauche in Paris

You will find the family friendly Hotel Trianon Rive Gauche is located right by famous universities and Paris tourist attractions including only a short walk to the Luxembourg Gardens with the Fontaine Medici and former royal palace, plus the renowned Pantheon in the 6th Arrondissement and is classed as a 4 star hotel in Paris, which has been recently renovated to provide a chic and elegant atmosphere by combining old and new together.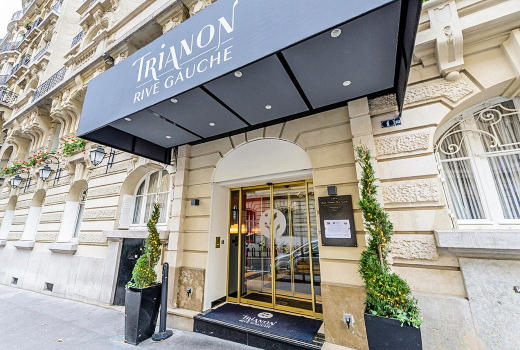 Hotel Trianon Rive Gauche Paris facade and entrance doors
Services and Facilities at Hotel Trianon Rive Gauche

Hotel Trianon Rive Gauche has modern comforts such as air conditioning along with lifts, free high speed WiFi, business services including a business corner and a meeting room, plus benefiting from a 24 hour reception with multilingual staff who are there to help you get the most out of your stay, whether it be advising on restaurants, tours, museums, tourist attractions in Paris and so on.

You may be pleased to know that many additional services are offered at Hotel Trianon Rive Gauche including a bar and lounge, various breakfast options including an American buffet, room service, in addition to laundry, dry cleaning, pressing and even a shoe-shine machine and much more to make your holiday in Paris comfortable and enjoyable.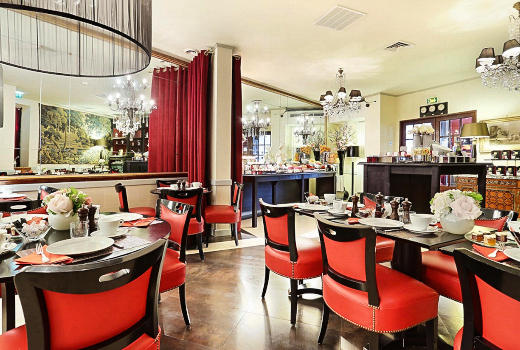 Hotel Trianon Rive Gauche breakfast room tables and chairs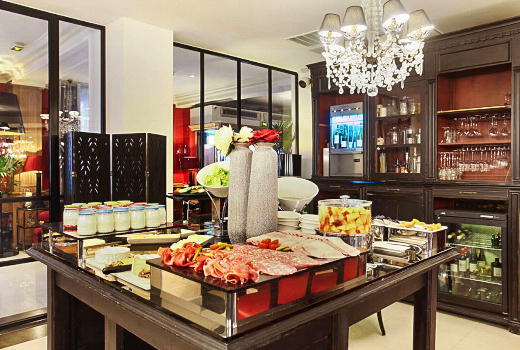 Hotel Trianon Rive Gauche buffet breakfast bar with assorted cold meats
Hotel Services and Facilities

- Breakfast served as an American buffet style in the Trianon lounge from 7am to 11am or served as a French Continental style to your room, yet an express breakfast to take away is available from 5am through to noon
- Bar and Lounge
- Food services such as afternoon wine and snacks
- Room Service available with various snacks and meals
- 24hr Reception with multilingual staff
- Concierge services
- Luggage hold for before, during and even after you check-out
- Laundry and Dry Cleaning available for additional charges plus iron and ironing board supplied upon request and a shoe-shine machine available by reception
- WiFi available throughout the hotel for free
- Business facilities with a business corner that has computers and printers and a meeting room are available for additional charges
- Newspapers and magazines
- Vending machine for cold drinks and sweets such as chocolate in the lobby plus an Espresso machine by the Lounge
- Umbrellas available on loan if required
Rooms at Hotel Trianon Rive Gauche

There are 110 various categories of rooms at Hotel Trianon Rive Gauche, which are all soundproofed, have individual heating or air conditioning and a private bathroom some with a shower and others with a bath. Ranging from Classic or Superior through to Deluxe or Executive, there are also balcony rooms and connecting rooms for families and all are well equipped to provide a relaxing comfortable stay with all having courtesy tray, complementary toiletries, some having bathrobes and free minibar plus much more.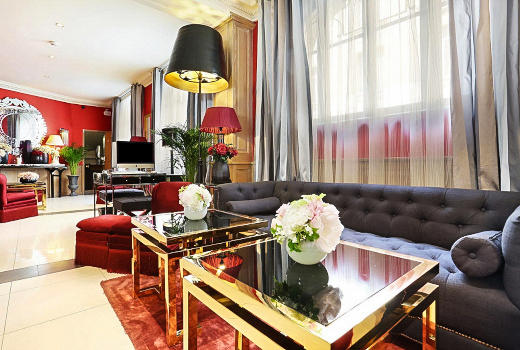 Hotel Trianon Rive Gauche lounge area with soft sofas and chairs plus coffee tables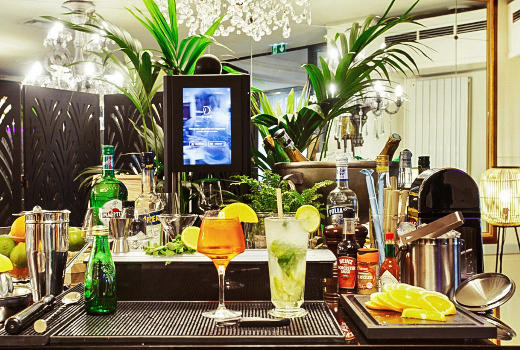 Hotel Trianon Rive Gauche bar and lounge area
Hotel Room Services and Facilities

- Private bathroom with bath or shower
- Complementary Toiletries
- Bathrobes (in some rooms)
- Courtesy Tray with kettle (Nespresso machine in some)
- Minibar (complimentary in some rooms)
- Welcome bottles of mineral water
- Desk
- Free WiFi
- Flat screen TV with cable and international channels
- Personal Safe (able to fit a laptop)
- Room Service
- Balcony (in some rooms)
- Essentials kits including razor, toothbrush, toothpaste, sewing kit, etc supplied upon request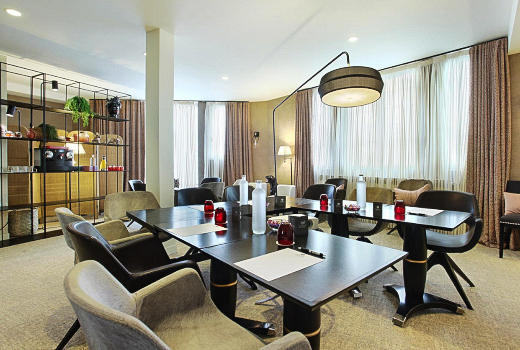 Hotel Trianon Rive Gauche business facilities include business corner and meeting rooms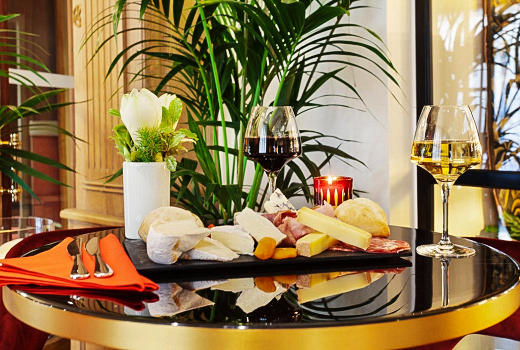 Hotel Trianon Rive Gauche food services such as afternoon wine and snacks
Hotel Trianon Rive Gauche Location

Hotel Trianon Rive Gauche is located in what is classed as the historical Latin Quarter, which is popular with students, writers and those on business or enjoying a weekend away in the City of Lights, as there are many tourist attractions in walking distance including the Thermes de Cluny Roman Baths and the River Seine, not forgetting many museums like Maison d'Auguste Comte along with numerous cafes including the oldest cafe in Paris called Le Procope, bars and restaurants in Paris such as La Closerie des Lilas.

Additionally, being a city renowned for numerous iconic monuments in Paris, we have listed some of the most popular attractions to show the approximate walking distance from this 4 star hotel, although utilising public transport could be another option.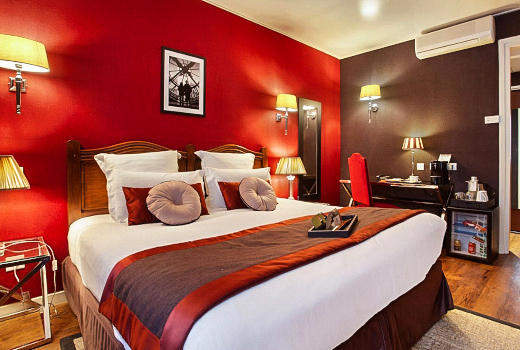 Hotel Trianon Rive Gauche double room bed with desk and chair plus mini fridge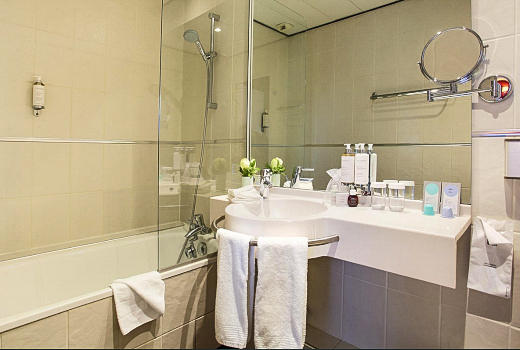 Hotel Trianon Rive Gauche en suite bathroom hand basin with complementary toiletries, plus bath and shower unit
Walking distance to 5 popular attractions

- Eiffel Tower - 4.4 km
- Louvre Museum - 1.7 km
- Notre Dame Cathedral - 900 m
- Arc de Triomphe - 5.2 km
- Sacre Coeur Basilica - 5.2 km

However, we have also listed some other attractions located around the hotel like Luxembourg Gardens with the model Statue of Liberty by Bartholdi and numerous other statues in Paris, the Eglise Saint-Etienne-du-Mont and museums such as the and the museum dedicated to Marie Curie that can be easily reached within under 1000 metres walking distance.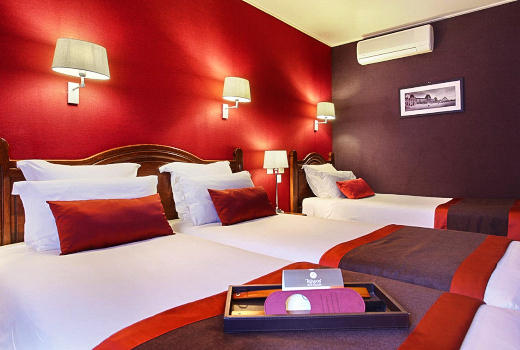 Hotel Trianon Rive Gauche family triple room with three single beds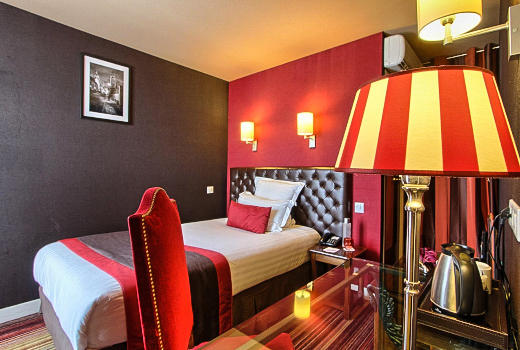 Hotel Trianon Rive Gauche single room with desk and chair plus courtesy tray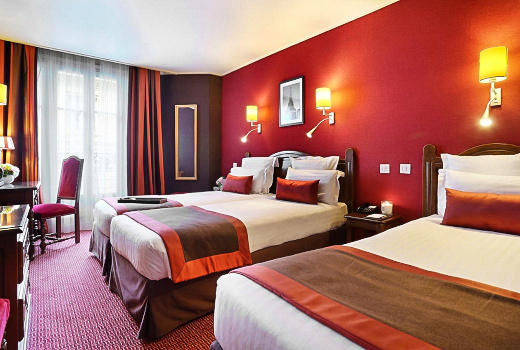 Hotel Trianon Rive Gauche triple room with three single beds plus table and chair
Hotel Trianon Rive Gauche twin room beds, mini fridge and wardrobe
Getting to Hotel Trianon Rive Gauche

Situated in the 6th Arrondissement, when it comes to reaching Hotel Trianon Rive Gauche via public transport in Paris including Metro lines and Paris buses, there are various options within very easy walking distance such as the buses around the Place Edmond-Rostand.

There is also the Luxembourg stop that serves the RER B train line for getting to Charles de Gaulle Airport or the RER B and OrlyVal for getting to Orly Airport and this will get you to the Gare du Nord Train station as well, which is a popular choice for many being that it serves TGV high speed trains and the Eurostar train that travels to London in approximately 2.5 hours.

- Gare du Nord - 4 kilometres
Transport close by

- Odeon Metro station - Metro line 4 and line 10
- Bus lines 82, 84, 89
- Luxembourg RER train station - RER B line
Paris Hotel booking info

Hotel Trianon Rive Gauche
3 Rue de Vaugirard
75006
Paris
Ile de France
France

Tel: 0033 1 43 29 88 10
Fax: 0033 1 43 29 15 98
GPS: 48.84883, 2.34102

Website: https://www.hoteltrianonrivegauche.com/