Hotel Mistral - 3 Star Hotel in Paris France

The 3 Star Hotel Mistral located in the Montparnasse area, has air conditioning, en suite rooms with walk in shower, mini bar, courtesy tray, etc and with a courtyard garden, parking, board games, library, free WiFi and a business corner it also offers buffet breakfast and a bar for a comfortable stay.
About Hotel Mistral in Paris

Situated in the 14th Arrondissement, the Hotel Mistral is within easy walking distance of many popular tourist attractions in Paris including only a few metres from the Montparnasse cemetery and around 10 minutes or less from the Tour Montparnasse Tower, the famous burial place called the Catacombes de Paris and other historical sights like the Barriere d'Enfer and World War II two museums including the Musee de la Liberation de Paris.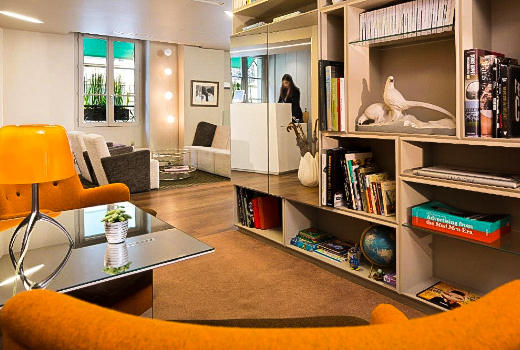 Hotel Mistral lounge and library area with seating
You will find that Hotel Mistral is one of the family run hotels in Paris and situated on a one way side street in a typical Parisian building that is spread over several floors, the first thing you will notice is a plaque right by the entrance to this hotel.

It is because the Hotel Mistral has been a hotel for many decades and two famous writers called Simone de Beauvoir and Jean-Paul Sartre stayed at this 3 star hotel in Paris on several occasions during the 1940s. Yet to provide space for their individual inspiration and still maintain their relationship, they always had separate rooms.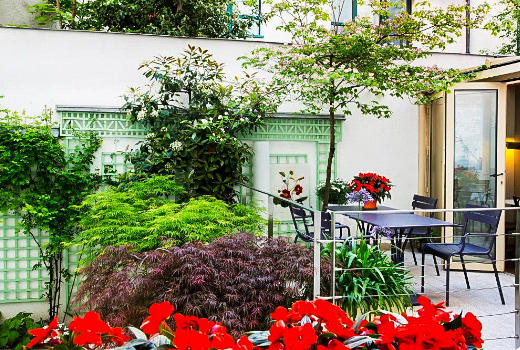 Hotel Mistral courtyard and garden area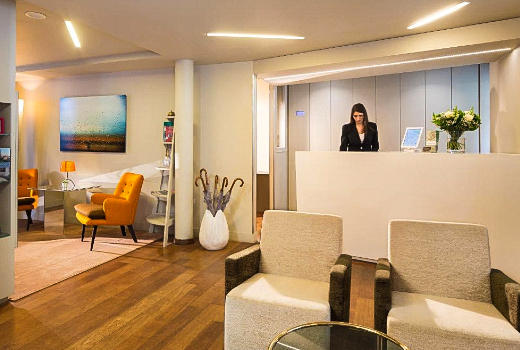 Hotel Mistral 24hr reception desk
Obviously the Hotel Mistral has changed over the years and has recently been renovated to provide additional creature comforts we have all come to expect, but the same family friendly atmosphere and welcome remains, so whether you are in Paris for business, a romantic weekend away or are travelling with children, this hotel can cater to your needs.

You will find that the Hotel Mistral, sometimes referred to as Hotel Mistral Montparnasse, has air conditioning along with a lift for easy access to the rooms, yet there are stairs to negotiate in some areas of this 3 star hotel in Paris, so unfortunately it is not suitable for the disabled and wheelchair users.


Hotel Mistral Facilities
With a 24 hour reception and friendly welcoming staff that speak English as well as French, they are there to help you get the most out of your holiday in Paris, whether it be organising a taxi, an airport transfer, making recommendations for what to see and where to go, etc. They also offer luggage storage for those of you arriving early or wishing to leave later after check-out for so you can enjoy the City of Lights to its fullest.

Just off the reception at Hotel Mistral you will find a comfortable lounge area, where there is also a library including works by Simone de Beauvoir and Jean-Paul Sartre along with many others, plus there are childrens books, a few toys and board games such as chess, scrabble, etc.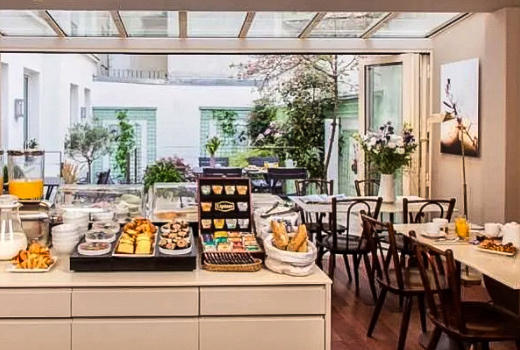 Hotel Mistral breakfast room with buffet breakfast bar plus tables and chairs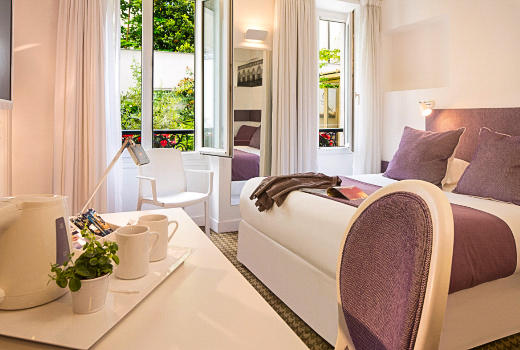 Hotel Mistral double room bed table and chair
Here you can also relax with one of the newspapers or magazines available, yet there is also a business corner with a computer and printer, which is ideal if you need to print off a boarding pass, etc, although for those of you with your own internet ready device, you can take advantage of the free WiFi.

Breakfast is served buffet style within the dedicated breakfast room between the hours of 6:30am and 10am on weekdays and up until 10:30am on weekends with delights on offer including cereals, yoghurts, dried fruits, French breads and croissants plus accompaniments such as butter and jams and fresh fruit. Additionally, there are hard boiled eggs, cheese and ham and artisan cake, not forgetting fruit juice and hot beverages.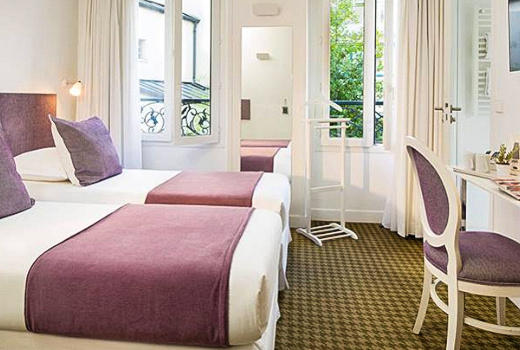 Hotel Mistral twin room beds with desk and chair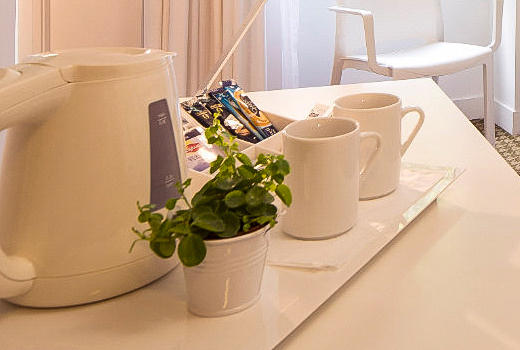 Hotel Mistral courtesy tray with tea and coffee making facilities
Yet when the weather permits, you could also take advantage of the lovely patio garden that opens up off the breakfast room, where you can enjoy this al fresco style, or even relax there later in the day with a drink, as there is a good variety of drinks on offer from the bar area. However, we would like to point out that to get to one area of the patio garden there are steps to negotiate.


Rooms at the Hotel Mistral

There are 37 rooms at Hotel Mistral, which have all been refurbished and redecorated in a contemporary, yet elegant and cosy style, that are double glazed and have air conditioning, with some overlooking the street, while others overlook the patio.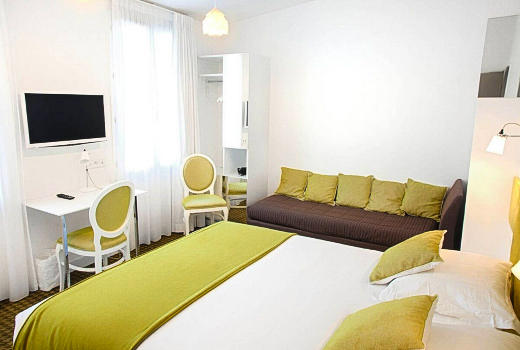 Hotel Mistral family triple room with desk, chairs and wardrobe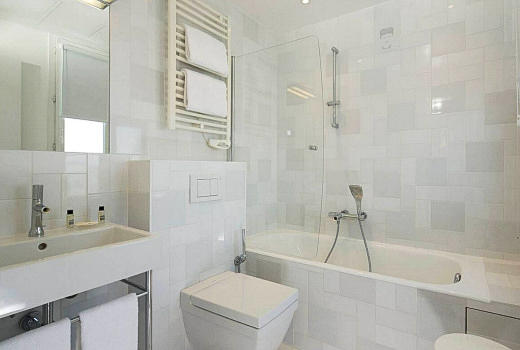 Hotel Mistral en suite bathroom with hand basin, bath, shower unit and toilet
Each room comes with an en suite bathroom that has a walk-in shower, heated towel rail, hairdryer and complementary toiletries.

Within the well-equipped rooms of the Hotel Mistral you will find a desk, free WiFi, telephone, personal safe, flat screen TV with satellite channels, a courtesy tray with kettle for making your own tea and coffee plus a minibar as well.

You will be able to choose from single, comfort rooms suitable for one or two people, twin rooms and Superior double rooms that are slightly larger at approximately 15 metres squared.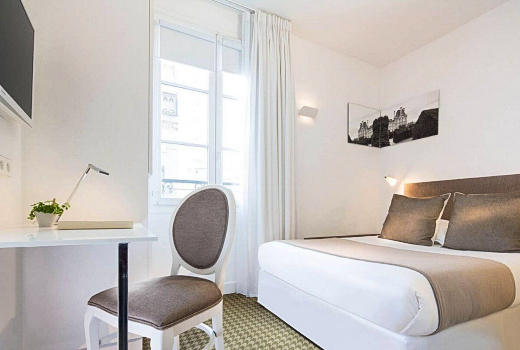 Hotel Mistral double bedroom with TV, table and chair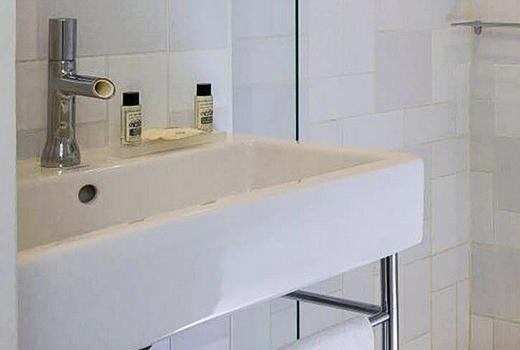 Hotel Mistral bathroom complementary toiletries
Being that this is a family friendly hotel in Paris, there is a triple room along with a family room that is modular in its design, so this can accommodate 4 people in different ways such as a double and two single beds. In addition, if you are travelling with friends or family where you want a bit of your own privacy, then you can also request Hotel Mistral to provide adjacent rooms, so even though not interconnected, they would be close to each other, but this must be arranged when booking.


Access to the Hotel Mistral

Situated in the 14th Arrondissement, when it comes to reaching the Hotel Mistral via public transport in Paris, you will find that the bus lines 58, 59 and 92 plus the Noctilien Night Bus lines N63 and N66 will all get you within very easy walking distance and are the closest to this 3 star hotel.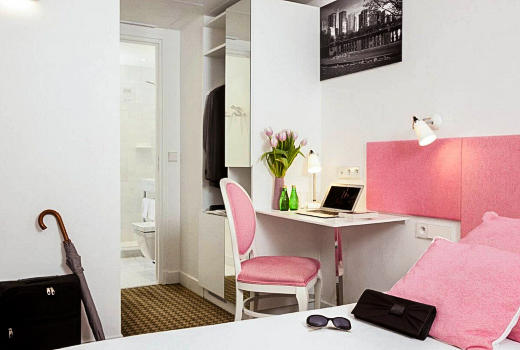 Hotel Mistral bedroom wardrobe with hangers and shelves plus desk and chair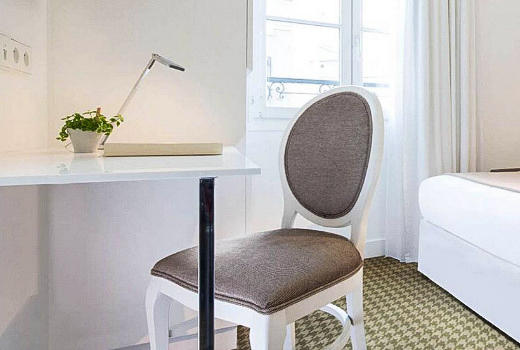 Hotel Mistral bedroom with desk, lamp stand and chair
However, when you look at the Metro stations, you have the Gaite stop serving Metro line 13, which is westerly and the closest, and a bit further you could get to Gare Montparnasse train station that serves the Transilien line N, the regional TER trains plus high speed TGV trains along with the Paris Metro lines 4, 6, 12 and 13.

Yet in the opposite direction just a few minutes further walk, and you will get to Place Denfert-Rochereau.

Here you have the historical Gare Denfert-Rochereau train station, which serves the Metro lines 4 and 6 as well as being an RER train station for the RER B line that is ideal for getting to Charles de Gaulle Airport.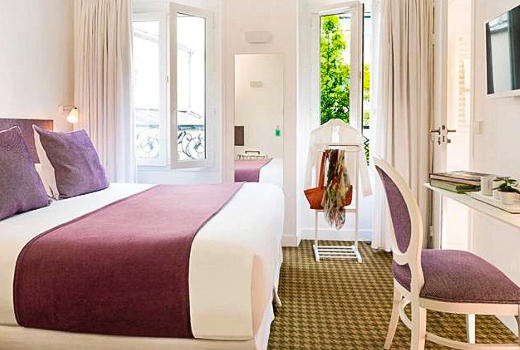 Hotel Mistral double bedroom two with bed, TV, table and chair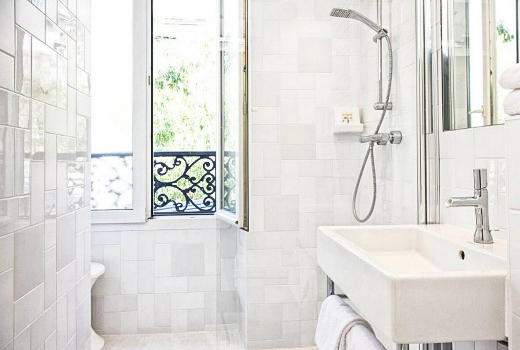 Hotel Mistral en suite bathroom with hand basin and shower cubicle
And located just outside of the train station you have the OrlyBus pick-up and drop off point, which is the dedicated shuttle bus for getting to Orly Airport, so as you can tell, the Hotel Mistral is in a convenient location for public transport.

Additionally around this major intersection at Denfert-Rochereau you have bus stops serving the Paris bus lines 38, 59, 64, 68, 88 and 216 plus the Noctilien N14, N21 and N122, which are the Paris night buses that run when other public transport has stopped for the early hours.
You may also be pleased to know that for those of you arriving with your own vehicle, the Hotel Mistral does have one parking space available, yet as you can no doubt appreciate, this has to be booked well in advance and is subject to availability at the time of booking, plus it is cheaper than the car parks around the area at only around €20 per night, so is always in high demand.
Paris Hotel booking info

Hotel Mistral
24 Rue Cels
75014
Paris
Ile de France
France

Tel: 0033 1 43 20 25 43
GPS: 48.8369, 2.32383

Website: https://www.hotel-mistral-paris.com/