Hotel Denfert-Montparnasse - 2 Star Budget Hotel in Paris France

This is a budget 2 star hotel in Paris that still has en suite rooms with basic organic toiletries, offers breakfast and free WiFi, plus has a patio and also a Moroccan style restaurant and bar, which is located on a market street in the Montparnasse area close to public transport.
About Hotel Denfert-Montparnasse in Paris

Situated in the 14th Arrondissement very close to the Montparnasse cemetery, it is within a short walk from numerous popular tourist attractions in Paris including the Tour Montparnasse Tower, the famous burial place at the Catacombes de Paris and historical monuments including the Barriere d'Enfer and a World War II command centre within the Musee de la Liberation de Paris.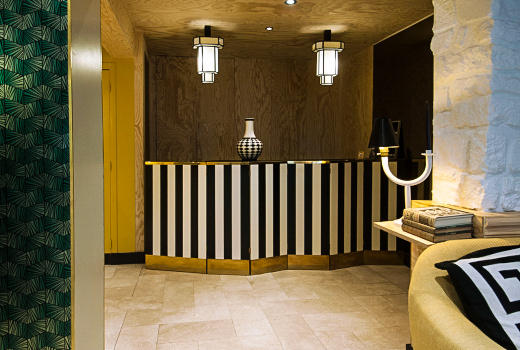 Hotel Denfert-Montparnasse reception desk and lounge area
The Hotel Denfert-Montparnasse is located on a typical Parisian market street where there are numerous types of cuisine available from the many cafes and restaurants in Paris that are located in this lively location, which is ideal for enjoying what the city has to offer.

In fact, probably what you would realise upon arriving, is that this is part of a Moroccan bar and restaurant, and therefore, you can enjoy this aspect, but many of the staff will be working between the restaurant and the hotel part, so do please bear that in mind if you arrive and have to ring to get someone to reception.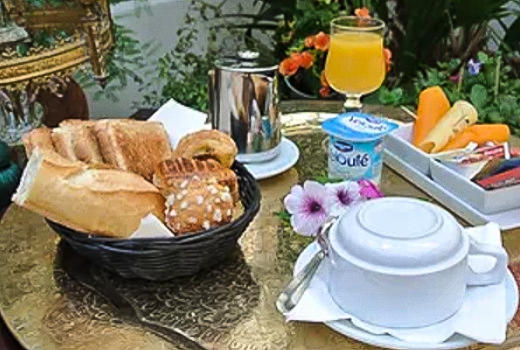 Hotel Denfert-Montparnasse French continental breakfast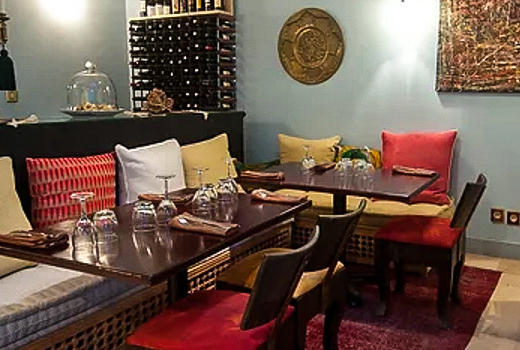 Hotel Denfert-Montparnasse La Baraka Moroccan style restaurant
This is a budget hotel that does have a very small lift, but there are areas such as the outdoor terrace located on the first floor that are only accessible by stairs, so therefore it is not disabled friendly.


Hotel Denfert-Montparnasse Facilities

The Hotel Denfert-Montparnasse is a 2 star hotel in Paris and some staff speak English as well as French, and have a welcoming attitude to help you get the most out of your holiday in Paris.
Because of this being in one of the typical Parisian buildings spread over several floors, there is a small lift to make things easier for getting to your hotel room, but unfortunately it is not suitable for the disabled, nor is there air conditioning, yet there is free WiFi available throughout the hotel.

Breakfast is available at Hotel Denfert-Montparnasse, which is typical French continental style and can be enjoyed with small and quirky breakfast area where you can see a bird in a cage and possible a cat hanging around. This can also be served to your room if you prefer.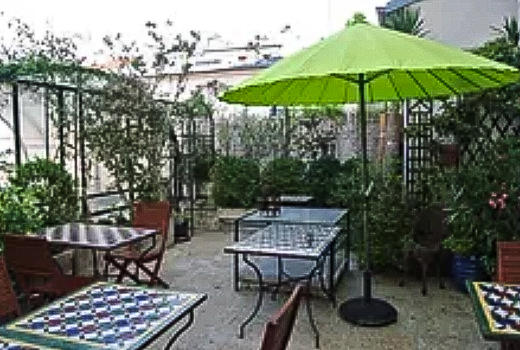 Hotel Denfert-Montparnasse courtyard terrace with tables and chairs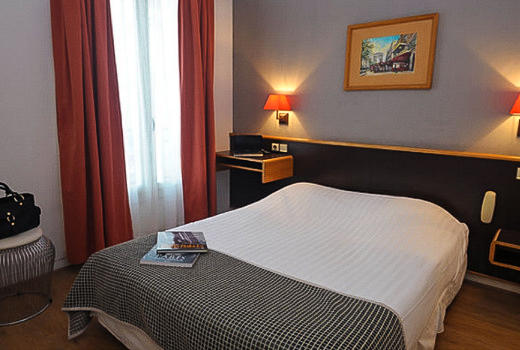 Hotel Denfert-Montparnasse double bedroom with headboard lighting
For those finer days you could enjoy the patio style terrace located on the first floor that overlooks the courtyard, which is a great place to relax with a drink or eat al fresco with comfortable seating, mosaic styled tables and parasols to provide welcome shade. Yet we would like to point out that this can only be accessed via stairs.

As we mentioned earlier, the Hotel Denfert-Montparnasse also has a restaurant called La Baraka, which is open for lunch and dinner serving Mediterranean, North African and Moroccan style cuisine with a focus on couscous and tagine plates plus vegetarian options available.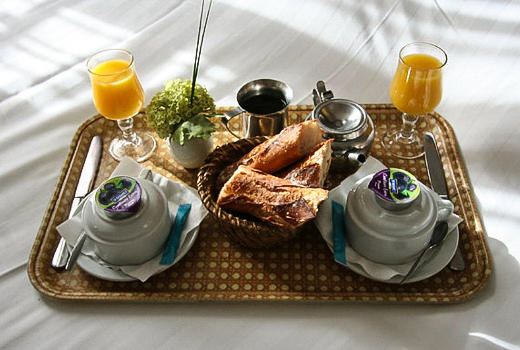 Hotel Denfert-Montparnasse breakfast room service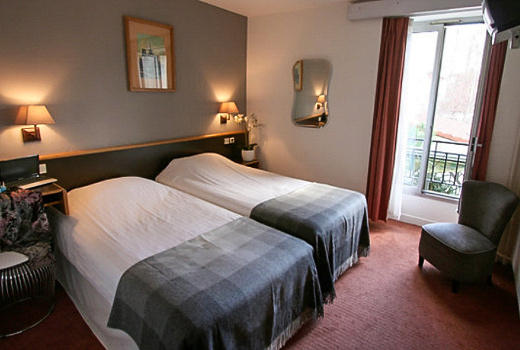 Hotel Denfert-Montparnasse twin room with side tables and chair
With a traditional feel, the restaurant, La Baraka, is decorated in a Moroccan style including a low sofa and lots of cushions, yet there is also a courtyard patio area with lots of greenery and they are able to cater for groups of people as well as individuals, not forgetting that this is a licenced premises and therefore there is also a bar as well.


Rooms at the Hotel Denfert-Montparnasse

When it comes to the rooms at Hotel Denfert-Montparnasse, these are arranged as single, twin or double rooms and although small, they are cosy with wood floors, double glazing and decorated with calming tones.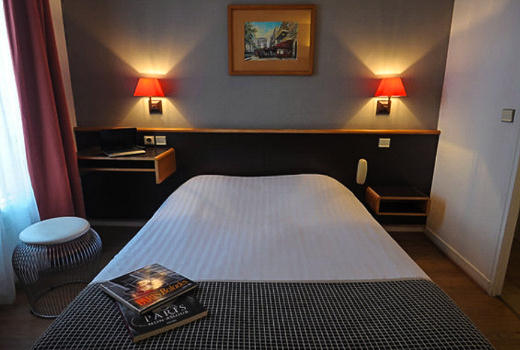 Hotel Denfert-Montparnasse double room bed side tables and lighting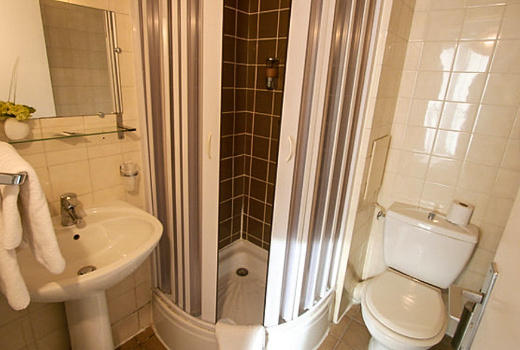 Hotel Denfert-Montparnasse en suite bathroom shower, toilet and hand basin
Each room has an en suite with shower and organic label shower gel complimentary toiletries, plus you will find a desk, telephone, free WiFi, luggage rack and a flat screen TV. You will find that Hotel Denfert-Montparnasse also offer the possibility of adding an additional bed for a child to some of the rooms, but this comes at an extra charge and is room dependant.


Access to the Hotel Denfert-Montparnasse

Situated in the 14th Arrondissement, when it comes to reaching the Hotel Denfert-Montparnasse via public transport in Paris, you will find that the Bus lines 58, 59 and 92 plus the Noctilien Night Bus line N63 and bus N66 will all get you within very easy walking distance and are the closest to this 2 star hotel.

However, when you look at the Metro stations, you have the Gaite stop serving Metro line 13, which is westerly and a bit further will get you to Gare Montparnasse train station, yet in the opposite direction, easterly, you will get to Place Denfert-Rochereau.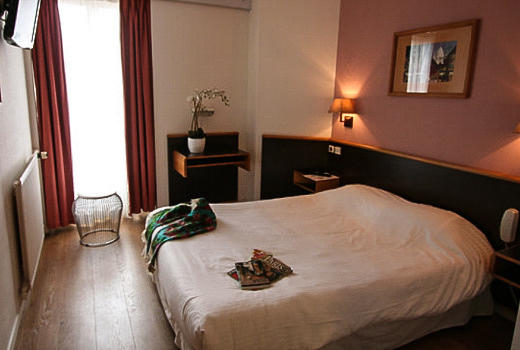 Hotel Denfert-Montparnasse double bedroom with small desk and stool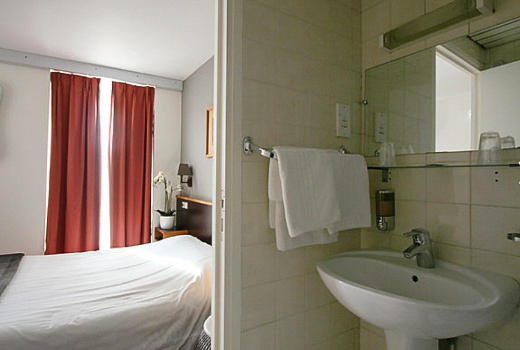 Hotel Denfert-Montparnasse double room and en suite bathroom hand basin
At this square and intersection you have the historical Gare Denfert-Rochereau train station that serves the Metro line 4 and line 6 as well being an RER train station for the RER B line, which is ideal for getting to Charles de Gaulle Airport.

Located just outside of the train station and by the themed Cafe Oz you have the OrlyBus stop, which is the dedicated shuttle bus for getting to Orly Airport.
Additionally around this major intersection at Denfert-Rochereau you have bus stops serving the Paris bus lines 38, 59, 64, 68, 88 and 216 plus the Noctilien N14, N21 and N122, which are the Paris night buses that run when other public transport has stopped for the early hours, so the Hotel Denfert-Montparnasse is convenient for getting around the city and beyond.
Paris Hotel booking info

Hotel Denfert-Montparnasse
70 Rue Daguerre
75014
Paris
Ile de France
France

Tel: 0033 1 43 22 07 02
GPS: 48.83535, 2.32607

Website: https://www.hotel-denfert.com/