La Clef Louvre Paris apartment hotel

Classed as a residence or aparthotel, located in the 1st Arrondissement, La Clef Louvre Paris provides 5 star accommodation within apartments that all come with their own kitchen or kitchenette, free WiFi, en suite bathrooms with complementary toiletries, modern facilities and services you would get in a plush hotel such as room service, dry cleaning, a fitness room, baby sitting and airport transfer services, etc.
Average Double
€400 - €600
---
Hotel Parking
Nearby
About La Clef Louvre Paris

La Clef Louvre Paris is run by a company called Ascott The Residence, which is part of a group of residence hotels and aparthotels that can be found in numerous cities throughout the world.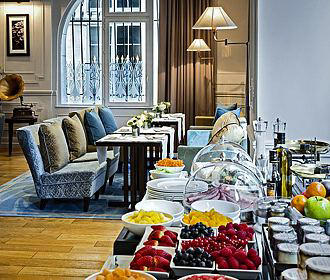 ---
Now this particular Ascott The Residence Hotel is located in the 1st Arrondissement of Paris close to many popular tourist attractions, theatres, gardens and exclusive boutiques for shopping, and being in a prime location within the city, it offers top quality services and living accommodation.

With an Art Nouveau facade, La Clef Louvre Paris is classed as a 5 star boutique serviced residence that offers contemporary chic living, whether you are coming to the city for business or for pleasure, with 24 hour reception staff that speak English as well as French and in many cases other languages as well, like Finnish or Hungarian for instance.
Although each apartment comes with a kitchenette or complete kitchen, if you do not feel like making your own breakfast, then you can book a buffet breakfast for an additional charge, which is sourced by the chefs with local fresh produce including fruits, pastries, bread, jams and other accompaniments, fruit juices, hot drinks, etc to get your day off to a good start.

Afternoon tea accompanied by a variety of pastries is also available daily between 3pm and 5pm, so you can relax in the lounge and enjoy the complimentary degustation of French pastries, fresh juices, coffee or tea.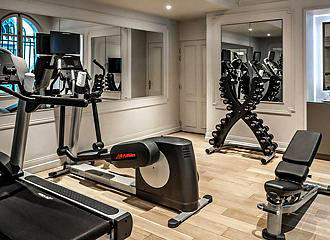 ---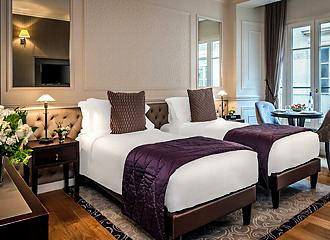 ---
Concierge services are available by the friendly and knowledgeable staff, plus there is room service along with a laundry and dry cleaning service offered 24/7 so that you can always be impeccably dressed, although you can request an iron and ironing board if you prefer to do your own laundry.

Baby sitting services along with private airport transfers can also be arranged, making travel to and from this 5 star Residence Aparthotel hassle free, plus if you book one of the Royal Suites you can enjoy exclusive benefits such as welcome drinks within your apartment, along with late checkout.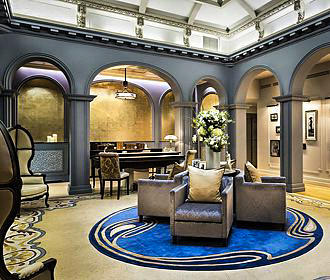 ---
If you are travelling to Paris for business, then there are dedicated business support facilities available for your use, plus for those of you that like to stay fit, you will find that La Clef Louvre Paris also has a fitness room with a range of different sport facilities, which is open 24 hours a day, however, for those that just wish to relax, the chic lounge is the ideal place to unwind.


Accommodation at La Clef Louvre Paris

La Clef Louvre Paris run by Ascott The Residence provides a total of 50 apartments suitable for two people or up to four people all comfortably equipped with plush furnishings, elegant decor and modern facilities, within soundproofed and air conditioned suites.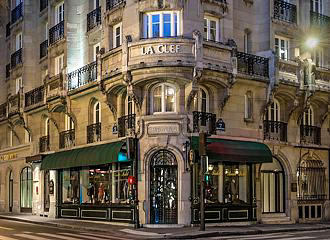 ---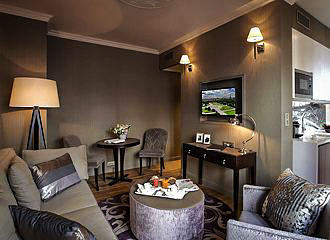 ---
Each apartment suite has a bathroom with complimentary toiletries by L'Occitane, bathrobes and slippers plus a hairdryer. The living and dining facilities include glassware, crockery, cutlery and a dining table, plus a kitchen area fully equipped with cooking utensils, microwave, toaster and Espresso coffee machine.

The bedroom contains high quality bedding, plus you will get a flat screen TV with satellite channels, a direct dial telephone and free WiFi internet access, plus some of the Paris apartments come with an iPod dock or even a balcony.

Daily housekeeping service is also available for an additional charge if required, plus baby cots are available upon request.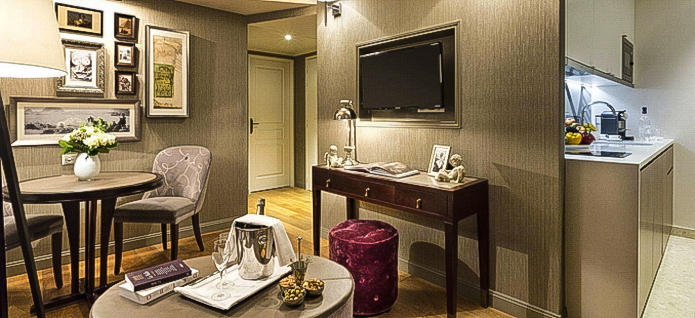 ---
There are 23 Premier suites, which are the smallest apartments available measuring approximately 27 metres squared and these have a small desk area within the bedroom that can have a double bed or twin beds and the bathroom has a shower.

Next there are the Exclusive Suites and with 11 of these measuring approximately 40 metres squared they have a separate bedroom and living room to ensure comfort and relaxion, which are suitable for two people, whereas the 12 Junior Suites have either a double bed or twin beds along with a sofa bed suitable for two children and are approximately the same size as the Exclusive.

However, the ultimate in comfort and luxury are the 4 Royal Suites, which come with their own balcony for fantastic views of Paris including The Louvre district, and again measuring around 40 metres squared, these apartments are suitable for 2 people. Yet being a 5 star Aparthotel they also offer additional benefits such as a personalised welcome in your suite with drinks when you arrive at La Clef Louvre Paris, daily housekeeping and the option to extend your time by a few hours by opting for the late check-out option.
Access to La Clef Louvre Paris

Now as we have mentioned before, La Clef Louvre Paris by Ascott The Residence is located in the 1st Arrondissement of Paris and the nearest Metro station is the Palais Royal - Musee du Louvre stop serving metro lines 1 and 7, whereas the Pyramides stop a little further in the opposite direction serves metro line 7 and metro line 14.

However, the Paris bus lines 21, 27, 39, 68, 69, 72 and 95 along with the Noctilien Night Bus Service lines N11 and N24 will also get you close by, but do not forget that this 5 star Aparthotel also offers an airport transfer service for an additional charge and added convenience.
Paris Hotel booking info

La Clef Louvre Paris
8 Rue de Richelieu
75001
Paris
Ile de France
France

Tel: 0033 1 55 35 28 00
GPS: 48.86397, 2.33607

Website: https://www.discoverasr.com/en/the-crest-collection/france/la-clef-louvre-paris