HD photos of the Les Car Rouges open top tour buses in Paris France - Page 1

One way of seeing many of the different tourist attractions in Paris is by using one of the tour buses available, and one such company is the Car Rouges or red buses, who operate open topped double decker tour buses that have a set route around Paris, but these can also be use as a hop on and hop off service taking you to some of the most popular landmarks and monuments in this capital city, as you will see from these pictures.

Les Car Rouges photos 1 2 3 4 5 6 7 8 9 10 Next >>


Photo of Les Car Rouges tour bus with tourists onboard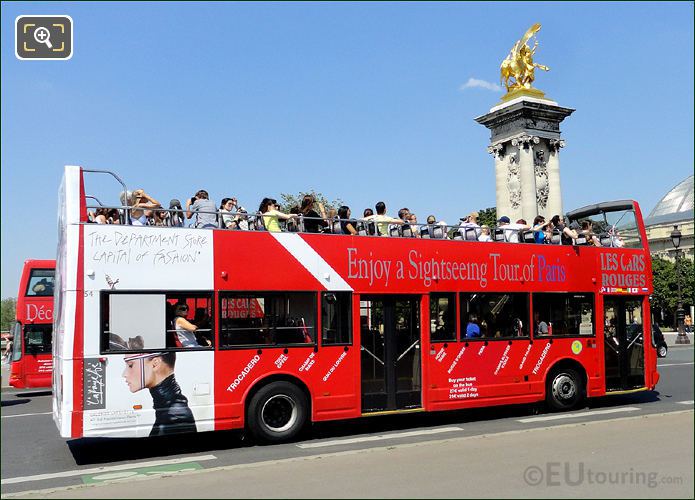 The double decker tour buses of Les Car Rouges are a great way of enjoying a sightseeing tour of Paris, especially on the open top deck when the weather permits, just like you can see in this HD photo with the amount of people discovering the impressive Pont Alexandre III bridge with its gilded statues, yet proceeding on towards the Grand Palais, not forgetting that there is commentary available in different languages so you can discover more about the historical monuments you will pass.


Picture of Les Car Rouges bus on the Pont Alexandre III
There are a total of nine stops on the sightseeing tour route of Les car Rouges, with the most obvious being the Eiffel Tower, which you can see in this picture, however, as we were taking this photo, the open topped deck of one of their tour buses was on route to its stop at the Grand Palais, which is located just after the elaborate Pont Alexandre III bridge over the River Seine that you can also see here.


Close up photo of Les Car Rouges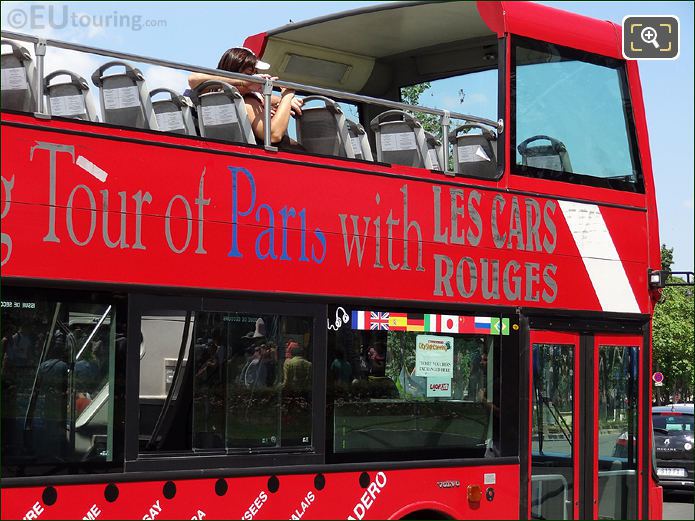 In this close up photo showing one of the Les Cars Rouges, you can see the different country flags on the window next to the doors, which shows the languages like English, German, Japanese etc, that there free audio guide is available in, and this is supplied free of charge when booking your ticket.


Picture showing Les Car Rouges while passing the Institut de France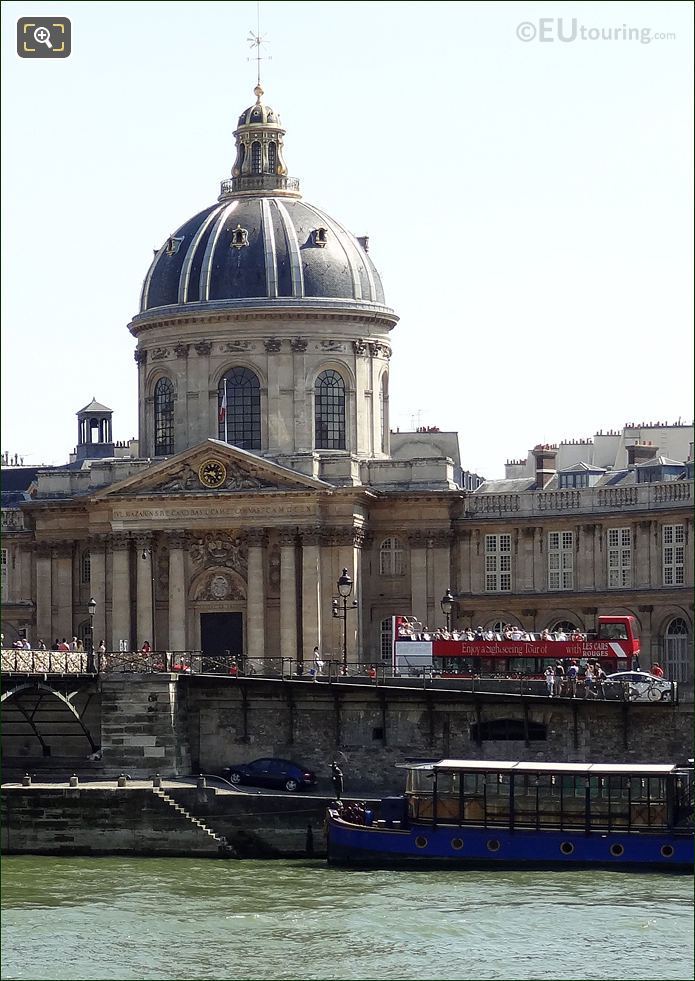 While we were walking along the River Seine going towards the Pont des Arts, which is also known as the Bridge of Love where people attach lovelocks to the railings, that you can just about see a part of, we took this photo looking over towards the historical building called the Institut de France just as a Car Rouges tour bus was going by on one of its regular trips, plus around a third of all their buses are suitable for wheelchair users, which makes this a great way of getting around the city, even if you are disabled.


This photo shows one of Les Car Rouges sightseeing tour bus after visiting Notre Dame Cathedral
The open topped double decker bus tours in Paris of the Car Rouges operate a set circuit virtually all year round and during the warmer months they leave each stop approximately every ten minutes, and with it being a hop on and hop off service so that you can disembark at the tourist attractions you want to visit, then jump on another bus later, which is what some of the people would have done on this bus after visiting the Notre Dame Cathedral that you can see in this HD photograph.


Another stop for Les Car Rouges tour bus is Hotel les Invalides with all its cannons on the front wall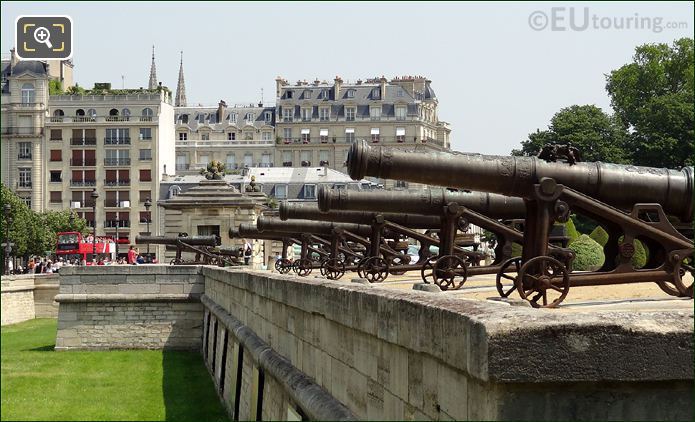 The Hotel National des Invalides was originally constructed for war veterans and those injured in battle, yet now holds different museums and the Tomb of Napoleon, but even on the outside as you are going by you can see some of the numerous canons on display, just like the people on Les Car Rouges tour bus in this photo will get to see, as they are passing the front entrance, its gardens and former moat of this large complex and historical monument in Paris.


Les Car Rouges sightseeing tour bus at Palais Chaillot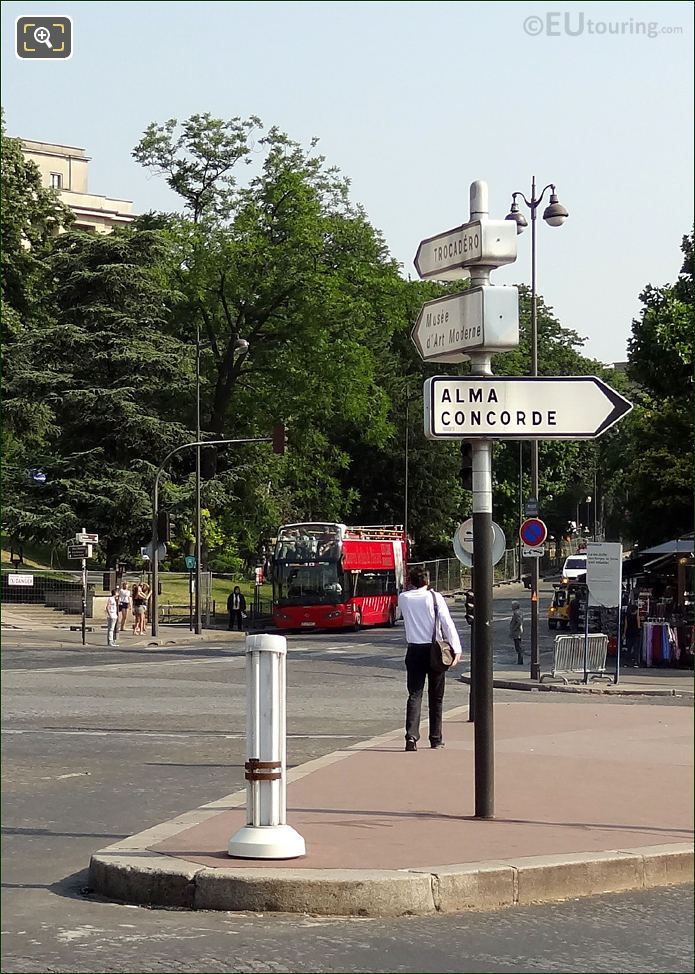 As we had walked over the bridge from the Eiffel Tower heading towards the Palais de Chaillot, which is the top of the building you can just see mainly hidden behind the trees in this photo, we took this picture showing one of the many lamp posts letting you know where different tourist attractions are located, and there is also a Car Rouges tour bus waiting at the junction ready to go to its stop at the Trocadero, which is famous for its gardens and the fountains, plus the museums of the palace and much more you can discover in this one small area of Paris.


Photo of Les Car Rouges in front of Police Judiciaire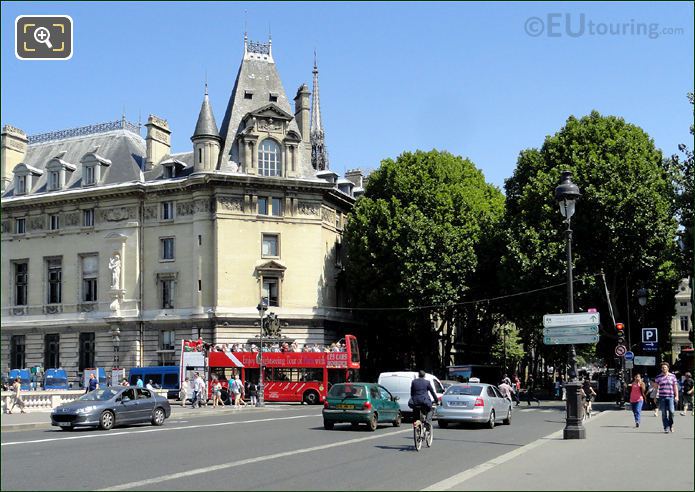 You will be able to discover numerous different historical buildings and tourist attractions in Paris, some of them more unusual than others, and a good way of getting around to many of the sites you may miss is via one of the bus tours, and we took this photo of Les Car Rouges bus in its bright red colour as it was passing the building known as the Police Judiciaire, which is situated in the Latin Quarter close to the River Seine and the Fontaine Saint Michel.


Les Car Rouges tour bus crossing the Pont Alexandre III
A ticket for Les Car Rouges is valid for two consecutive days, so you can take advantage of the hop on and hop off service to visit numerous landmarks in Paris and discover more about them from the set of headphones you will be provided, just like in this photograph where you can see the Les Invalides in the distance, along with one of the Les Cars Rouges tour buses going over the Pont Alexandre III bridge that has the gilded statues on four columns and ornate lamp posts that was constructed for the 1900 World Fair.

Les Car Rouges photos 1 2 3 4 5 6 7 8 9 10 Next >>


If you would like to use any of these photos for non commercial use we only ask that you please do include recognition to ourselves "eutouring.com", but if you are not sure with regards to usage, please contact us.