HD Photos of the L'OpenTour Buses in Paris France - Page 1

If you are thinking of going on holiday to Paris, if it be for a week or two, or just for a couple of days, then like us you will probably want to see as much as possible in the time you have, and one way you can go sightseeing is by using one of the tour bus services available, and these high definition photos show some of the OpenTour buses around Paris, who operate hop on and hop off tour buses in Paris, plus they have four very different routes giving you a greater choice of what tourist attractions you want to see.

L'OpenTour photos 1 2 3 4 5 6 7 8 9 10 Next >>


Photo of the l'OpenTour bus next to the Eiffel Tower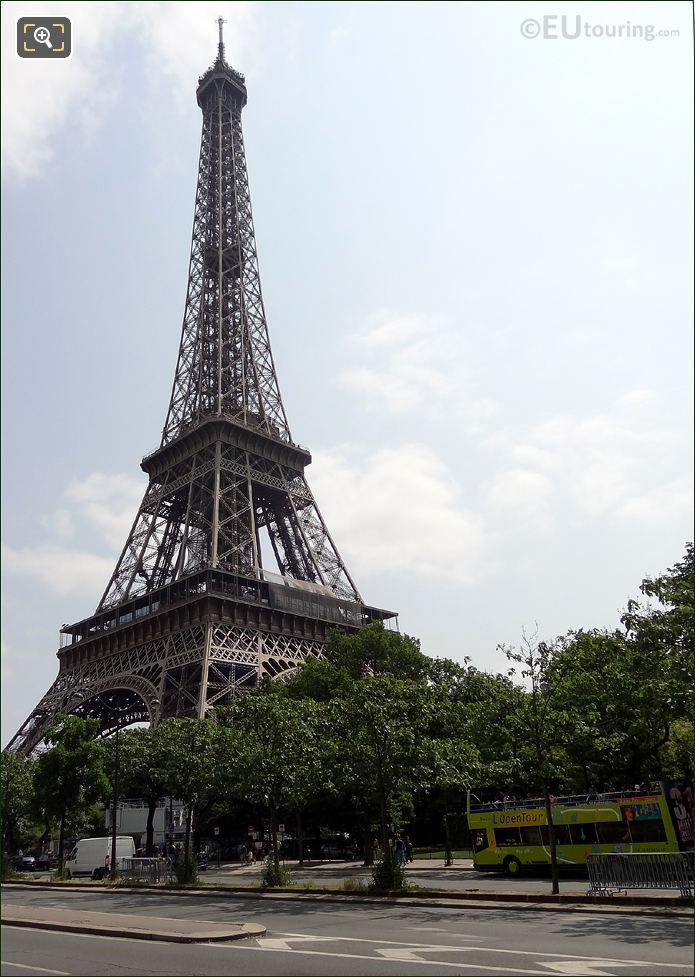 This photo shows one of the OpenTour tour bus by the Eiffel Tower, and the sightseeing tours they provide with a hop on hop off service that operates from 9.30am through to approximately 7.30pm, however, we would like to point out that if you purchase a day ticket it will only be valid for that day from the time you purchase it, although you can purchase in advance if you know what day you wish to use the service.


Picture of l'OpenTour buses with tourists close to Notre Dame Cathedral
The OpenTour bus tours in Paris are a very popular way of getting around the city, and with their open topped double decker buses they are even more popular on nice days, as you can tell from this photo we took showing three of their tour buses near the Notre Dame Cathedral that were full of tourists enjoying the views and the commentary provided.


Photo of l'OpenTour Bus with its logo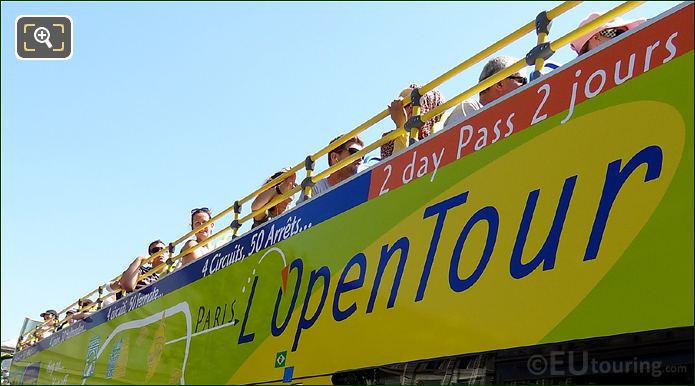 L'OpenTour provide bus tours of Paris all year round, and as you can tell from this high definition photograph showing the side of a bus, there are actually four different circuits, with 50 different stops stopping at many different tourist attractions arounds the city, and with a two day pass, you can hop on and off the buses as many times as you like within those two consecutive days.


L'OpenTour bus at the Grand Palais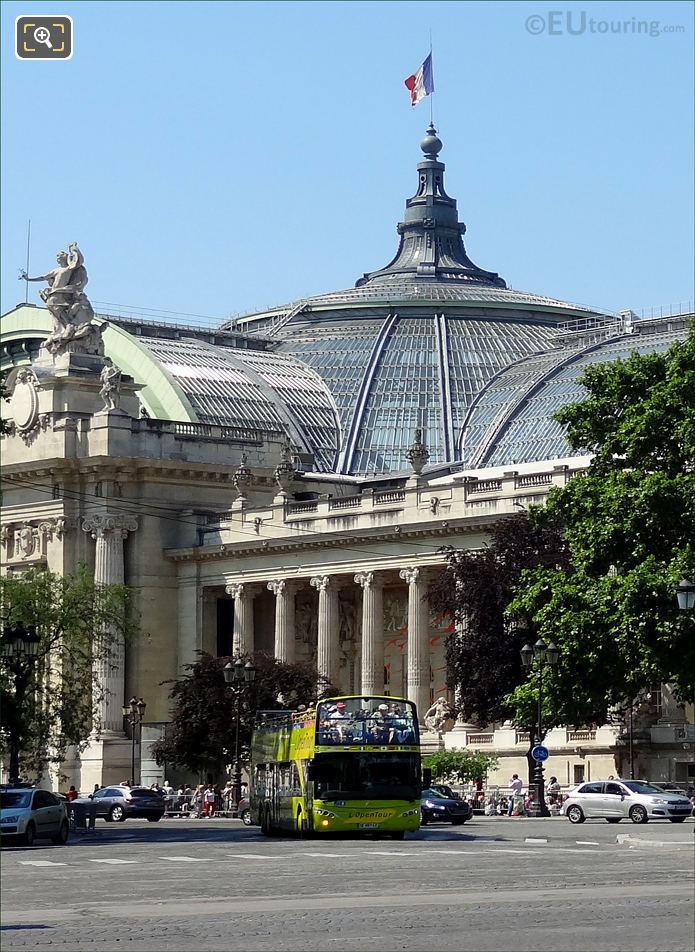 Headphones are provided to you when a ticket is purchased, so that you can discover more about the many monuments and tourist attractions you will see, and as well as going on a complete circuit, or all four covering different parts of the city, it is a hop on and hop off service, so you can always stop somewhere and catch another bus later, maybe like at the Grand Palais that you can see in this photo we took, just as the OpenTour bus had left its stop.


L'OpenTour bus in Paris
If you look closely at this photo of a l'OpenTour bus, you will see numerous different countries flags shown on the side and front of the bus, which depict what languages are available for the commentary on the headsets that are provided to you when you purchase a ticket, such as English, German, Spanish, Japanese, etc.


Photo of l'OpenTour bus in front of the Eiffel Tower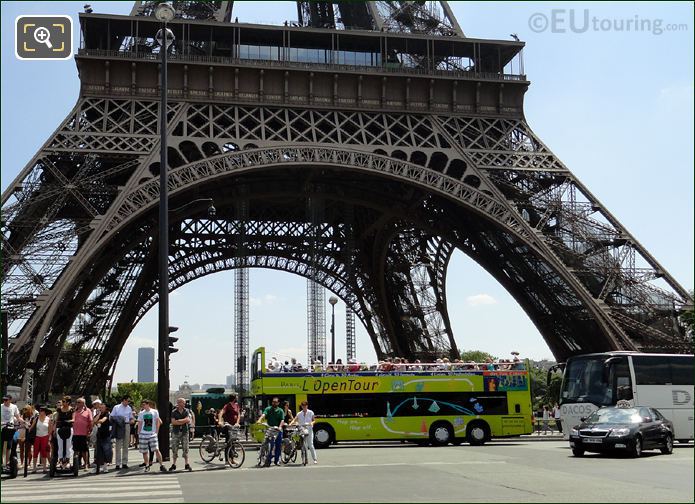 There are numerous companies that operate tours in Paris, and of course the most famous landmark of the Eiffel Tower is always one of the places you will get to see, just like while we were taking this photo when the l'OpenTour bus was on one of its circuits.


Photo of a l'OpenTour bus on the Pont Alexandre III with one of its golden statues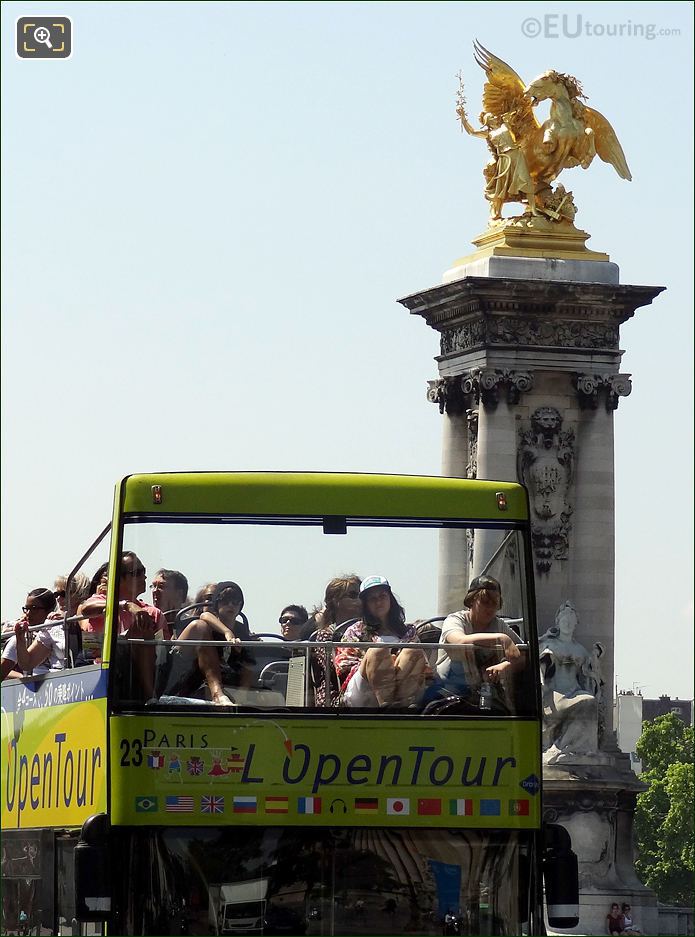 When you are on holiday in Paris, trying to take in as many sights as possible can become a nightmare, but a good option is the hop on and hop off service of the OpenTour, and this is a photo we took of one of their tour buses just as it was going over the Pont Alexandre III bridge with its ornate gilded statues, and running approximately every 10 to 30 minutes depending upon the route and time of year, you will never have to wait long to hop on another bus to visit somewhere else in the city.


Picture of l'OpenTour bus in Place de la Concorde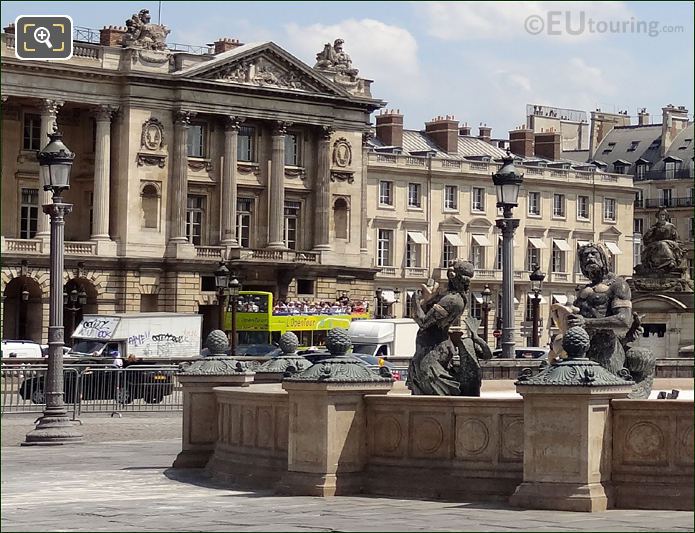 The Place de la Concorde is a popular square in Paris, and is located in between the Tuileries Gardens of the Louvre Museum and the famous Champs Elysees Avenue, and of course, as you can tell from this image, this is one of the destinations on an OpenTour bus tour, and although the open deck is popular on a sunny day, this company operates all year round including on Sundays and National French holidays, plus they even provide special tours to see the city of lights shimmering during the festive season.


L'OpenTour bus next to the Pont des Arts in Paris
There are boat cruises and sightseeing tours on the River Seine, but if you prefer to keep on dry land, then a great way of seeing Paris is via one of the bus tours, especially if you have a very limited time within the city, and the OpenTour buses are very popular, especially because you can access 50 different stops all over the city, which means you can get to see even more tourist attractions that you may otherwise miss out on, yet still get to see popular landmarks like the Pont des Arts, or Bridge of Love as it is known, which you can see in this picture with one of the yellow buses from the Open Tour company.


Picture of l'OpenTour bus stop at the Eiffel Tower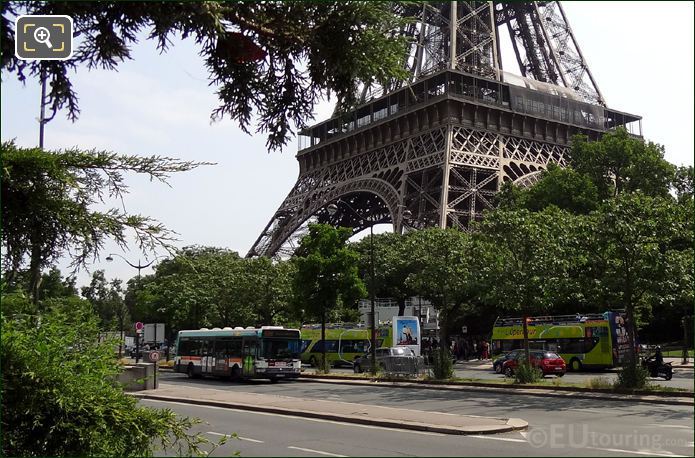 Here you can see two of the OpenTour buses at their stop by the Eiffel Tower, which is of course the most famous landmark in Paris, and whether you are on a flying visit and want a one day pass or a two day pass, then this tour company is a great choice of being able to get around the city easily, and the tickets can be purchased from their office near the Opera Garnier or directly from the bus drivers themselves.


Photo of l'OpenTour bus on the Pont au Change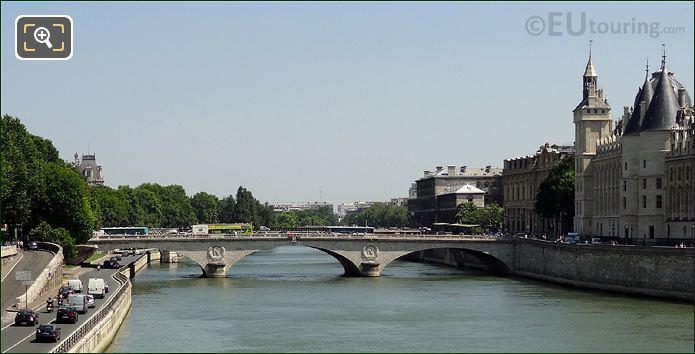 As we were going down the River Seine heading passed the Conciergerie to your right of the image, if you look closely at the Pont Au Change bridge, which we were taking a photo of, you can just make out one of the companies that operate double decker bus tours called l'OpenTour, which certainly cannot be easily missed with its bright yellow and green colours, making them stand out against most backgrounds.

L'OpenTour photos 1 2 3 4 5 6 7 8 9 10 Next >>


If you would like to use any of these photos for non commercial use we only ask that you please do include recognition to ourselves "eutouring.com", but if you are not sure with regards to usage, please contact us.