Hotel Clairefontaine - 3 Star Hotel in Paris France

With 24 hour reception and concierge, this 3 star hotel has an internal courtyard, offers continental buffet breakfast, free WiFi, laundry services, en suite rooms with complementary toiletries, plus it is suitable for the disabled and families.
About Hotel Clairefontaine in Paris

Situated in the 14th Arrondissement, Hotel Clairefontaine is located on a quiet one way street only a few steps from the Montparnasse Cemetery where people such as Baudelaire, Serge Gainsbourg and Brancusi are buried.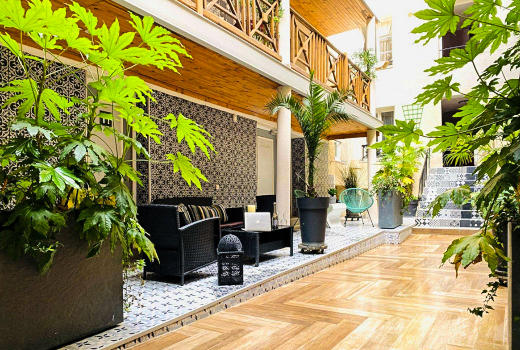 Hotel Clairefontaine internal courtyard with patio seating and plants
It is also within easy walking distance of popular tourist attractions in Paris including the Place Denfert-Rochereau where you can discover the Catacombes de Paris and other museums including the Musee du General Leclerc and the Musee de la Liberation de Paris, not forgetting monuments like the massive Lion of Belfort statue and the historical toll pavilions called the Barriere d'Enfer.

Being fully renovated in 2012, the Hotel Clairefontaine offers a modern designer ambiance with a terrace garden that has comfortable seating and potted plants including palms for greenery where you can relax after a day of sightseeing, etc when the weather permits, although there is also a small lounge area by the lobby and reception as well.


Hotel Clairefontaine Facilities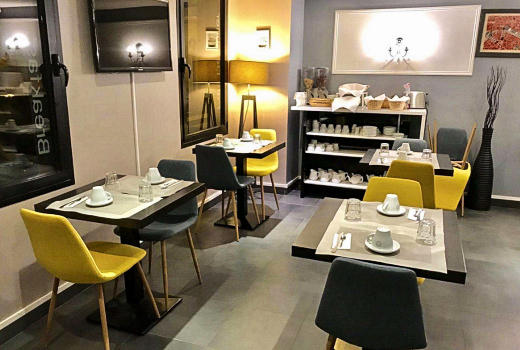 Hotel Clairefontaine breakfast room with tables and chairs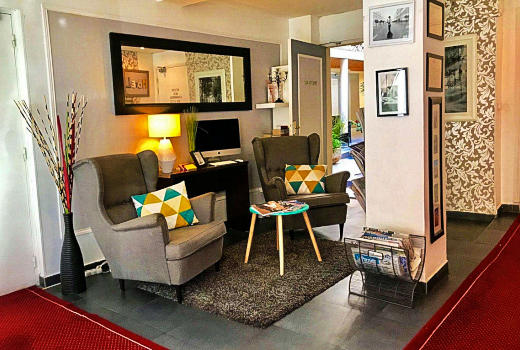 Hotel Clairefontaine reception lounge area with relaxing chairs
Although there is a 24 hour reception, check-in is between the hours of 2pm and 11pm and check-out is between the hours of 5am and midday.

With multilingual staff able to speak English and French plus some speaking other languages such as Spanish, they are there to help you get the most out of your holiday in Paris offering concierge services, whether it be making recommendations and reservations at restaurants, booking tickets for tours or shows in Paris, arranging airport transfers and much more to make your stay run smoothly.
Breakfast at Hotel Clairefontaine is served in the dedicated breakfast room between the hours of 7am and 10:30am, which is a continental style with hot beverages, orange juice, cereals, fruit salad, French breads and croissants along with accompaniments such as jams plus boiled eggs and cheese. Although if you prefer, breakfast can be served directly to your room with a basic continental selection.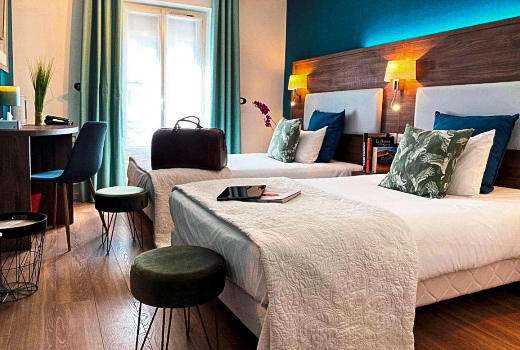 Hotel Clairefontaine family triple room beds plus desk and chair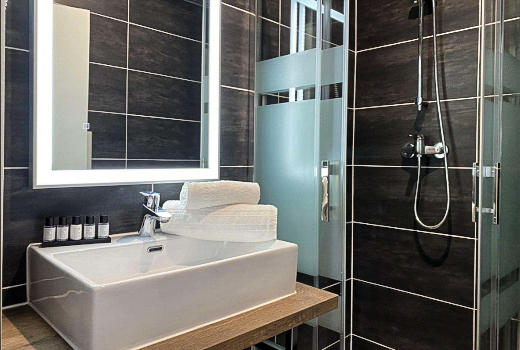 Hotel Clairefontaine en suite bathroom with hand basin and shower cubicle
As we mentioned earlier, there is an internal courtyard with patio and chairs to relax, although being open to the elements, good weather is needed, yet there is an indoor lounge where you can also relax and catch up with the news via one of the newspapers available or via the free WiFi, so you can also keep in touch with those back home.


Rooms at the Hotel Clairefontaine

There are 22 rooms at Hotel Clairefontaine, which are broken down as single, twin, double and triple rooms plus superior doubles that are slighter larger in size and all are designed in a contemporary style with subtle colours from when the hotel was refurbished.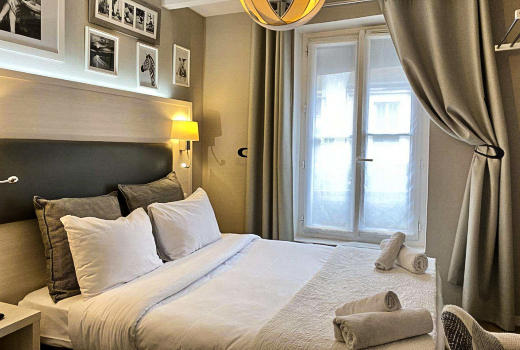 Hotel Clairefontaine double room bed and lighting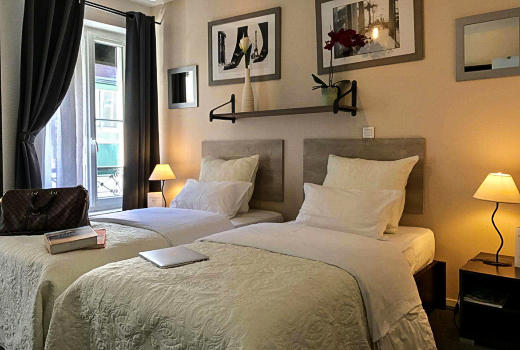 Hotel Clairefontaine twin room beds with side tables and lighting
Each room has double glazing, blackout curtains, a desk area, and comes equipped with a small en suite bathroom that has a hairdryer and complementary toiletries, although we would like to point out that there is no air conditioning.

Additionally, all rooms have a telephone, free WiFi and a flat screen digital TV that also has a USB port, plus some of the rooms are adapted for the disabled and wheelchair users and some have a personal safe.


Access to the Hotel Clairefontaine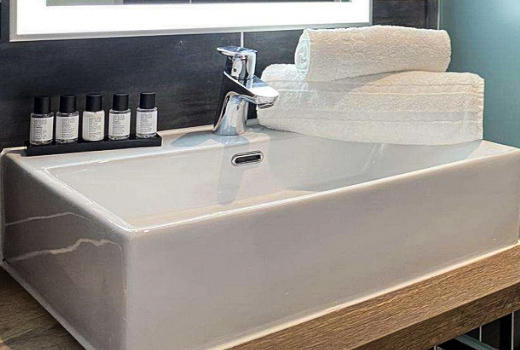 Hotel Clairefontaine bathroom complimentary toiletries and towels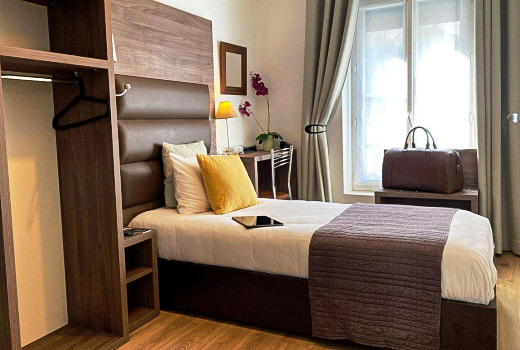 Hotel Clairefontaine single room with wardrobe, desk and chair
Located in the 14th Arrondissement, when it comes to reaching the Hotel Clairefontaine via public transport in Paris, you will find that the bus lines 58, 59, 88 and 92 along with the Noctilien Night Bus via line N66 will all get you within very easy walking distance and are the closest.

However, when you look at the Metro stations, you have the Gaite stop serving Metro line 13 yet in the opposite direction just a few metres further walk and you will get to Place Denfert-Rochereau where you have bus stops serving the Paris bus lines 38, 59, 64, 68, 88 and 216 plus the Noctilien N14, N21 and N122, which are the Paris night buses.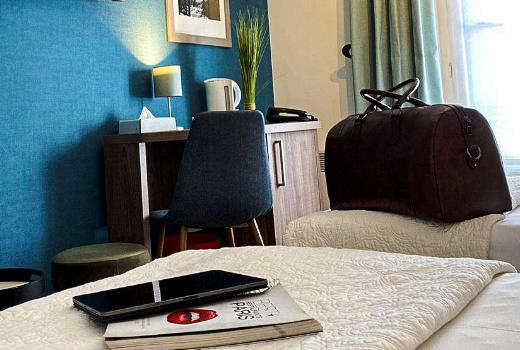 Hotel Clairefontaine bedroom desk and chair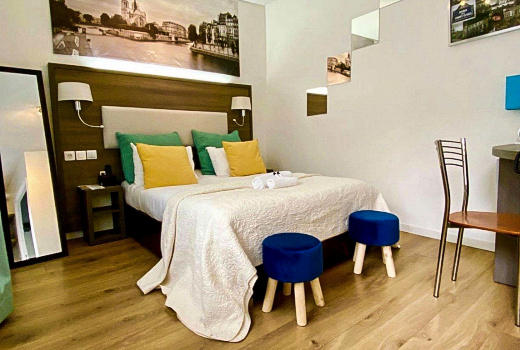 Hotel Clairefontaine double bedroom bed with side tables and lighting
In addition, there is the historical Gare Denfert-Rochereau train station also within very easy walking distance, which serves the Metro line 4 and line 6 as well as the RER B train line that is ideal for getting to Charles de Gaulle Airport.

And located just outside of the train station you have the OrlyBus pick-up and drop off point, which is the dedicated shuttle bus for getting to Orly Airport, so as you can tell, the Hotel Clairefontaine is in a convenient location for public transport.
Alternatively, by walking in a south westerly direction to the Avenue du Maine, you could utilise the bus lines 58, 92 and Noctilien bus line N66.
Paris Hotel booking info

Hotel Clairefontaine
11 Rue Fermat
75014
Paris
Ile de France
France

Tel: 0033 1 43 22 05 20
GPS: 48.83596, 2.32533

Website: https://www.hotelclairefontaine.com/